Blueberry Sunflower Energy Bites – crunchy, chewy, sweetly satisfying – carry these energy bites with you when you need a quick energy pop between meals!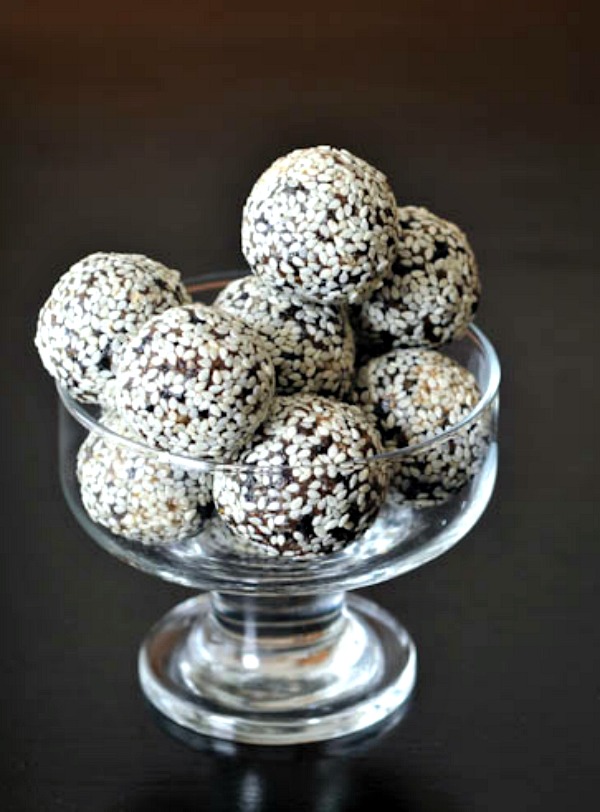 Well, hello!
It seems I inadvertently took a week off – the last time I was here was last Monday with my buffalo bella baked avocado. Life is a little Batsh*t Loonball right now, but I am already seeing the light at the other end of the tunnel.
In addition to a crazy schedule, Rosemary has been waking up at 2:am for the last week – no way, little doggie. Ever been in a wrestling match with a tiny 10 pound wiener dog? At 2:am? It's hilariously uncool, and I am hoping this is a very short lived phase.
I'm stumbling around like a zombie with a coffee mug.
and a baggie full of energy bites.
Meatless Monday is on Week B – blueberry. I chose dried blueberries, because if there is anything I need a lot of right now, it's portable snacks.
and energy.
These are sweet in that awesome natural way, with a bit of a crunch from the cashew. To me, the Medjools provide enough sweet, but add some maple syrup or agave if you prefer sweeter flavor. Being the third ingredient in the processor, the dried blueberries pretty much remained whole, adding prominent blueberry flavor and chew.
Double batch next time – these store well in the fridge or freezer.
Blueberry Sunflower Energy Bites
dairy, soy, and gluten free, vegan
makes 13-15 pieces
INGREDIENTS:
1/4 cup raw cashews
6 Medjool dates, pitted
3/4 cup dried blueberries
1/3 cup sunflower seed butter
1/2 teaspoon spirulina powder
1/2 teaspoon cinnamon
pinch sea salt
sesame seeds, for coating
INSTRUCTIONS:
Place cashews in food processor, pulse to a small crumb. Add dates and blueberries, pulse to combine. Add sunflower butter, spirulina powder, cinnamon and salt, combine. Roll into 1 inch balls, coat in sesame seeds. 
More blueberry recipes:
Any advice about my early-rising dog?
printable recipe:

Blueberry Sunflower Energy Bites[/b]" thumbnail="" type="recipe"]