Hearty Roasted Mushroom Bisque – a rich and hearty flavorful soup that is warming to the core – this is straight up comfort food and you'll want seconds!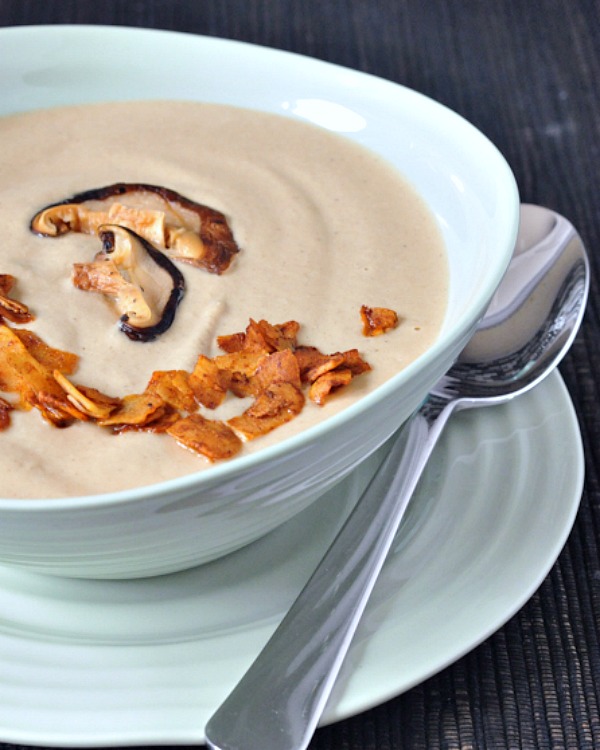 Each week during #MushroomMakeover, Corinne gives us a new focus (this has been one of my favorite parts of this challenge!). This week our focus is three parts, and one of them is self talk.
This is timely, because I just had a really great conversation about this while on vacation. I am acutely aware of the effect of language, how our declarations are tied directly to outcomes and outlooks – good or bad.
I have said this before – I have a pretty high level of confidence. I have no idea how or why, but I certainly am grateful for it every day.
Now, the conversation I was having was with two dear friends, who also possess a healthy level of confidence. Except two of us were stopped in our tracks when the third said "I'm kind of good at it," referring to a huge project she recently completed.
Huh? Kind of? We were baffled (this was an awesome success for her). She wasn't even aware she said it. She immediately said what a disservice she was giving herself, when talking about something she is incredibly passionate about, something that is now her livelihood. The words kind of completely diminished what she has just created.
Corinne's challenge this week fits right in to this topic I have been thinking about since that day with my friends – because I see it more than I'd like. Corinne says Our Thoughts Determine Our Reality – which is basically saying one of my favorite quotes – Whatever You Focus On Gets Bigger.
Part of our focus this week is to Reframe, Rethink, Rephrase. Even when you have things to work on, there are positive things to focus on while doing the work. And when we are talking about what we do for a living or what we are passionate about? Hopefully we are using positive words, or giving some thought to why the words are negative.
_____________________________________
We enjoyed this recipe last week, and again last night for dinner. Not leftovers – this is so easy to make I whipped it up again yesterday, while in the kitchen doing other work! I set the cashews to soak early in the morning, and by late afternoon I finished this quick recipe. The flavors are rich, hearty, umame. I wish I could give you a warm bowl right now.
I garnished this with Phoney Baloney – the most awesome vegan coconut bacon my friend Andrea makes. Mmm.
Hearty Roasted Mushroom Bisque
dairy, egg, and gluten free, vegan
INGREDIENTS:
1 1/2 cups raw cashews
warm water for soaking
4 tablespoons olive oil, divided
1 yellow onion, peeled and chopped
3 stalks celery, chopped
2 cloves garlic, peeled and minced
4 cups shiitake mushrooms, sliced, plus extra for garnish
4 cups vegetable broth (Organic Mushroom Broth)
sea salt and black pepper
1/4 – 1/3 cup tamari, to taste
INSTRUCTIONS:
Place cashews in bowl with warm water, set aside.
Arrange shiitakes on foil lined baking sheet. Drizzle with 2 tablespoons olive oil, bake in 350 degree oven for 25 minutes, turning halfway through. Remove from oven and set aside.
In stockpot over medium heat, sauté onion, celery and garlic in remaining 2 tablespoons olive oil until soft. Add shiitakes and broth, reduce to simmer (15-20 minutes).
Transfer shiitake mixture to blender (in batches if necessary), add (drained) cashews and puree on high until smooth. Return to pot to keep warm. Season with tamari, salt and pepper.  Serve warm, garnish with shiitake, tamari, sesame seeds, Phoney Baloney.
Do you have aspects of self talk that you could improve? Even with saying I am confident, I am learning a lot about myself during this process. I do think I have healthy confidence, but may use that as a security blanket at times, perhaps to not do something…   we all have work we can do! 
SPABETTIE IS A FINANCIALLY COMPENSATED BLOGGER AMBASSADOR FOR THE MUSHROOM COUNCIL, AND IS PARTICIPATING IN THE #MUSHROOMMAKEOVER 30 DAY WEIGHT LOSS CHALLENGE. THE OPINIONS EXPRESSED HEREIN ARE THOSE OF SPABETTIE AND ARE NOT INDICATIVE OF THE OPINIONS OR POSITIONS OF THE MUSHROOM COUNCIL OR MAMAVATION.
printable recipe:
Hearty Roasted Mushroom Bisque
Author:
Kristina Sloggett
dairy, egg, and gluten free, vegan
Ingredients
1½ cups raw cashews
warm water for soaking
4 tablespoons olive oil, divided
1 yellow onion, peeled and chopped
3 stalks celery, chopped
2 cloves garlic, peeled and minced
4 cups shiitake mushrooms, sliced, plus extra for garnish
4 cups vegetable broth (Organic Mushroom Broth)
sea salt and black pepper
¼ - ⅓ cup tamari, to taste
Instructions
Place cashews in bowl with warm water, set aside.
Arrange shiitakes on foil lined baking sheet. Drizzle with 2 tablespoons olive oil, bake in 350 degree oven for 25 minutes, turning halfway through. Remove from oven and set aside.
In stockpot over medium heat, sauté onion, celery and garlic in remaining 2 tablespoons olive oil until soft. Add shiitakes and broth, reduce to simmer (15-20 minutes).
Transfer shiitake mixture to blender (in batches if necessary), add (drained) cashews and puree on high until smooth. Return to pot to keep warm.
Season with tamari, salt and pepper.
Serve warm, garnish with shiitake, tamari, sesame seeds, Phoney Baloney