Shiitake cauliflower risotto stacks with sautéed shiitakes are an impressive and flavorful, comfort food must make recipe!
recipe originally published April 19, 2017
Shiitake Cauliflower Risotto Stacks
I am telling you now - this is a must make recipe. One you make when you want to impress. One you make for a date night, or for your best friend! One you make for yourself when you want comfort food.
I really want to impress on you all that this recipe is a winner - you will love the incredible flavors. If you always hear me talking about how THIS recipe is the best, or THAT recipe is our new favorite - well, this Shiitake Cauliflower Risotto Stacks recipe is the one to pay attention to.
Want more cauliflower? See this entire cauliflower recipe collection for more menu ideas!
The Blossom Cookbook
This recipe I am so completely raving about is one of many greats from The Blossom Cookbook - Classic Favorites from the Restaurant That Pioneered a New Vegan Cuisine.
Have you been to Blossom Restaurant in NYC? This book has some of their favorite menu items, guys! Their Buffalo Risotto Croquettes! Their signature Black Eyed Pea Cakes from Chelsea! That scrumptious Southern Seitan sandwich!
Risotto made with cauliflower
As with traditional risotto, this recipe is involved. That is not to say difficult - it is easy and uncomplicated, it just has several steps and a couple pans. As one always should, a quick read through the entire recipe before beginning helps drastically with this one - definitely helped me plan and made me aware of which ingredients were divided and used in two different ways.
That said? The end result is more than worth the time this takes. Most definitely. We love this dish, we have enjoyed it twice already, and I will not hesitate to make it again.
Cauliflower Risotto recipe reprinted from The Blossom Cookbook by arrangement with Avery Books, a member of Penguin Group (USA) LLC, A Penguin Random House Company. Copyright © 2017, Ronen Seri and Pamela Elizabeth
Did you make this recipe?
Follow spabettie on Instagram and tag us with #spabettie
We love seeing your recipe photos and remakes - thank you!
Yield: serves two
Shiitake Cauliflower Risotto
this impressive and flavorful comfort food recipe is a must make! savory sautéed shiitakes top this vegetable forward favorite.
Ingredients
Polenta
1 tablespoon dairy free butter
1 clove garlic, peeled and minced
1 teaspoon sea salt
1 teaspoon fresh cracked black pepper
3 cups water
1 ¼ cups polenta
Cauliflower Risotto
1 medium head cauliflower
2 whole shallots, peeled
1 clove garlic, peeled
2 tablespoons olive oil
½ shallot, peeled and chopped
½ cup white wine
2 tablespoons dairy free butter
½ teaspoon salt
3 tablespoons chopped fresh parsley
Sauteed Mushrooms
2 tablespoons olive oil
2 cups sliced shiitake mushroom
½ teaspoon salt
1 teaspoon fresh cracked black pepper
Instructions
In a large pot, combine 1 tablespoon of vegan butter, minced garlic, 1 teaspoon of the salt, ½ teaspoon of the pepper, and 3 cups water.
Bring to a boil.
Add polenta, whisking constantly until mixture is smooth with no lumps.
Reduce heat to a simmer, whisking often. As polenta begins to thicken (about 5 minutes), whisk again and cover with lid.
Cook covered for another 20-25 minutes, whisking every 5 minutes or so.
When polenta is tender, remove from heat.
Transfer polenta to a lightly oiled baking sheet and spread in a ½ inch thickness; let cool in the refrigerator.
Remove the cauliflower stem and discard.
Coarsely chop cauliflower, and place it in a food processor. Pulse seven or eight times, or until it is finely minced, similar to the size and consistency of grains of rice.
Divide the cauliflower into two equal portions.
Fill a large pot with water and add half the cauliflower, the whole shallots, and the garlic clove. Bring to a boil, and boil for 20 to 25 minutes, or until the cauliflower is soft. Drain the water and transfer the boiled cauliflower, shallots, and garlic to high-speed blender. Blend until smooth.
In a large sauté pan, heat 2 tablespoons of the olive oil over medium-high heat. Add the chopped shallot and sauté for 1 to 2 minutes, then add the rest of the minced cauliflower and stir well. Add the white wine and sauté for 1 to 2 minutes, then add the pureed cauliflower and stir. Add ½ teaspoon salt, and 2 tablespoons of the vegan butter and stir. Add the parsley and stir to combine. The resulting mixture should be a risotto like consistency.
In a medium skillet, heat 2 tablespoons of the olive oil over medium-high heat. Add the mushrooms and a pinch each of salt and pepper. Sauté until the mushrooms begin to brown. Set aside.
Remove the polenta from the refrigerator and use a large thin-rimmed glass or a cookie cutter to cut it into rounds.
In a separate medium sauté pan, heat the remaining 1 tablespoon of olive oil over medium heat. Add the polenta cakes and sauté for 1 to 2 minutes on each side, or until golden brown on both sides.
To assemble, divide the polenta cakes between two plates, then top with the cauliflower risotto and finally the sautéed mushrooms.
Notes
dairy, egg, soy and gluten free, vegan recipe
Nutrition Information:
Yield:
2
Serving Size:
1
Amount Per Serving:
Calories:

564
Total Fat:

33g
Saturated Fat:

9g
Trans Fat:

1g
Unsaturated Fat:

16g
Cholesterol:

0mg
Sodium:

508mg
Carbohydrates:

33g
Fiber:

12g
Sugar:

9g
Protein:

12g
nutrition calculations results vary by calculator, are for informational purposes only, and are not intended to replace medical advice or treatment.
about Kristina: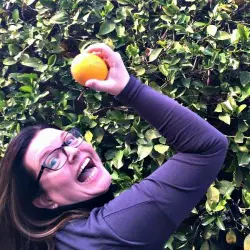 Kristina is spabettie! She found cooking at an early age, and created spabettie in 2010 to share vegan recipes. Kristina turned her culinary training into sharing vibrant vegan food! Read more...
spabettie / Kristina Sloggett is a participant in the Amazon Services LLC Associates Program, an affiliate advertising program designed to provide a means for sites to earn advertising fees by advertising and linking to Amazon.com.