Pink Thumbprints with Whiskey Ganache – a naturally bright pink butter cookie topped with a rich whiskey ganache – perfect for Valentines, Baby or Wedding Showers, or a Tuesday!
__________________________________________________
Now that February is here, I can really start celebrating Valentines and all things pink. Once I saw the beautiful color that comes from beet juice, I started coloring everything pink. I am also drinking a lot of beet juice. The juice balances out all the desserts we are enjoying.
I am super excited about this cookie recipe. They have a sweet buttery flavor and a perfect soft consistency. I have already made two other cookie styles in addition to the thumbprint.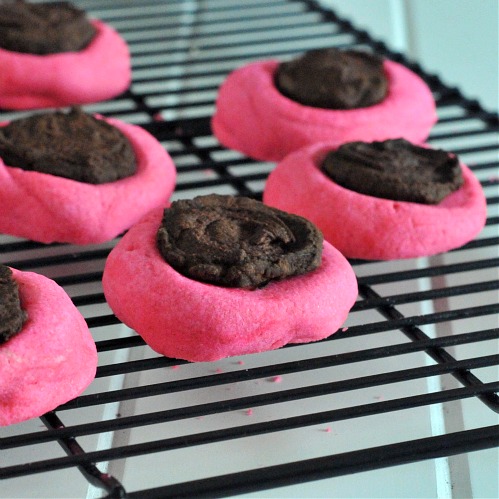 pink thumbprint butter cookies
makes 20 cookies
gluten, dairy, egg and soy free, vegan
1 cup butter (Earth Balance soy free)
1/4 cup sugar
1 tablespoon vanilla
2 cups flour (gluten free ap)
1/4 cup milk (vanilla almond)
juice from 1 beet
Cream together butter, sugar and vanilla. Stir in flour 1/2 cup at a time, adding milk by the tablespoon as necessary. Combine until dough forms, do not over mix. Add beet juice. Knead into a ball, cool in refrigerator 10 minutes. Roll one inch pieces of dough into ball, make a thumbprint, place on prepared baking sheet.
Bake at 300 for 25 minutes. Remove from oven, top with a spoonful of whiskey ganache. Return to oven for 2-3 minutes. Cool completely.
whiskey ganache
8 ounces dark chocolate, chopped
1 ounce whiskey
In small saucepan over low heat, melt chocolate. Remove from heat, stir in whiskey 1/4 ounce at a time. Mixture will go from glossy to matte, continue stirring until ganache consistency is reached, approximately 2 minutes.
Whiskey ganache might be the best thing I have ever thought up. Deeply sweet and wonderfully spiked, it pairs well with the subtle butter cookie.
Pink and brown always look great together, also.

Happy Valentines Day!
and don't worry, the pink color will come off your hands. usually within a day.