Roasted apple chia pudding has warm roasted apples topping cider chia pudding for a tasty seasonal breakfast, snack, or dessert!
recipe originally published October 31, 2017
Roasted apples with chia pudding and yogurt
So, I am aware that every week I come here and dramatically declare to you all that I have a favorite new dish.
They can't all be favorites, can they?!
Well.
Right now, this one honestly is. This has been my last three breakfasts and one afternoon snack (because I could not stop thinking about it).
This is really great right after my workout in the morning - when I cannot eat much beforehand anyway, and I come home ravenous.
I mix up the sauce for the roasted apples, using my favorite almond butter, mix it into sliced apple pieces, and wrap in foil to cook. I run upstairs to shower / change and by the time I am done? So are my roasted apples!
The cider chia portion was made the night before, so it is literally one more minute to grab everything and assemble.
Super easy, incredibly flavorful, keeps me full and happy until lunch.
...and this flavor.
I was being most basic with my Pumpkin Spice Latte Chia Pudding, and was enjoying that seasonal flavor until this one just hit me.
Roasted Apple Cider Chia Pudding evokes all the goodness that is fall. These warm roasted apples are just too good, and since we always have plenty of spiced cider this time of year, it is a quick and easy task in the evening to whisk up chia and cider for the morning.
This recipe works even if you don't roast the apples! Yes, mix up the sauce for the apples and toss with raw cubed apple pieces - adds a good crunch.
Everyone has spiced apple cider around right now, yes?
If not, add it to your shopping list...
Did you make this roasted apple chia pudding?
Follow spabettie on Instagram and tag us with #spabettie
We love seeing your recipe photos and remakes - thank you!
Yield: two servings
Roasted Apple Chia Pudding
Warm roasted apples atop cider chia pudding make a tasty seasonal breakfast, snack, or dessert!
Ingredients
⅓ cup chia seeds
1 cup spiced apple cider
3 tablespoons almond butter
2 tablespoons spiced apple cider
2 apples, washed, cored and cubed
½ cup cashew cream, or dairy free vanilla yogurt
Instructions
Preheat oven to 350 °F if using.
The night or at least one hour before, whisk together chia seeds and 1 cup cider. Cover and refrigerate to set.
In a small microwave safe bowl, combine almond butter and 2 tablespoons cider. Whisk until smooth, and microwave at medium high heat for about 30 seconds, or until melted. (Alternatively, melt over medium heat in a small saucepan on a cooktop.)
Place a large piece of foil on your work surface. Arrange the cubed apple pieces in the middle of the foil. Pour the melted cider almond butter over the apples, stirring to coat completely.
Wrap foil loosely around the apples. Bake at 350 °F for 20-30 minutes, depending on softness preference.
Air fryer roasted apple instructions: Wrap in foil. Cook in air fryer at 390 for 10-17 minutes.
To serve, layer roasted apples, cider chia pudding, and cashew cream in a serving glass / bowl. Top with cinnamon.
about Kristina: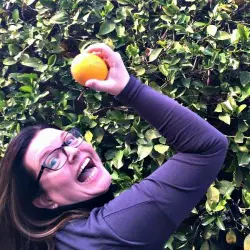 Kristina is spabettie! She found cooking at an early age, and created spabettie in 2010 to share vegan recipes. Kristina turned her culinary training into sharing vibrant vegan food! Read more...
spabettie / Kristina Sloggett is a participant in the Amazon Services LLC Associates Program, an affiliate advertising program designed to provide a means for sites to earn advertising fees by advertising and linking to Amazon.com.