This vegan avocado kale Florentine with smoked paprika hollandaise is the perfect brunch recipe or holiday weekend. Fried avocado is fresh baked in the oven, or super quick in the air fryer!
recipe originally published February 26, 2015
Vegan Avocado Kale Florentine
Smoked Paprika Hollandaise
Brunch is my favorite thing.
This recipe is made with all of my favorite things - crispy crunchy creamy avocado, garlicky sautéed kale, gloriously rich hollandaise. Brunch perfection, for a lazy weekend morning at home.
We enjoy this recipe often, and I have a couple tips for you: I always double the hollandaise portion so we can have extra for days.
That saucy goodness is tasty over many things.
Also! This recipe has instructions for baking the Pecan Crusted Avocado, which works beautifully. For those of you who have an air fryer, I have included super quick instructions for that as well.
To get this super tasty florentine onto your table just that much faster!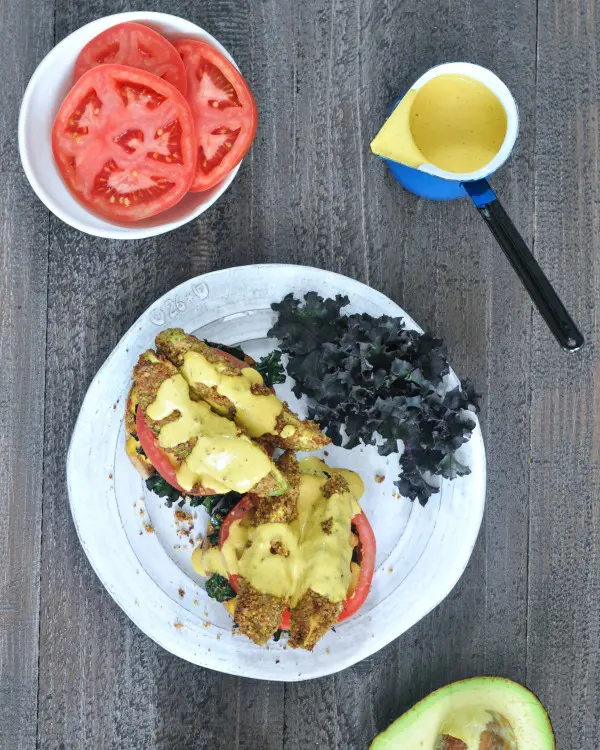 Vegan Brunch Recipe
When asked to review Kristy Turner's gorgeous new book, But I Could Never Go Vegan!, I knew immediately this vegan Florentine would be the recipe I made first.
This Florentine is just one of many brilliantly creative and flavorful recipes to be found in Kristy's new book - I have already tried several and have a list of many more to try soon.
From Chickpea Fries and Portobello Pot Pie to BBQ Bacon Burgers and Buffalo Calzones with Cashew Blue Cheese, Roasted Broccoli and Apple Salad and Avocado White Bean Salad Wraps to Caramel Apple Stuffed French Toast and ButterScotch Bread Pudding - there is something for everyone, something for every craving.
I have also made the Caramel Apple Stuffed French Toast twice. Spectacular.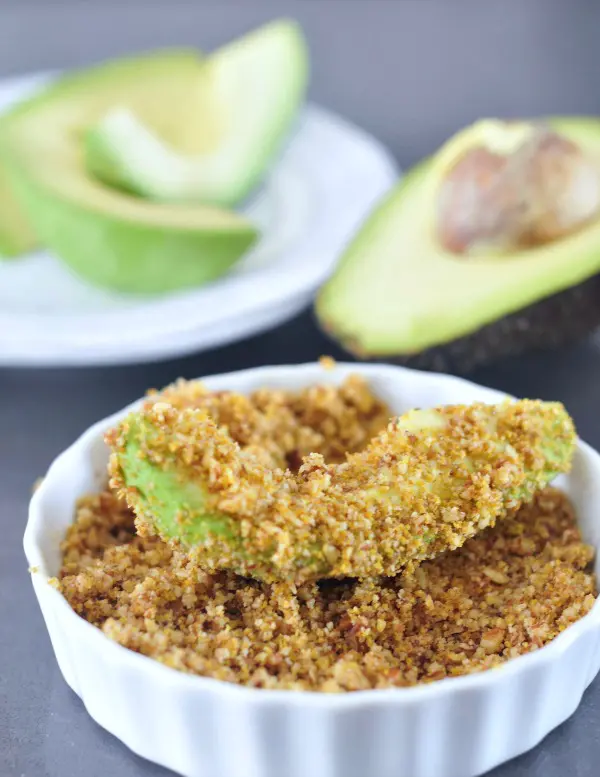 Fried Avocado
One of the stars in this recipe is the fried avocado. The original recipe has instructions to bake them, and I have since added instructions for the air fryer. Both methods work well, and I love any excuse to use my air fryer - the result is a perfectly light and crisp coating around a creamy slice of avocado.
Yum.
Fried avocado really is the perfect topper to this flavorful dish:
Beautifully photographed, But I Could Never Go Vegan is infused with Kristy's warm and upbeat personality. She tells us her touching story in the introduction, followed by a detailed guide for easily making the transition to vegan.
She talks kitchen tools, spices and sweeteners, and gives helpful guides to beans and grains.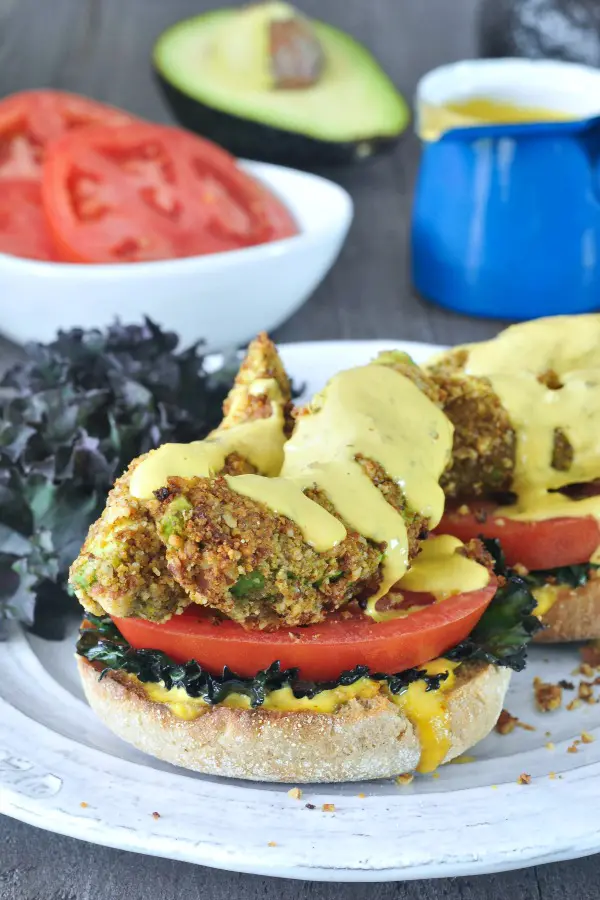 With "125 Recipes - Zero Excuses" this book proves that you can live without cheese, it's not all rabbit food, and your friends will still come over for dinner.
This book is perfect for everyone - seasoned vegans and those who just want more delicious plants in their diet. It truly is my current favorite book - dogeared pages and all - it has not left my kitchen counter since I received it!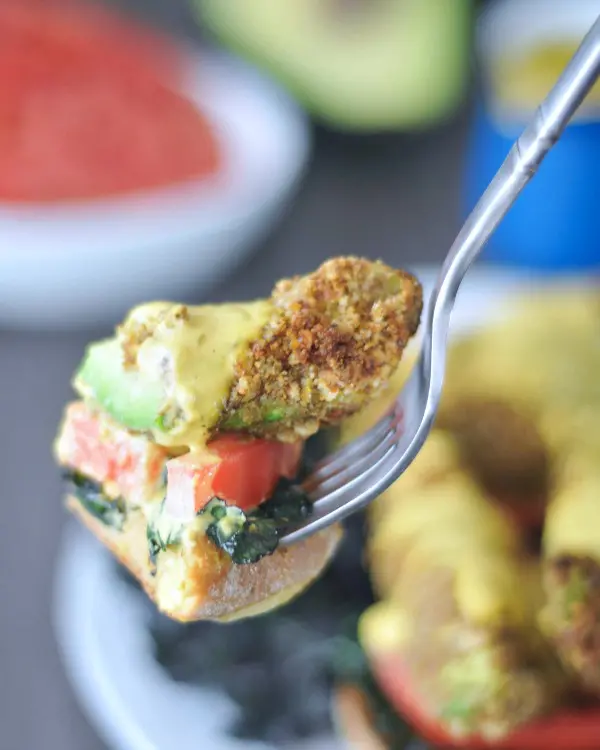 Mmm, brunch.
Recipe from But I Could Never Go Vegan! : 125 Recipes That Prove You Can Live Without Cheese, It's Not All Rabbit Food, and Your Friends Will Still Come Over For Dinner, copyright © Kristy Turner, 2014.
Reprinted with permission of the publisher, The Experiment.
Yield: 2 servings
Avocado Kale Florentine with Smoked Paprika Hollandaise
Avocado Kale Florentine with Smoked Paprika Hollandaise - this is perfect for a holiday or a weekend brunch at home - fresh avocado, greens, and a smoky hollandaise - delicious! Fresh baked in the oven, or super quick in the air fryer!
Total Time
1 hour
35 minutes
Ingredients
avocado & kale 
¼ cup (40 g) Pecan Parmesan (recipe below) 
¼ cup (40 g) bread crumbs 
juice of 1 lemon 
1 large avocado 
olive oil spray 
salt and black pepper to taste 
1 garlic clove, minced 
4 cups (160 g) tightly packed destemmed chopped kale 
hollandaise
1 tablespoon lemon juice 
salt and black pepper to taste  
2 English muffins 
sliced tomato, optional 
pecan parmesan
1 ½ tablespoons fresh lemon juice
1 teaspoon minced garlic
Instructions
Preheat the oven to 400°F (200°C). Line a baking sheet with parchment paper or a silicone baking sheet.
Combine the Pecan Parmesan and bread crumbs in a small shallow bowl. Pour the lemon juice into another small shallow bowl.
Cut the avocado in half and remove the pit. Without removing the peel, slice each half into 4 quarters. Use a spoon to carefully scoop each slice out of its peel. One at a time, place an avocado quarter in the lemon juice and, using one hand, turn to coat on all sides. Using your other hand, place the slice in the bowl of crumbs and gently turn to coat all sides. Place each slice on the prepared baking sheet. Lightly spray the slices with olive oil and sprinkle with salt and pepper. Bake for 15 minutes, or until the exterior is golden and crisp.
Meanwhile, heat the 1 teaspoon of oil in a large shallow saucepan over medium heat. Add the garlic and sauté until golden and fragrant. Add the kale and keep stirring until just beginning to wilt. Remove from the heat and add salt and pepper.
To prepare the hollandaise sauce, combine the cashews, vinegar, lemon juice, nutritional yeast, mustard, turmeric, and 6 tablespoons of the reserved soaking water in a blender or food processor and process until smooth. Add more soaking water as needed to thin the sauce. Add salt and pepper. You can make the sauce up to 2 days in advance; if so, you may need to add more water later to thin it out.
Split the English muffins in half and toast them. Place halves on each plate, cut side up. Place a tomato slice on each, if using. Divide the kale among the muffin halves. Top each half with two crispy avocado slices. Drizzle hollandaise sauce over the top and serve immediately.
Combine the pecan pieces, nutritional yeast, lemon juice, and garlic in a food processor and process until the mixture resembles bread crumbs. Transfer to an airtight container and refrigerate until ready to use or up to 2 months.
[*spabettie note for Air Fryer Instructions: Preheat air fryer to 380 °F. To prevent sticking, line air fryer basket with one of these Non Stick Perforated Parchment Air Fryer Liners. Place coated avocado slices in lined basket. Cook at 380 °F for 7 minutes. Remove basket and using tongs, carefully remove avocado slices.]
Notes
dairy, egg, soy, and gluten free, vegan
Nutrition Information:
Yield:
2
Serving Size:
one florentine
Amount Per Serving:
Calories:

548
Total Fat:

16g
Saturated Fat:

12g
Trans Fat:

0g
Unsaturated Fat:

9g
Cholesterol:

0mg
Sodium:

415mg
Carbohydrates:

19g
Fiber:

17g
Sugar:

8g
Protein:

22g
nutrition calculations results vary by calculator, are for informational purposes only, and are not intended to replace medical advice or treatment.