Ginger Switchel Floats with Cinnamon Ice Cream - how to make a switchel recipe, and a sparkling update to a classic float - layers of flavor and cool creamy texture.
recipe originally published November 30, 2014
How To Make Switchel
I am way late to the party on this one, but it seems this seventeenth century sweet - spicy - sour - tonic has recently resurfaced. You may recall switchel if you watched Little House on the Prairie?
Switchel is our favorite drink around here, similar to my morning cocktail of apple cider vinegar, ginger, and lemon. If you are already drinking something similar, you know the anti inflammatory and balancing benefits switchel also brings.
Two summers ago, I had a Imperial's housemade switchel, and I was hooked. One of my favorite websites recently featured switchel, and I am seeing bottles large and small in my local market. I obviously had to buy it.
Jason and I have both been loving the switchel, and enjoying it daily - as is, and made into cocktails. Stay tuned.
Switchel Recipe
We were drinking the switchel so often, I started making it myself, eventually landing on a recipe we both love. Now, as a disclaimer - we both love fresh ginger. A lot.
My recipe may be a bit strong for some, so if you plan to make your own switchel, keep your own taste preferences in mind. Maybe begin with less.
Switchel Ice Cream Float
Naturally, after I had been making switchel for a while, I started to think of other ways to enjoy it. I have a feeling my Grandpa Z would have loved switchel. Thinking of Grandpa, I then thought of my childhood, and his legendary root beer floats.
The other thing I have been excited for this holiday season? Ready made vegan sweetened condensed milk. Yes, I can and I have made my own, but this is a tasty and quick option. I added it to my standard cashew ice cream recipe, and hot dang that's good stuff.
Ginger Switchel Floats with Cinnamon Ice Cream
How to make Ginger Switchel Floats:
two scoops Cinnamon Ice Cream (recipe follows)
8 ounces Ginger Switchel (recipe follows)
4 ounces club soda
Scoop ice cream into serving glasses.
Combine switchel and club soda, pour over ice cream.
these are for you, Grandpa Z - pretty sure you would have loved the Switchel.
Yield: 2 servings
Ginger Switchel Recipe
Switchel is a bright beverage of apple cider vinegar and ginger. a delicious drink with anti inflammatory and balancing benefits.

Prep Time 5 minutes

Total Time 5 minutes
Ingredients
¼ inch fresh ginger root
3 tablespoons apple cider vinegar
3 teaspoons maple syrup
24 ounces filtered water
Instructions
With the side of a spoon, peel the ginger root. Using a sharp knife, finely mince the ginger until it is almost a paste.
Combine minced ginger with apple cider vinegar, maple syrup, and water.
Store in an airtight jar in refrigerator.
Notes
dairy, egg, soy and gluten free, vegan
Recommended Products
As an Amazon Associate and member of other affiliate programs, I earn from qualifying purchases.
Nutrition Information:
Yield:
2
Serving Size:
12 ounces
Amount Per Serving: Calories: 31Total Fat: 0gSaturated Fat: 0gTrans Fat: 0gUnsaturated Fat: 0gCholesterol: 0mgSodium: 17mgCarbohydrates: 4gFiber: 0gSugar: 6gProtein: 0g

Yield: 6 scoops
Cinnamon Ice Cream
Cinnamon Ice Cream is an ultra rich and creamy dessert on its own, or in a float!

Prep Time 3 minutes

Additional Time 20 minutes

Total Time 23 minutes
Ingredients
1 ½ cups raw cashews, soaked overnight
1 cup cashew milk
11.25 ounces vegan sweetened condensed milk
3 teaspoons cinnamon
Instructions
In high-speed blender, combine cashews and cashew milk. Blend this until smooth, several minutes. Add condensed milk and cinnamon, blend to combine.
Pour into ice cream maker, proceed with manufacturer instruction (this churned for 20 minutes in my Cuisinart).
Store in covered freezer safe container.
Recommended Products
As an Amazon Associate and member of other affiliate programs, I earn from qualifying purchases.
Nutrition Information:
Yield:
6 scoops
Serving Size:
1 scoop
Amount Per Serving: Calories: 359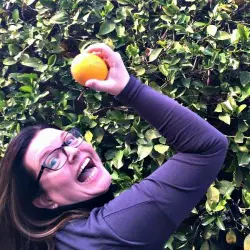 Kristina is spabettie! She found cooking at an early age, and created spabettie in 2010 to share vegan recipes. Kristina turned her culinary training into sharing vibrant vegan food! Read more...
spabettie / Kristina Sloggett is a participant in the Amazon Services LLC Associates Program, an affiliate advertising program designed to provide a means for sites to earn advertising fees by advertising and linking to Amazon.com.