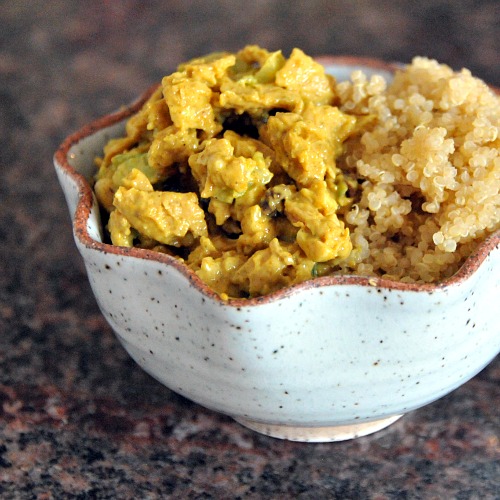 Jason chose the curry chicken salad sandwich as his airline meal when we were flying last month – three different times. I ate the tomato soup. and the dark chocolate. and the free cocktails.
I was intent on making a better curry 'chikn' salad when we returned home.
Pretty sure I did.
soy curls = faux chicken.
We have been eating this as sandwiches, over baby spinach, and as quinoa bowls – warm or cold. The cashews add a great crunch and the currants are a sweet contrast to the curry.
curry chikn salad
vegan, gluten free, dairy free
1/2 package soy curls
1/2 cup mayonnaise (Earth Balance Mindful Mayo)
1 1/2 tablespoons curry powder
1 stalk celery, chopped fine
1/4 cup dried currants (or cranberries)
1/4 cup raw cashews, chopped
sea salt, to taste 
Before rehydrating the soy curls, break them into smaller pieces. Soak them in warm water to rehydrate, 10 minutes. Meanwhile, chop celery and cashews. Combine mayo and curry powder. When soy curls are rehydrated, stir into curried mayo, adding celery, cashews and currants. Salt to taste, cover and let cool in refrigerator, at least an hour, allowing the flavors to blend.
The captain has turned off the seat belt sign, we will soon be coming around with our beverage service…