these vegan Reuben Rolls are a tasty jackfruit update on the classic Reuben, with oil free air fryer, bake, and gluten free options.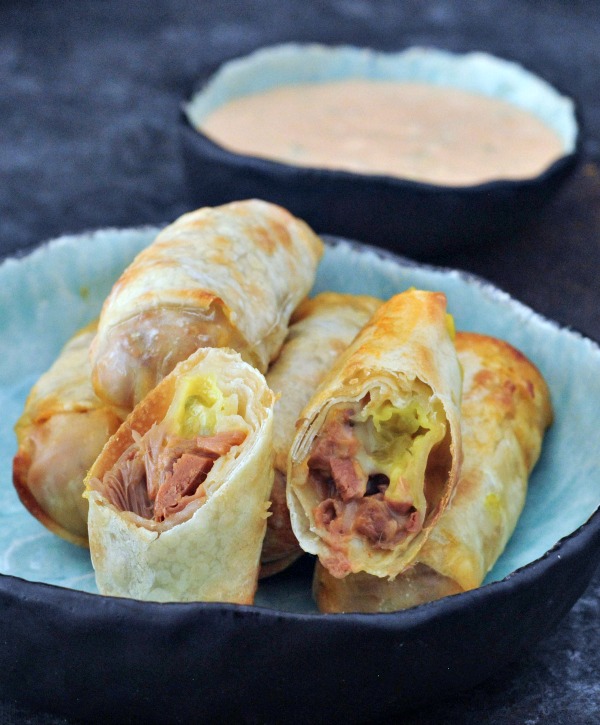 We have been enjoying these vegan reuben rolls for years.
A while back, the original recipe went through a few updates. First, I baked them instead of the pan fry. While this method works well and is easily oil free, I now use the air fryer! Oil free, super crispy, quick and easy! This recipe has instructions for air fryer, oven baking, and pan fry methods.
The other change I made to the original recipe is that I now use jackfruit in place of chickpeas. I still love jackfruit and add it to whatever I can.
Some of you may remember one way my original Reuben roll recipe veered wildly from the traditional? I used tangy tart pickles instead of sauerkraut. I know, I know... I love sauerkraut, but Jason is not a big fan. He does like pickles, however - and that's a close enough flavor for me.
Plus, more sauerkraut for me. I have been known to add it to a few of these vegan Reuben rolls.
and I just make sure I keep track of them...
These are always on the list when I am asked about favorite comfort foods. When I am hosting a game day get together, or needing an appetizer for anything.
I have lost count how many times I have served these, how many people have raved about them, and how quickly they disappear.
I generally make a double batch.
Yum.
Did you make this recipe?
Follow spabettie on Instagram and tag us with #spabettie
We love seeing your recipe photos and remakes - thank you!
Yield: 14 rolls
Reuben Rolls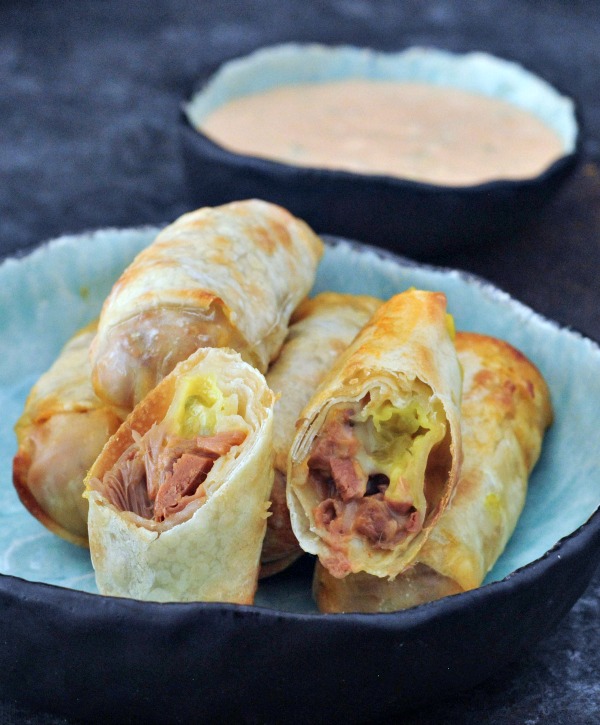 dairy, egg, soy, and oil free, vegan, gluten free option

Prep Time 15 minutes

Cook Time 15 minutes

Total Time 30 minutes
Ingredients
1 (20 ounce) can jackfruit, drained
⅓ cup oil free Vegan Thousand Island Dressing, plus more for dipping
1 small sweet onion, peeled and diced
2 cloves garlic, peeled and minced
6-7 thin slices vegan swiss cheese, optional / omit for oil free
2 large dill pickles, chopped
12-14 vegan wonton wrappers (rice paper wraps for gluten free)
Instructions
Using forks, shred jackfruit. Combine with Vegan Thousand Island Dressing, set aside to marinate.
In a saucepan over medium heat, sauté onion and garlic in a bit of water until softened and translucent. Remove from heat, combine with jackfruit mixture.
To assemble rolls: arrange a wrap in a diamond shape, or run a rice paper wrap under water briefly. Place 2 tablespoons jackfruit mixture in bottom corner. Top with one half slice cheese, if using, and one tablespoon chopped pickles. Roll as pictured in this photo.
Brush each roll lightly with pickle juice.
Oil Free Air Fryer 350 °F. Arrange Crispy Tangy Reuben Rolls in single layer. Cook at
°F for 5 minutes. Remove and turn rolls / shake basket. Return to air fryer for another 3 minutes, or until crisp and golden brown.
Baking instructions: preheat oven to 350 °F. Arrange rolls in single layer on baking sheet lined with parchment. Bake at 350 °F for 7 minutes. Remove from oven and turn. Return to oven for another 5-7 minutes, or until crisp and golden brown.
Alternatively, an oil-frying option: heat 1-2 tablespoons oil in pan over medium heat, add 3-4 rolls at a time, turning frequently so they get an even light brown crunchiness all around. Remove to a drying rack or paper towel.
Serve warm with Vegan Thousand Island Dressing.
Nutrition Information:
Yield:
7
Serving Size:
1
Amount Per Serving: Calories: 327Total Fat: 16gSaturated Fat: 3gTrans Fat: 0gUnsaturated Fat: 7gCholesterol: 0mgSodium: 302mgCarbohydrates: 17gFiber: 2gSugar: 8gProtein: 10g

nutrition calculations results vary by calculator, are for informational purposes only, and are not intended to replace medical advice or treatment.



about Kristina: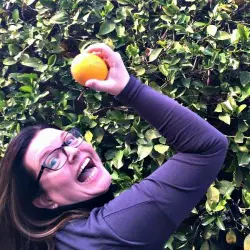 Kristina is spabettie! She found cooking at an early age, and created spabettie in 2010 to share vegan recipes. Kristina turned her culinary training into sharing vibrant vegan food! Read more...
spabettie / Kristina Sloggett is a participant in the Amazon Services LLC Associates Program, an affiliate advertising program designed to provide a means for sites to earn advertising fees by advertising and linking to Amazon.com.