Salt and Vinegar Crackers – this easy, low carb cracker recipe has the bright taste of vinegar in a crispy salted cracker – perfect for any snack platter!
Here I am saying this again – your kitchen will smell so good while these Salt and Vinegar Crackers are baking! These crackers have such great flavor, they have definitely become our favorite. With such a quick and easy recipe – with three ingredients I always have on hand – I make these often.
I love to assemble a tasty snacking platter, either when we have friends over like we did recently, or just for our weekend lunch, or dinner any time.
Although even in the absence of a fancy party platter, I like having these crackers to snack on, especially right now while we have an overabundance of tasty cheese in the house…
Some rolling tips – to get the cracker as thin as possible, I roll this dough out on a piece of floured parchment (using more almond flour). That way, I am able to carefully peel the thin cracker away from the parchment, to be placed on the parchmented baking sheet. Also, you can either re-roll the scraps to cut full size crackers, or use those pieces as your taste testers.
I like a rustic cracker…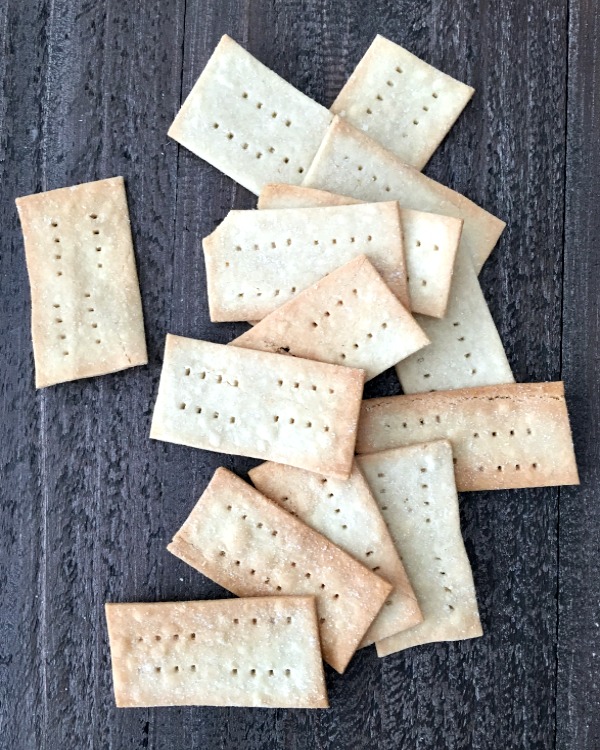 Salt and Vinegar Crackers
YIELD: 30 – 35 crackers, depending on size and thickness
dairy, egg, soy, oil, grain, and gluten free, low carb, vegan
INGREDIENTS:
2 cups almond flour, extra 1/4 cup or so for kneading / rolling
3 tablespoons aquafaba
1 1/2 tablespoons white vinegar or apple cider vinegar
sea salt
INSTRUCTIONS:
Preheat oven to 350 °F. Line baking sheet with parchment.
Combine flour, aquafaba, and vinegar in a mixing bowl, stir into a dough. (It begins very dry – continue to mix, it will make a dough.)
On a lightly floured surface, roll to desired thickness (as thin as you can, for maximum crispness).
Cut into squares, transfer to baking sheet. Poke each cracker with a fork. Sprinkle with sea salt.
Bake at 350 °F for 10 – 12 minutes, turning halfway through, or until crisp and lightly browned. (The thicker the cracker, the longer the bake time.)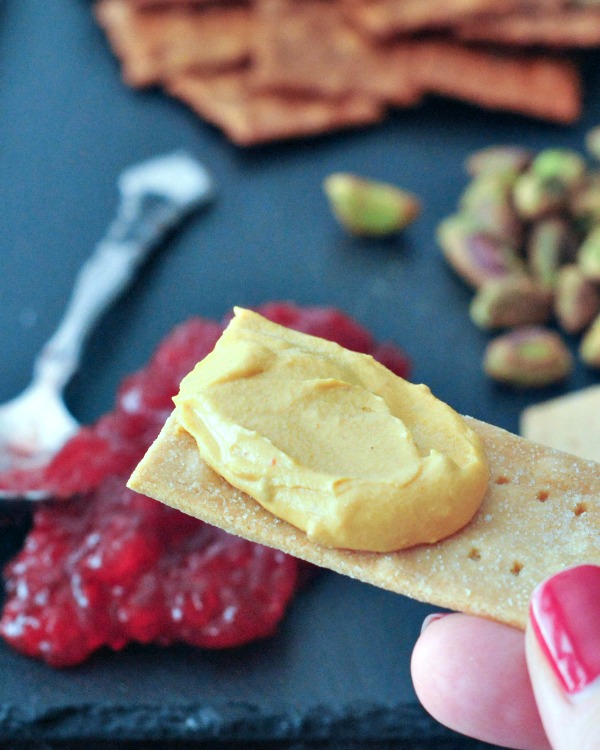 so thin and crispy!
printable Salt and Vinegar Crackers recipe:
Salt and Vinegar Crackers
Author:
Kristina Sloggett
Serves:
30 - 35 crackers, depending on size and thickness
dairy, egg, soy, oil, grain, and gluten free, low carb, vegan
Ingredients
2 cups almond flour, extra ¼ cup or so for kneading / rolling
3 tablespoons aquafaba
1½ tablespoons white vinegar or apple cider vinegar
sea salt
Instructions
Preheat oven to 350 °F. Line baking sheet with parchment.
Combine flour, aquafaba, and vinegar in a mixing bowl, stir into a dough. (It begins very dry - continue to mix, it will make a dough.)
On a lightly floured surface, roll to desired thickness (as thin as you can, for maximum crispness).
Cut into squares, transfer to baking sheet. Poke each cracker with a fork. Sprinkle with sea salt.
Bake at
°F for 10 - 12 minutes, turning halfway through, or until crisp and lightly browned. (The thicker the cracker, the longer the bake time.)