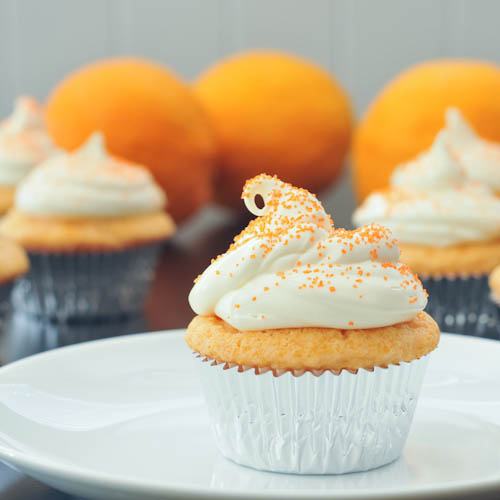 As of this weekend, we have only one house! We are all moved out of the old place, and can relax a little bit. Then I start unpacking here…
In the short time we have been in our new house, we have met a few of the neighbors, all very nice. There are two other dachshunds on our street, one right next door! Basil is thrilled. After we are settled in, I am going to look up Oregon Dachshund Rescue again, and look into Dachshund #4 for the street – a sister for Basil.
This weekend, out of nowhere, I had a cake craving.
Since we are seeing awesome weather in the 80's here, I was thinking something light. Sunny. Fresh.
Citrus!
We were headed to a patio party, and I brought these along for dessert. These were very easy to make, using that box of cake and bottle of soda method, and while I wouldn't really call that a recipe, I will tell you what I did.
orange creamsicle cupcakes
dairy and egg free, vegan

makes 12 cupcakes 
1 package vanilla cake mix
1 tablespoon vanilla paste (or extract)
pulp from 1 orange (reserve juice for frosting)
10 ounces orange soda

Combine cake mix and soda, stirring until just combined. Fold in vanilla and orange pulp. Fill muffin cups 3/4 full. Bake at 325 for 20 minutes or until inserted toothpick comes out clean. Cool completely before frosting.
citrus cream cheese frosting
gluten, dairy and egg free, vegan
8 ounces cream cheese (Tofutti)
2 – 2 1/2 cups powdered sugar
juice from 1 orange
2 droppers full Orange NuStevia
Beat cream cheese, orange juice and NuStevia until softened, gradually adding powdered sugar until desired consistency is reached. Transfer to piping bag or frost as normal.
Yum. These are bright and light, sweet and citrusy. Perfect for sunny summer.