These sweet and salty vegan pineapple jalapeño poppers are a unique flavor twist on everyone's favorite party bite - sweet pineapple is a natural flavor pairing, and buttery cracker crumbs are a tasty topper to this spicy bite!
recipe originally published July 20, 2015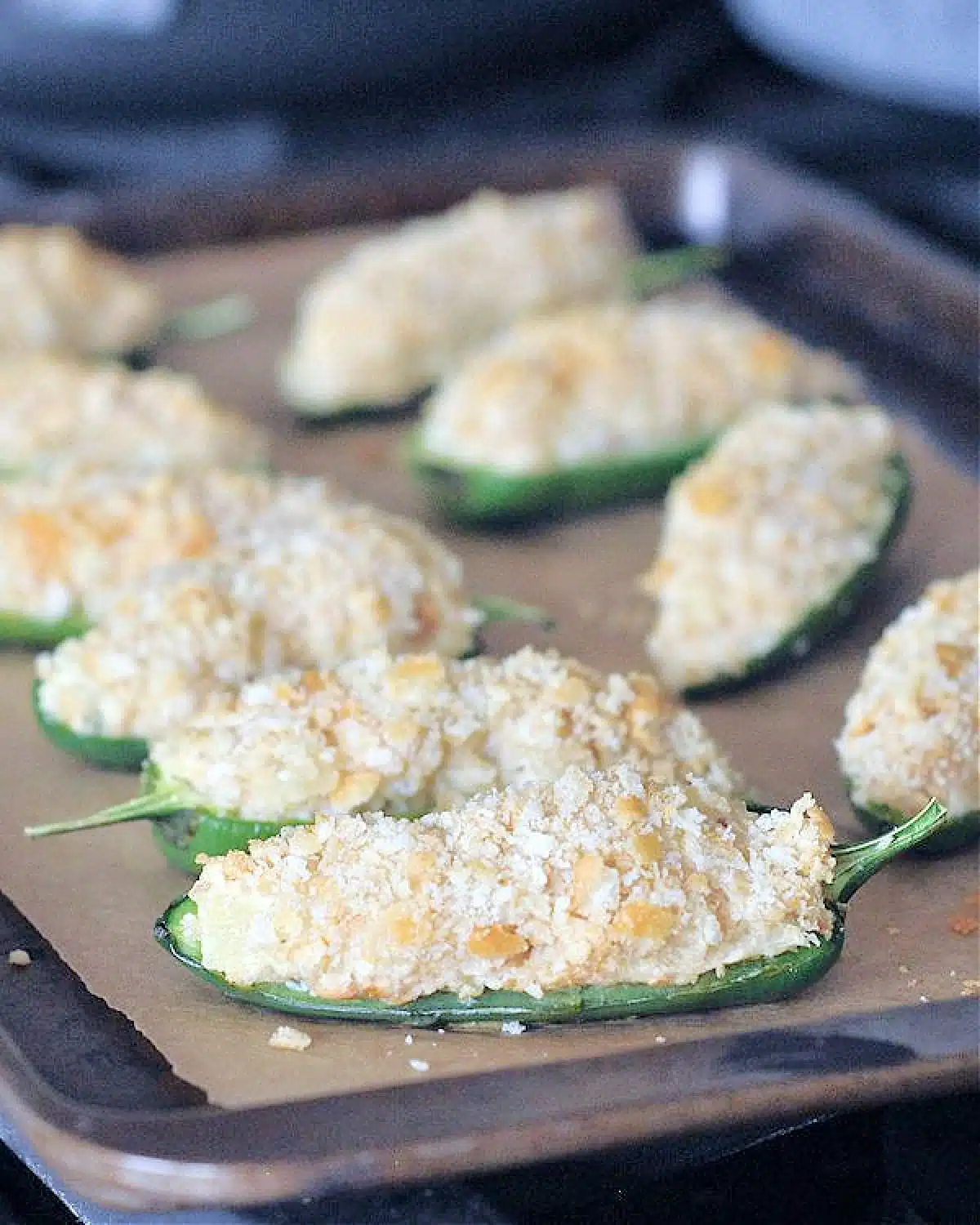 Vegan Jalapeño Poppers
If you follow me on Instagram (you should! we have all day picnic parties!), you may have seen me mention a couple cookbook projects I contributed recipes to.
During the planning process, each of us submitted recipe ideas to the publisher. I love jalapeño poppers, and had some great ideas for this classic party recipe.
Those recipe ideas were cut early on.
I. know.
I didn't even submit this particular flavor concept, so it wasn't the reason for refusal - I think Jalapeno Poppers weren't on the editors radar at all.
I have now made these for two different parties and once more just because, and I had to share because, oh so yum.
I should just make my own book, an All Jalapeño Popper cookbook. Ooooh, that's not a bad idea.
Also, I must provide a Public Service Announcement. If you make these, and then have leftovers, and then want to reheat those leftovers, do not warm them in a Science Oven.
Apparently, peppers are spicy. That turns into vapor in a microwave - like 10,000 F vapor - which turns into fire. I now know this firsthand...
Classic Party Recipe
The first time I made these, Jason was not home. They were not for a party, they were the first test at the recipe. I took one piece out of the fridge when Jason came home, put it on a paper towel, and popped it into the microwave. Like, level seven, 25 seconds. After 9 seconds, I heard a FOOMP and the pepper was on fire.
So please - just warm these up in the oven or toaster oven if you have leftovers - they are just as tasty when reheated and they will not spontaneously alight into fire.
I am pretty excited about these, the flavor is just as I'd hoped when I first dreamed it up - mildly sweet and spicy, with a buttery crunch. So fun and unique - I hope you try them.
They have been a hit at several parties since!
Our Celery Ranch Dressing makes a perfect dipping sauce...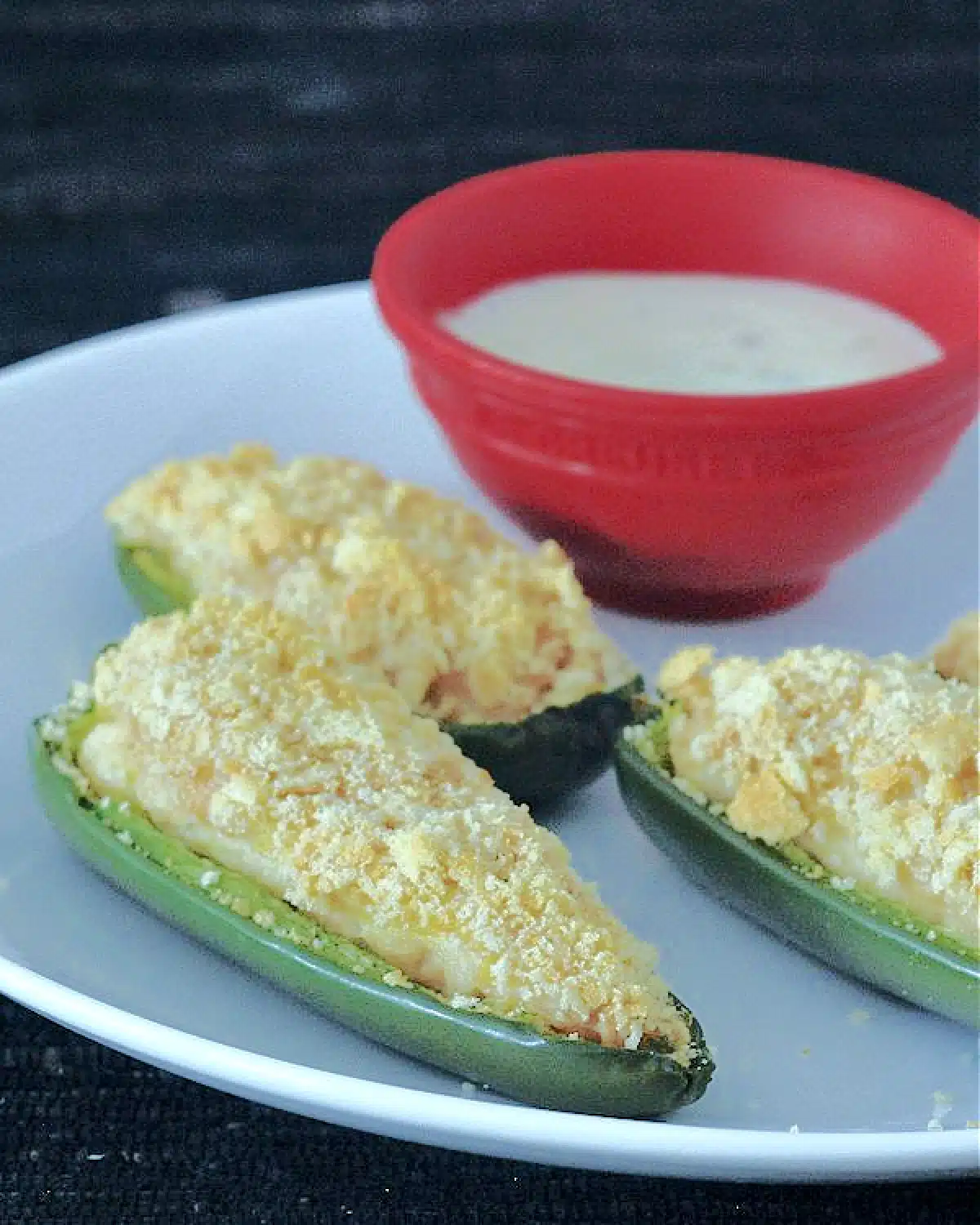 vegan party snacks
Oh hey, these have quinoa.
Totally qualifies as dinner.
Did you make this recipe?
Follow spabettie on Instagram and tag us with #spabettie
We love seeing your recipe photos and remakes - thank you!
Yield: 24 poppers
Pineapple Jalapeño Poppers
a unique flavor twist on everyone's favorite party bite - sweet pineapple and buttery cracker crumbs add to this spicy bite!
Ingredients
1 (8 ounce) can crushed pineapple, drained
6 ounces vegan cream cheese
⅓ cup cooked quinoa
18 + 8 gluten free crackers, divided
12 fresh jalapeño peppers, sliced in half lengthwise, seeds and ribs removed
Instructions
Preheat oven to 350 ºF. Line a baking sheet with parchment.
In a small mixing bowl, add pineapple, cream cheese, and quinoa, stir to combine. Using your hands, crush 18 crackers into the pineapple cheese mixture, stir to combine.
Fill each half jalapeño pepper with a heaping tablespoon of filling (see photo for example - the filling can be above the line of the pepper). Place peppers on baking sheet, filling side up. Crush remaining 8 crackers, top each filled pepper. Bake for 15 minutes, or until golden brown.
Remove from oven and allow to cool several minutes. Serve warm.
For a bit of cool to offset the heat, dip in Celery Ranch Dressing.
Nutrition Information:
Yield:
8
Serving Size:
3
Amount Per Serving:
Calories:

128
Total Fat:

9g
Saturated Fat:

4g
Trans Fat:

0g
Unsaturated Fat:

4g
Cholesterol:

0mg
Sodium:

51mg
Carbohydrates:

6g
Fiber:

2g
Sugar:

6g
Protein:

3g
nutrition calculations results vary by calculator, are for informational purposes only, and are not intended to replace medical advice or treatment.
about Kristina: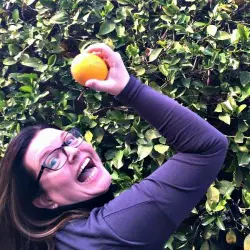 Kristina is spabettie! She found cooking at an early age, and created spabettie in 2010 to share vegan recipes. Kristina turned her culinary training into sharing vibrant vegan food! Read more...
spabettie / Kristina Sloggett is a participant in the Amazon Services LLC Associates Program, an affiliate advertising program designed to provide a means for sites to earn advertising fees by advertising and linking to Amazon.com.