Smoky Sweet Crunchy Chickpeas – this quick and easy snack recipe is gluten free, oil free, satisfying and flavor full! Appetizer, salad topper, and snack!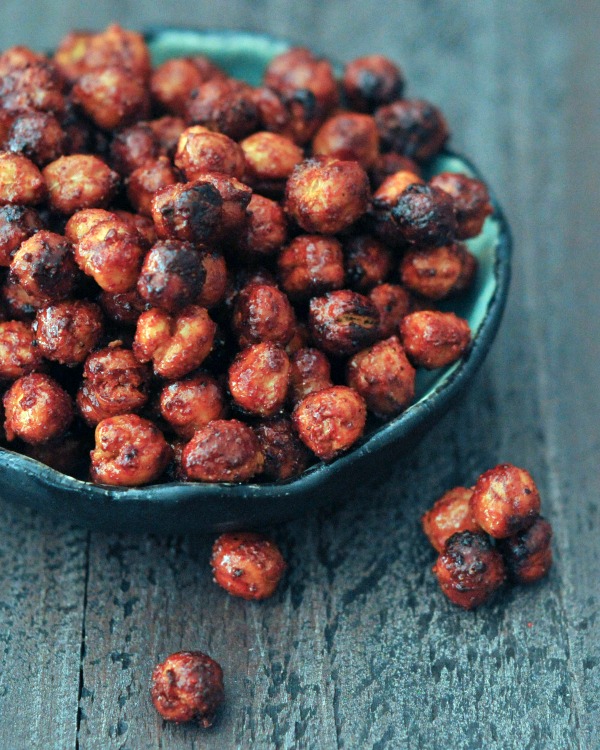 Your kitchen will smell so good while these are frying.
Air frying!
I mean, they smell good at the beginning step, when it is just the chickpeas frying by themselves. Then you add the spices and flavors? Mmm hmm.
The flavor combination here is one I love – sweet, smoky, salty…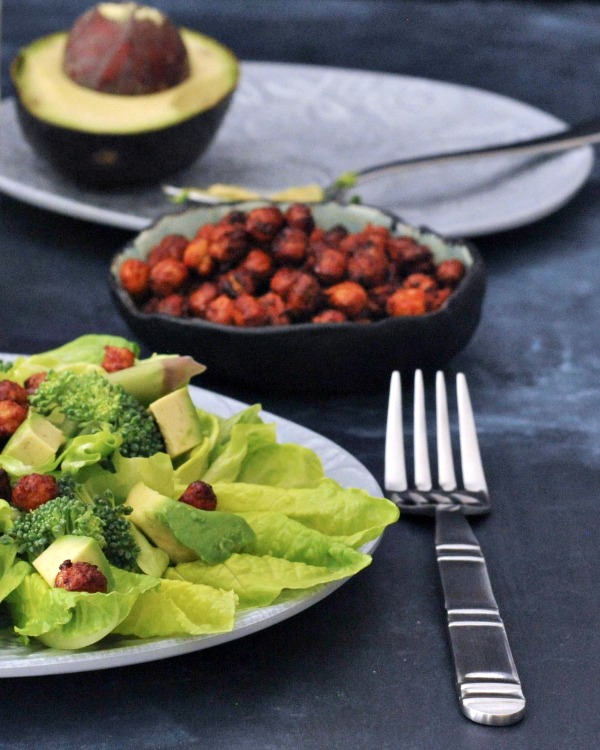 and the crunch!
I love the crunch – you all know how much I love my salads, and that my salads always have all kinds of texture layers. These not only add a great flavor bite to a salad, but the crispy crunch is there, too!
These are quick to make, and could not be easier. The recipe uses aquafaba, and has no oil! Grab a can of chickpeas and a few common pantry items and you can make your own!
In the ongoing search for answers to my chronic migraine, I have been doing some food elimination in the last few weeks. On the advice of my naturopath (and two additional doctor friends!), I started with bread. My beloved tortillas. My toast.
So!
These Smoky Sweet Crunchy Chickpeas are just one answer to bread replacement carbs.
I mean, I can't spread avocado on these little crispy chickpeas or make a burrito with them, but they do well to fill in as a crouton on salad, so…
Smoky Sweet Crunchy Chickpeas
YIELD: 3-4 servings
dairy, egg, soy, oil, and gluten free, vegan
INGREDIENTS:
1 (15 ounce) can chickpeas
2 tablespoons aquafaba from chickpeas
1 tablespoon maple syrup
2 teaspoons smoked paprika
1 1/2 teaspoons garlic powder
1/2 teaspoon sea salt
INSTRUCTIONS:
Drain chickpeas, reserving aquafaba. Do not rinse chickpeas.
Add chickpeas to air fryer basket, shake to a single layer, place inside air fryer. Fry at 390 °F for 8 minutes.
While the chickpeas cook: in mixing bowl, whisk together 2 tablespoons aquafaba, maple syrup, smoked paprika, garlic powder, and salt. (Save the remaining aquafaba for another use.)
Add chickpeas fresh from air fryer, stir to coat completely. Return flavored chickpeas to air fryer basket, using a spatula to get every last bit of the sauce.
Return chickpeas to air fryer. Fry at 390 °F for another 5 minutes. Shake basket, return to fryer for another 3-5 minutes, until chickpeas are crisp.
Transfer to serving bowl. Serve warm or room temperature – as a party appetizer, salad topper, or snack!
(These chickpeas can also be roasted in the oven.)
I call that a tasty alternative.
printable Smoky Sweet Crunchy Chickpeas recipe:
Smoky Sweet Crunchy Chickpeas
Author:
Kristina Sloggett
dairy, egg, soy, oil, and gluten free, vegan
Ingredients
1 (15 ounce) can chickpeas
2 tablespoons aquafaba from chickpeas
1 tablespoon maple syrup
2 teaspoons smoked paprika
1½ teaspoons garlic powder
½ teaspoon sea salt
Instructions
Drain chickpeas, reserving aquafaba. Do not rinse chickpeas.
Add chickpeas to air fryer basket, shake to a single layer, place inside air fryer. Fry at 390 °F for 8 minutes.
While the chickpeas cook: in mixing bowl, whisk together 2 tablespoons aquafaba, maple syrup, smoked paprika, garlic powder, and salt. (Save the remaining aquafaba for another use.)
Add chickpeas fresh from air fryer, stir to coat completely. Return flavored chickpeas to air fryer basket, using a spatula to get every last bit of the sauce.
Return chickpeas to air fryer. Fry at 390 °F for another 5 minutes. Shake basket, return to fryer for another 3-5 minutes, until chickpeas are crisp.
Transfer to serving bowl. Serve warm or room temperature - as a party appetizer, salad topper, or snack!
(These chickpeas can also be roasted in the oven.)