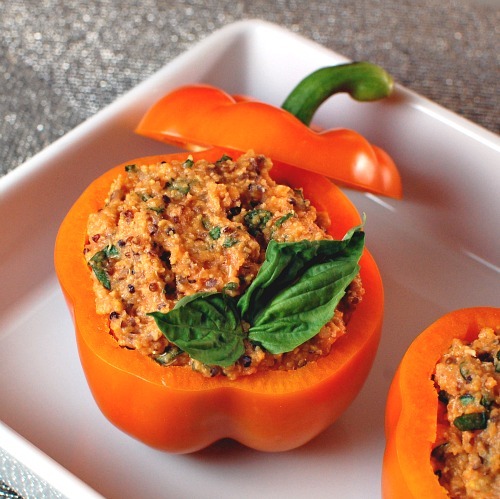 When shopping for peppers, do you pick the ones that have flat bottoms so they can stand and be stuffed, or is that just me?
The majority of the peppers I buy go into my juicer or get chopped up for a recipe, but I still look for the perfect pepper every time.
These? They are perfect. See how they stand up straight? 🙂
pizza polenta stuffed peppers
serves four
4 orange bell peppers
3 cups water
1 cup polenta (coarse ground cornmeal)
sea salt
½ cup cooked quinoa
3 tablespoons tomato paste
1 teaspoon rosemary
1 teaspoon oregano
2 cloves garlic, minced
9-15 leaves fresh basil, chopped fine
Bring water to simmer, add cornmeal. Stir consistently for first 5 minutes or so… I am never too far away, watching and stirring frequently. Once it comes together (20-25 minutes) add sea salt to taste. Add cooked quinoa to polenta, stir.
Combine tomato paste, rosemary, oregano, garlic. Add to quinoa polenta, stir. Add fresh basil, stir.
Cut the top off the peppers and clean out the innards and seeds. Fill with quinoa polenta and garnish with a basil leaf. Bake @ 350 for 30-35 minutes. Serve atop a simple spinach + vinaigrette salad.
Pizza flavor in a new way - the stuffed pepper is back! I can't wait until I can walk out to my garden and pick a pepper... I am prepared for peppers that may not stand up, though.
Happy Friday! Hope you enjoy the holiday weekend, any fun plans?