Oatmeal Raisin Cookie Granola - a quick and easy five ingredient granola that tastes just like the classic cookie! enjoy a bowl with chilled cashew milk, sprinkle over coconut yogurt, or just eat by the handful!
Last week I had a granola craving.
I also had a cookie craving, which is rare. I am not so much a cookie fan. Even more, it was a specific cookie craving - I wanted an Oatmeal Raisin Cookie.
So, I made a batch of granola, and rolled some of it into cookie balls.
Most of it was made into granola, though - and this recipe could not be easier.
Another rarity - I was able to reserve a double court the other day - we played tennis twice as long. Gotta love the summertime, with half the racquet club members on vacation! Our group decided to have a picnic after tennis - I'll give you half a guess who came up with that idea...
My contribution? My Perfect Picnic Pasta Salad, and granola! The pasta salad was made the night before, giving it time to get all flavorful and well, perfect. The granola? Super easy to make - I threw this together that morning!
Six ingredients. Well five, really - salt is essential for flavor but extra, right? Between mixing, baking, cooling, and taste testing, you can have Oatmeal Raisin Cookie Granola in half an hour!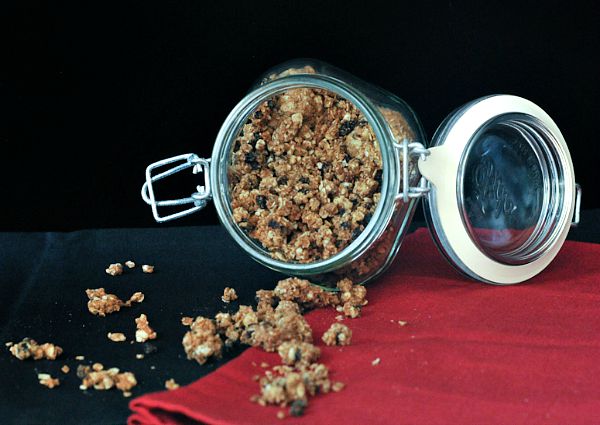 Oatmeal Raisin Cookie Granola
YIELD: 2+ cups granola
dairy, egg, soy and gluten free, vegan
INGREDIENTS:
½ cup sunflower seed butter
⅓ cup maple syrup
2 cups gluten free rolled oats
⅓ cup raisins (I used currants)
1 teaspoon cinnamon
1 teaspoon salt
INSTRUCTIONS:
Preheat oven to 325 °F. Line baking sheet with parchment.
In medium mixing bowl, add sunflower butter and maple syrup, stirring to combine completely. To this mixture, add oats, currants, cinnamon, and salt - stir until oats are coated.
Spread mixture onto prepared baking sheet, bake at 325 °F for 10 minutes. Remove from oven, turn with spatula, return to oven and bake for another 5-10 minutes.
Cool completely, crumble into small pieces.
Store in airtight container up to one week.
Add ins: mini candy coated chocolate, chocolate chips, nuts, dried fruit
...as a bowl of cereal kind of granola - this stays with you all morning!
printable recipe:



Yield: 2+ cups
[b]Oatmeal Raisin Cookie Granola[/b]
dairy, egg, soy and gluten free, vegan
Ingredients
½ cup sunflower seed butter
⅓ cup maple syrup
2 cups gluten free rolled oats
⅓ cup raisins (I used currants)
1 teaspoon cinnamon
1 teaspoon salt
Instructions
Preheat oven to 325 °F. Line baking sheet with parchment.
In medium mixing bowl, add sunflower butter and maple syrup, stirring to combine completely. To this mixture, add oats, currants, cinnamon, and salt - stir until oats are coated.
Spread mixture onto prepared baking sheet, bake at 325 °F
for 10 minutes. Remove from oven, turn with spatula, return to oven and bake for another 5-10 minutes.
Cool completely, crumble into small pieces.
Store in airtight container up to one week.
Add ins: mini candy coated chocolate, chocolate chips, nuts, dried fruit
Oatmeal Raisin Cookie Granola[/b]" thumbnail="https://www.spabettie.com/wp-content/uploads/2015/07/DSC_4517-1.jpg" type="recipe"]