a creamed spinach hand pie is a classic steak house side dish made vegan and wrapped in flaky pie pastry makes a delicious comfort food hand held. a tasty way to Celebrate Pi Day!
Creamed Spinach Hand Pie
happy Pi Day!
See all of our pie recipes for Pi Day!
As a former accountant and overall math nerd, it would be irrational of me to let Pi Day go by without acknowledgment.
Besides, it is the one time of year I recycle that irrational joke.
I Celebrate Pi Day each year, and my 2018 pie is a savory one.
The Creamed Spinach Hand Pie is super simple to make - roll out this Easy Gluten Free and Vegan Pie Crust and cut into triangles. I cut Pi symbols either as negative space / holes in the pie crust, or extra pieces cut from scraps to place on top of the pie.
I have cut Pi symbols so often, I no longer use a stencil. The freehand pieces just enhance the rustic look of these and all of my pies.
and then there is the filling...
My recent Rich Cauliflower Creamed Spinach recipe has already received some positive feedback. It the basis for the filling in these pies. To the creamed spinach, I added a couple ingredients for added crunch and flavor, and I am quite pleased with these!
A savory hand pie is a great lunch or dinner (or hey, even breakfast!), served warm and fresh out of the oven, over a crisp cool salad.
Pi Day or any day!
Mmm, pie.
want more Pi Day Pie? see all Pi Day Pies here!
and if you want pies without a Pi symbol? there's pizza, breakfast pie, and pie bites! (you can add a Pi symbol to any of those...)
Did you make this recipe?
Follow spabettie on Instagram and tag us with #spabettie
We love seeing your recipe photos and remakes - thank you!
Yield: 8 -9 individual pies (approximately 3x4 inches each)
Creamed Spinach Hand Pie
a classic side dish wrapped in flaky pie pastry makes a delicious comfort food hand held.
Ingredients
1 can water chestnuts, drained and diced
¼ cup roasted red peppers, chopped small
1 Easy Gluten Free and Vegan Pie Crust recipe
Instructions
Preheat oven to 350 °F. Line baking sheet with parchment paper.
Prepare pie crust dough.
Turn out onto a floured surface.
Knead and form a ball, wrap and refrigerate for 20 minutes.
Meanwhile, in a small bowl, combine creamed spinach, diced water chestnuts, and roasted red peppers. Set aside. Fill a second small bowl with water.
Roll on a floured surface and cut into small rectangle shapes (about 3x4 inch) for individual hand pies. Use scraps of pie crust dough to cut Pi shapes.
Into the middle of one rectangle pie crust, spoon 2-3 tablespoons spinach filling. Top with another rectangle of pie crust, and crimp sides with fork.
To affix a Pi shape to top of pie, dip your finger in water bowl and dab onto middle of pie and the back side of the Pi symbol. Press the Pi symbol lightly into center of pie.
Using a small paring knife, cut 2-3 vent holes into top of pie crust. Transfer pie to parchment lined baking sheet. Repeat steps with remaining pie crusts and filling.
Bake at 350 °F for 25 minutes, or until lightly golden brown.
Nutrition Information:
Yield:
8
Serving Size:
1 pie
Amount Per Serving:
Calories:

128
Total Fat:

7g
Saturated Fat:

2g
Trans Fat:

0g
Unsaturated Fat:

4g
Cholesterol:

0mg
Sodium:

126mg
Carbohydrates:

15g
Fiber:

7g
Sugar:

2g
Protein:

3g
nutrition calculations results vary by calculator, are for informational purposes only, and are not intended to replace medical advice or treatment.
about Kristina: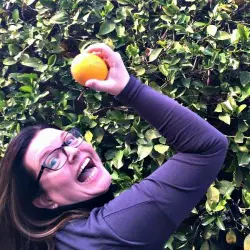 Kristina is spabettie! She found cooking at an early age, and created spabettie in 2010 to share vegan recipes. Kristina turned her culinary training into sharing vibrant vegan food! Read more...
spabettie / Kristina Sloggett is a participant in the Amazon Services LLC Associates Program, an affiliate advertising program designed to provide a means for sites to earn advertising fees by advertising and linking to Amazon.com.