Rich Black Forest Skillet Crisp – skip the baking and embrace the stovetop! this short cut results in a rich and delectable dessert in much less time!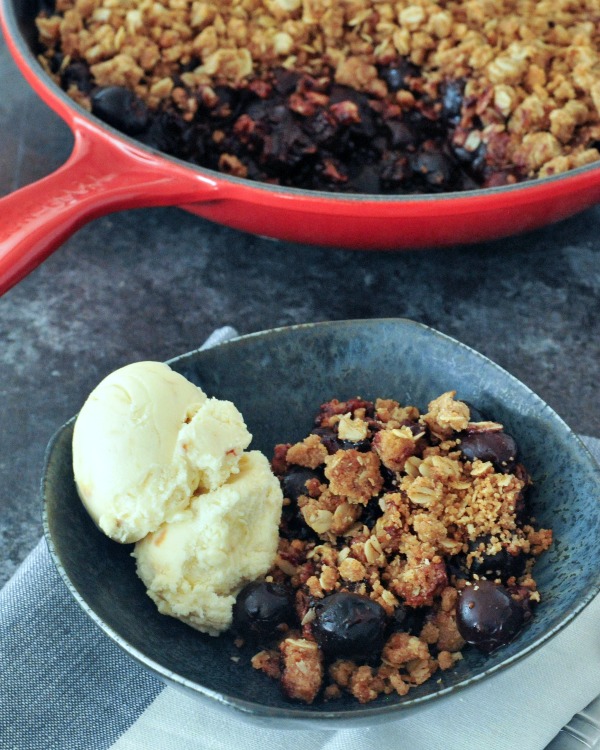 I made this heavenly Rich Black Forest Skillet Crisp on New Years Eve, and we all enjoyed the sweet flavors of summer from the cherries provided by our tree this last season. Memories of standing at the sink with a cherry pitter, red hands, and the three for the bowl, one for me method came back with my first bite.
Two summers ago, we had an arborist out to trim our cherry tree. (They waited until the cherries were perfect picking, and laid out all the branches in the yard. My mom came over and we spent the morning harvesting all of those cherries.)
Last summer – thanks to the tree trim – the cherries were even more bountiful. I have a bunch of one pound bags in the freezer, and I know I will be making this quick and easy dessert again and again.
and before we know it, summer and the cherries will be here. We can all make this Rich Black Forest Skillet Crisp with fresh cherries!
This Rich Black Forest Skillet Crisp is just one of the many tasty and impressive recipes in the latest book by Hannah Kaminsky, Real Food, Really Fast. This spectacular work boasts dishes that are ready in ten minutes or less.
…and I would readily add that the quickness of these methods in no way sacrifices flavor and satisfaction.
Yes.
It is true.
I have already tried several of the recipes, so I can confirm this without hesitation. This is a great book, filled with real recipes, not what you think of given ten minutes time. (Over here, ten minutes is usually a smoothie, a piece of avocado toast, or a bowl of cereal.)
Not any longer!
The first recipe we enjoyed was the bright and lively Cashew Scampi, which really was ready in the time it takes Jason to drive home, and has incredible flavor. Everything Bagel Salad was up next, and honestly? I wanted it for breakfast again the next day. So I had it.
The Kimchi Noodle Soup is my new favorite recipe, and I will be making that one often. Walnut Bolognese and Spinach Artichoke Bisque are the next on our list. All in all, there are breakfasts, snacks and appetizers, salads, soups and sides, entrees and desserts.
But that is not all – in addition to the recipes, Hannah begins with Warp Speed Secrets and Fast Fundamentals – these are what I call timely tips for accelerating your kitchen actions.
Hannah also shares basics for building a plant based pantry, expounds on essential equipment, and gives us a glossary. Handy guides for conversions of measure, temperature, and food ratios round out the resource that this cookbook most definitely is.
Join me in congratulating Hannah on her first savory book! It is one I will keep in my kitchen, and it should be in yours also!
The sweet flavors of summer are given a rich infusion of chocolate that the Black Forest name is known for – perfect for these cooler months. And this streusel topping! In the book, Hannah says this can be made ahead of time.
Um.
If I made it ahead of time, I'd still have to make it the day I was making the full dessert – because I was sneaking pieces of this out of the pan as it was toasting.
Also… you know how I love recipes that make your kitchen smell good. This streusel is that. Oh yum.
from the book: Warm fruit crisp straight out of the oven, still bubbling richly with gooey baked fruit, is a truly underrated pleasure. This version skips the preheating and baking time, cooked straight over the stove instead. Chocolate mingles with explosively ripe cherries for all the flavor of Black Forest cake, with none of the hassle.
Rich Black Forest Skillet Crisp
YIELD: 4-8 servings
dairy, egg, soy and gluten free, vegan
INGREDIENTS:
Streusel Topping:
1/2 cup all-purpose flour [*gluten free all purpose – see notes]
1/2 cup blanched almond meal
1/2 cup old-fashioned rolled oats [*gluten free oats – see notes]
1/2 cup light brown sugar, firmly packed
1/2 teaspoon salt
1/2 teaspoon ground cinnamon
1/2 cup vegan butter or coconut oil, melted
Chocolate Cherry Filling:
2 pounds (about 4 cups) frozen pitted sweet cherries, thawed
1/3 cup granulated sugar
3 tablespoons cocoa powder
2 tablespoons cornstarch
1/2 teaspoon almond extract
1/4 teaspoon salt

INSTRUCTIONS:
Starting with the streusel, combine the flour, almond meal, rolled oats, sugar, salt, and cinnamon in a medium-sized bowl.
Drizzle in the melted butter or coconut oil, stirring until large clumps form and the entire mixture is moistened.
Transfer to a small skillet and cook on low heat, stirring frequently, until the streusel is golden brown and well toasted, 6–8 minutes.
(The streusel can also be made up to a week in advance. After cooling completely, store in an airtight container at room temperature until ready to use.)
Meanwhile, for the filling, place the cherries in a large skillet and begin to cook over medium heat.
Mix together the sugar, cocoa powder, and cornstarch in a small bowl before adding it to the fruit.
Stir thoroughly to incorporate and heat until the natural juices of the cherries come up to a simmer.
Stir periodically, until the cherries have burst and the surrounding liquid has thickened, about 8–9 minutes.
Mix in the almond extract and salt last.
Top with the streusel and serve immediately, right out of the skillet.
Quick Tip: Skip the streusel and throw 1½ cups of your favorite granola on top instead. Toss it with a few tablespoons of melted vegan butter or coconut oil to make it a bit richer.
[*spabettie notes: make gluten free using a gluten free all purpose flour and gluten free oats. we used gluten free for both and the result was perfect.]
…perfectly delectable on its own, and enhanced with ice cream or coconut whip!
Rich Black Forest Skillet Crisp recipe reprinted from Real Food, Really Fast copyright © 2018 by Hannah Kaminsky. recipe shared with permission from Hannah Kaminsky and Skyhorse Publishing.
printable Rich Black Forest Skillet Crisp recipe:
Rich Black Forest Skillet Crisp
dairy, egg, soy and gluten free, vegan
Ingredients
Streusel Topping:
½ cup all-purpose flour [*gluten free all purpose - see notes]
½ cup blanched almond meal
½ cup old-fashioned rolled oats [*gluten free oats - see notes]
½ cup light brown sugar, firmly packed
½ teaspoon salt
½ teaspoon ground cinnamon
½ cup vegan butter or coconut oil, melted
Chocolate Cherry Filling:
2 pounds (about 4 cups) frozen pitted sweet cherries, thawed
⅓ cup granulated sugar
3 tablespoons cocoa powder
2 tablespoons cornstarch
½ teaspoon almond extract
¼ teaspoon salt
Instructions
Starting with the streusel, combine the flour, almond meal, rolled oats, sugar, salt, and cinnamon in a medium-sized bowl.
Drizzle in the melted butter or coconut oil, stirring until large clumps form and the entire mixture is moistened.
Transfer to a small skillet and cook on low heat, stirring frequently, until the streusel is golden brown and well toasted, 6–8 minutes.
(The streusel can also be made up to a week in advance. After cooling completely, store in an airtight container at room temperature until ready to use.)
Meanwhile, for the filling, place the cherries in a large skillet and begin to cook over medium heat.
Mix together the sugar, cocoa powder, and cornstarch in a small bowl before adding it to the fruit.
Stir thoroughly to incorporate and heat until the natural juices of the cherries come up to a simmer.
Stir periodically, until the cherries have burst and the surrounding liquid has thickened, about 8–9 minutes.
Mix in the almond extract and salt last.
Top with the streusel and serve immediately, right out of the skillet.
Quick Tip: Skip the streusel and throw 1½ cups of your favorite granola on top instead. Toss it with a few tablespoons of melted vegan butter or coconut oil to make it a bit richer.
[*spabettie notes: make gluten free using a gluten free all purpose flour and gluten free oats. we used gluten free for both and the result was perfect.]