Caramelized Onion Kabocha Sandwich with Garlic and Avocado – everyone's new favorite squash sandwiched with sweet caramelized onions, creamy cool avocado, and roasted garlic mayo – Mmm…
__________________________________________________
My love of kabocha continues. and I keep finding new things to do with it. I think I ate this sandwich every day for a week. Yep, probably went through … six kabocha in five days?
Last night I was out of sandwich rolls so I made a kabocha rice bowl with all of these ingredients.
After several weeks of bummer avocados, I had one good one. I am not yet certain my luck will hold, but I love avocados so much that I do keep trying. Any good avocados where you are? The avocado bin is probably the place where I spend the most time during my shopping trips lately – and now that I have had a good one, I will pick over each one, obsessing even more. *sigh*
So ready for spring. In the meantime, these are my winter comfort food flavors.
caramelized onion kabocha sandwich with garlic and avocado
YIELD: two sandwiches
dairy, egg, soy and gluten free, vegan
INGREDIENTS:
1/2 kabocha squash*, scrubbed
3-4 tablespoons coconut oil
sea salt and pepper
1 small sweet onion
2 sandwich rolls / bread
2 tablespoons Roasted Garlic Mayonnaise
1 avocado, peeled, seeded and sliced
*I roasted the whole kabocha – making the other half portion into buffalo celery ranch fries
INSTRUCTIONS:
Preheat oven to 375.
Cut squash in half at stem. Remove stem, seeds and innards, bottom core. Cut each half into half again, and positioning each segment on one flat side, carefully slice into thin uniform slices (1/4 inch or so). Brush with 1-2 tablespoons coconut oil, arrange in a single layer on prepared (foil, parchment) baking sheets. Season with salt and pepper. Bake at 375 for 20 minutes.
Remove from oven, flip each slice to other side, return to oven for another 15-17 minutes or until crispy and golden brown.
While kabocha bakes, peel onion and dice onion. Heat remaining 1-2 tablespoons coconut oil in skillet, adding onion and sea salt. Cook on low heat for 25-30 minutes, stirring often.
Prepare sandwiches: split rolls, spread Roasted Garlic Mayo on each slice. Stack one half avocado on each bottom half, followed by several warm slices of roasted kabocha. Top with hot caramelized onions and top half of roll.
Enjoy.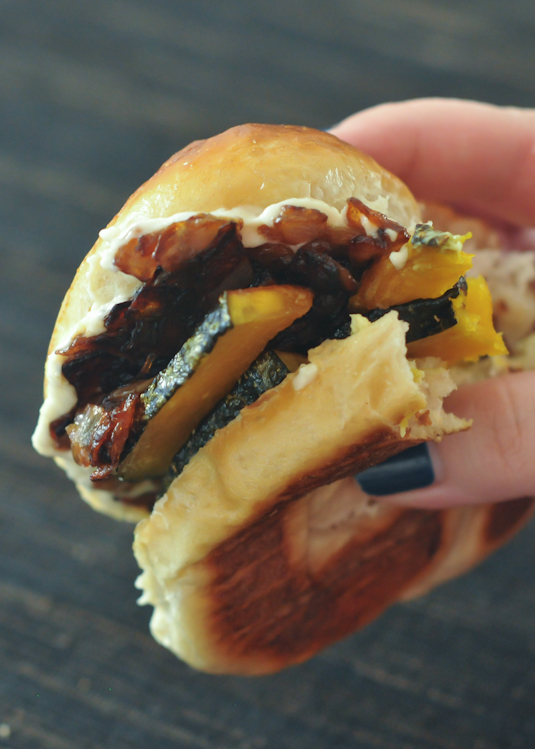 oh so good.