Vibrant Spaghetti Squash Bowl with Smoky Waffled Tofu – vibrant colors and bright bold flavors piled into a deliciously tasty bowl you could enjoy every day!
Vibrant Spaghetti Squash Bowl with Smoky Waffled Tofu
Bright. Vibrant. Tangy Savory Sweet.
Addictive.
With all the ballyhoo in the news these days about cheese being addictive and bacon this or that, I'm just sitting over here with my obsession with fresh and flavorful bowls.
and Ginger Tahini Sauce.
I am so excited to share these recipes with you – when I first made these over the summer, I was eating them every day. Literally – I'd make batches of the tofu, beets, and even the squash… and you all know I always have at least three bunches of kale in my kitchen. Always.
So, my lunches were super easy – grab a skillet, throw a bit of each ingredient in – yep, even the beets – warm it up, top with the oh so flavorful Ginger Tahini Sauce…  enjoy.
The tofu is super fun – soft on the inside, crispy on the outside. It's waffled, you guys, and it brings a smoky flavor to the bowl. The beets are vibrant, the spaghetti squash is buttery warm, the kale is essential.
This is the epitome of eating your colors. So good.
Vibrant Spaghetti Squash Bowl with Smoky Waffled Tofu
YIELD: three to four bowls
dairy, egg, and gluten free, vegan
INGREDIENTS:
1 spaghetti squash
1/2 bunch kale, cleaned, ribs removed
1 recipe Smoky Waffled Tofu (recipe below)
1 cup Easy Pickled Beets
1 recipe Ginger Tahini Sauce (recipe below)
INSTRUCTIONS:
Preheat oven to 375 °F. Line baking sheet with parchment.
Carefully cut spaghetti squash widthwise into 1 inch rounds, removing seeds. Place in single layer on baking sheet, bake at 375 °F for 25 minutes. Remove from oven, flip each squash round over, return to oven and continue baking another 20 minutes.
Remove from oven, set aside a few minutes before removing squash "noodles" from outer skin with a fork.
Rip / chop kale into bite size pieces, place in serving bowls. Top with warm spaghetti squash, warm Smoky Waffled Tofu, Pickled Beets. Drizzle with Ginger Tahini Sauce, enjoy!
Smoky Waffled Tofu
YIELD: three to four servings
dairy, egg, and gluten free, vegan
INGREDIENTS:

2 tablespoons sesame oil
1 tablespoon liquid smoke
1-2 teaspoons tamari
1 (14 ounce) package extra firm tofu, drained and pressed

INSTRUCTIONS:
In mixing bowl, whisk together sesame oil, liquid smoke, and tamari.
Slice brick of tofu in half down the middle. Slice each of those halves into four small slabs.
Marinate tofu slabs in sesame tamari mixture (at least 20 minutes to one hour or longer).
Prep (spray, grease) and preheat waffle iron. Place marinated tofu slabs on waffle iron and cook according to machine instructions.
Ginger Tahini Sauce
dairy, egg, soy, and gluten free, vegan
INGREDIENTS:
1/3 cup tahini
1/4 inch fresh ginger
juice of 1 lemon
1 tablespoon maple syrup

INSTRUCTIONS:
Using the side of a spoon, peel the skin away from the piece of ginger. Mince ginger finely enough that it is almost a paste.
Whisk together tahini, minced ginger, lemon juice, and maple syrup.
Recipe easily doubled.
This bowl is another version of my standard daily eats – with a little prep on the weekend, this could be lunch all week long. I could have these flavors every day and not get bored.
Try AmazonFresh Free Trial
for Unlimited Grocery Delivery – add these recipe ingredients to your list. use code FRESH25 for a $25 off discount on your first AmazonFresh order!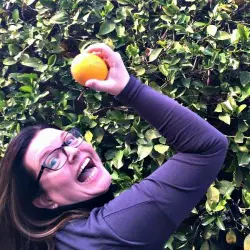 ABOUT KRISTINA SLOGGETT: Kristina is spabettie! She founded spabettie in 2010 to share her vegetarian recipes. Vegetarian quickly became vegan.
As the sole recipe developer and photographer at spabettie, Kristina turned her love of cooking and creativity into an extremely fun and challenging way to spend her days – sharing just how flavorful and vibrant vegan food is!
She loves dachshunds, Portland, Hawaii, drummers – well, one drummer – and travel.
printable Vibrant Spaghetti Squash Bowl with Smoky Waffled Tofu recipes:
spabettie / Kristina Sloggett is a participant in the Amazon Services LLC Associates Program, an affiliate advertising program designed to provide a means for sites to earn advertising fees by advertising and linking to Amazon.com.