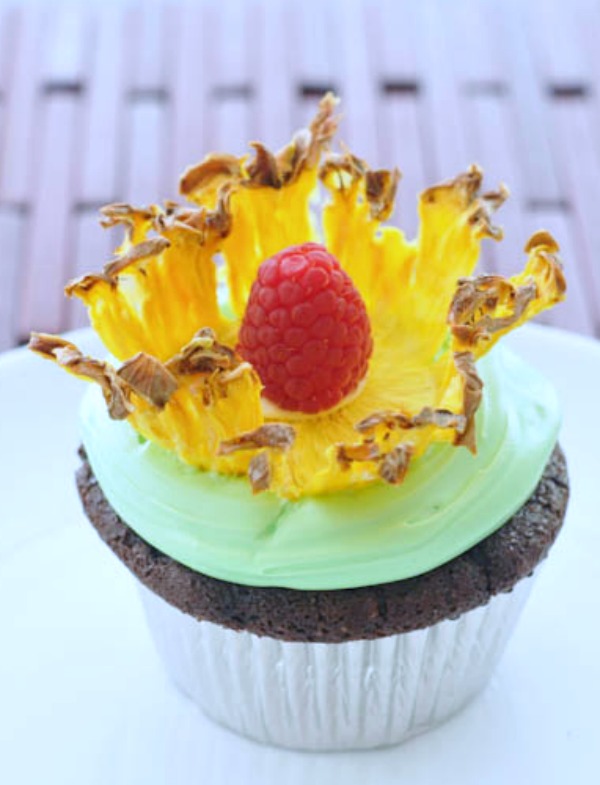 Pineapple Flower Cakes - dehydrated pineapple flowers make a bright summery presentation on sweet cupcakes - an impressive and easy decoration!
The first time I saw them was when Annie shared them (she says they are from Martha Stewart), and I have wanted to make them ever since. My lovely friend Sarena just made some too - hers are gorgeous as well!
I have made these flowers three times now, once as cupcake toppers for Jeni's going away party, which called for some over the top desserts.
The way I made them was very simple - I sliced very thin rounds of fresh pineapple (which was by far the most difficult part), peeling some of the slices and leaving some slices with peel intact - resulting in different looks for the flowers. I placed them over the backside of a muffin tin and dried them in my dehydrator (I am sure this would also work in an oven, lowest temperature, door open) for several hours.
I checked on them every so often, moving them around as they softened. Moving them is an important part - as they soften they become sticky and moving them helps keep them from ripping or sticking to the pan. After several hours (like 6 or 7) they are pliable and chewy, and crunchy around the edges.
After frosting the (cooled) cupcakes with green frosting and darker green "leaves", I placed a pineapple "flower" atop each cake. Then I filled a raspberry with icing, which became the middle for each flower.
I made two flavors of cakes for Jeni and her party - chocolate and vanilla.
For the chocolate, I used this cake mix. Not only is it gluten free, it appears to be naturally vegan as well! I used the same recipe method that I used with these cupcakes, without the orange flavor. The vanilla cupcakes were a recipe I am making for a project off this website, if I can share it later I will.
Summer is here, and my dehydrator is working overtime, for sure. More goodies coming soon.