These old school gluten free vegan wiener wraps are an update on that classic childhood school favorite! Revisit a bit of nostalgia with this quick and easy assembly!
recipe originally published July 13, 2012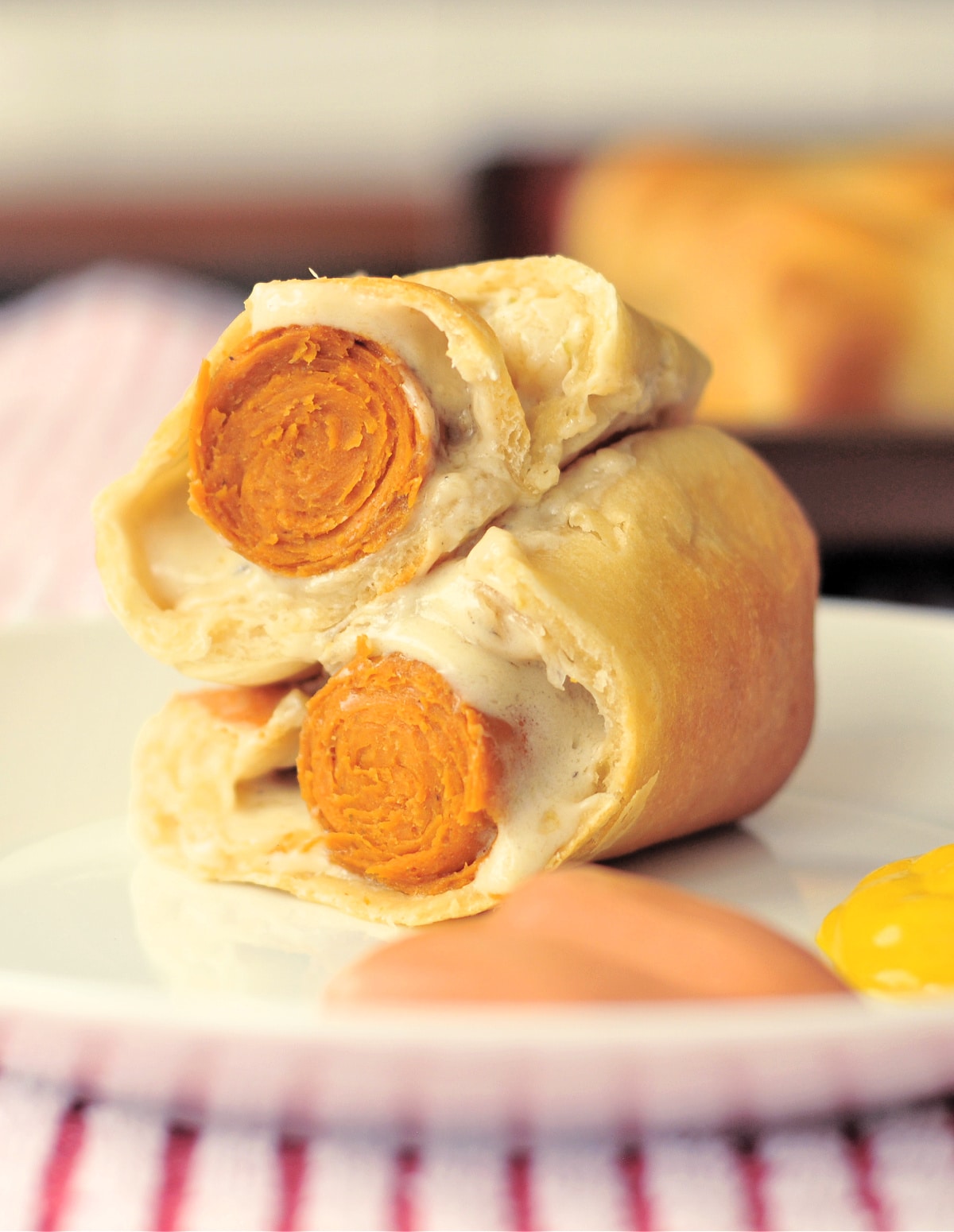 TABLE OF CONTENTS - Jump to any section: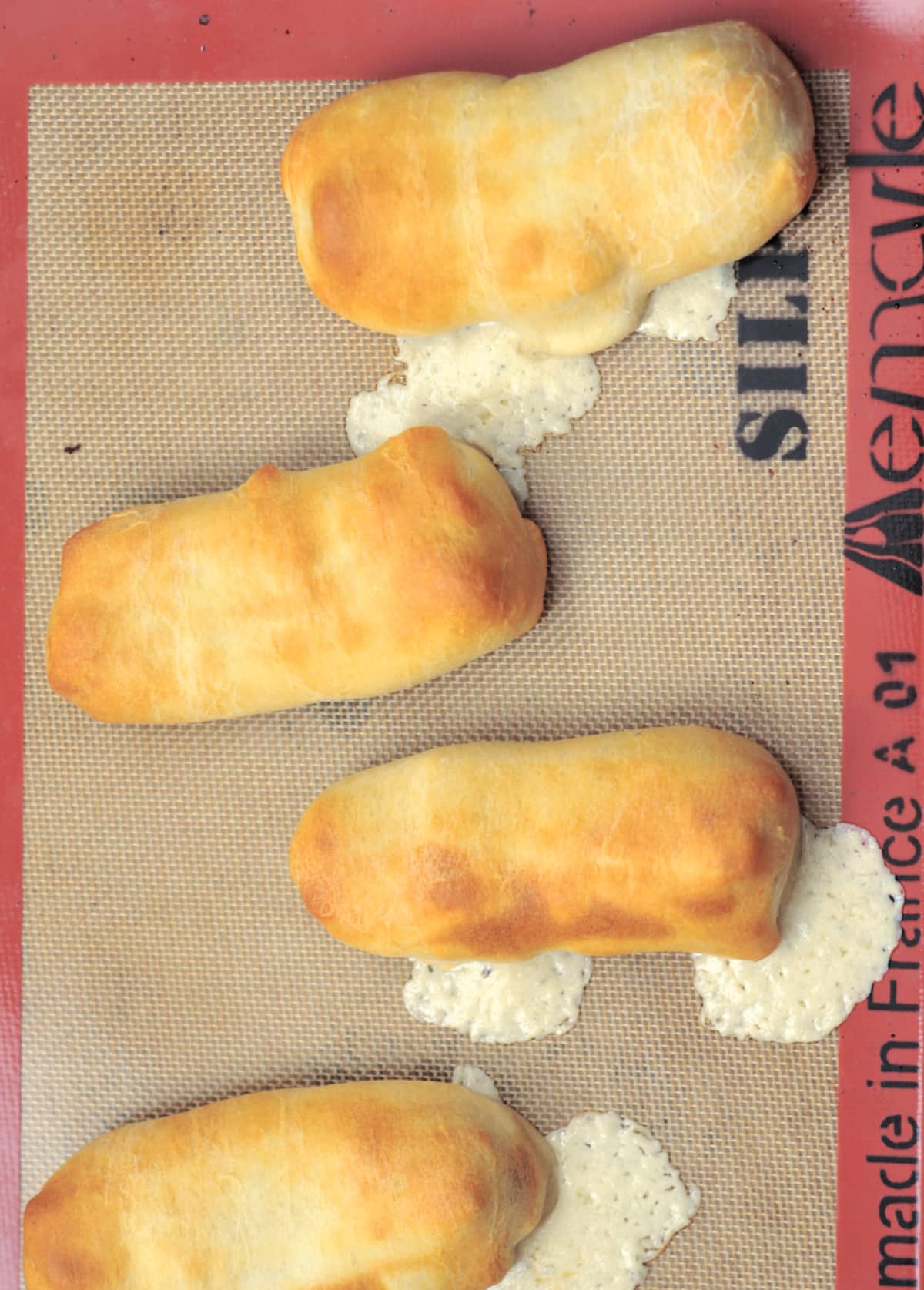 Vegan Pigs In Blankets
Wiener wraps. Pigs in blankets. Crescent dogs.
Whatever you call them, these gluten free vegan wiener wraps evoke a core memory for me. The only thing I really liked on the grade school lunch menu was the wiener wraps - hot dogs wrapped in puffy, fluffy dough.
Puff pastry hot dogs, pigs in a blanket, crescent dogs, or as listed on our elementary lunch schedule, wiener wraps.
They didn't show up on the menu enough, in my young grade schooler opinion. Every so often they would offer cheese wraps, replacing the hot dog with a string cheese. Those were even more rare, and all the more coveted.
I combined the two, for a gooey cheesy trip back in time. These are the best of summer and back to school all in one. Summer comfort food for those crisp cool evenings.
Dipped in tangy yellow mustard and sweet tomato ketchup or fry sauce, these cover all the classic flavors.
...and just look at that melty cheese.
How to make wiener wraps
This crescent dog is more an assembly than a recipe, and so very easy.
I used this delicious meltable vegan cheese and these gluten free vegan hot dogs, wrapping them in a fluffy pastry dough.
Gluten free puff pastry hot dogs
A gluten free wiener wrap? Yes. They aren't as pretty to look at, but I can definitely tell you they are as tasty.
When I first discovered a gluten free puff pastry that is also vegan, let's just say my holiday baking was instantly elevated.
Summertime rolled around, and with it, my annual craving for a hot dog. A gluten free vegan wiener wrap just had to happen.
Working with gluten free puff pastry
I have learned a few important notes when when working with gluten free puff pastry.
The day before I am planning to use gluten free puff pastry, I remove it from the freezer and let it thaw overnight in the fridge.
Several hours before I am going to use it, I remove the puff pastry from the fridge. I set it aside and allow it to reach room temperature before attempting to unroll. This reduces breaks.
If your gluten free puff pastry breaks or rips, it is very easy to pinch back together and / or roll with a rolling pin.
I will be honest: gluten free puff pastry is not easy to work with. Depending on how much you crave a pastry dough, this may or may not be a task you want to tackle.
For me, it was worth it. The few gluten free brands of dough I have tried have all been flaky and wonderful. Also, when I say it is not easy, I mean it cracks. Even when you let the dough come to room temperature, it may still crack.
With a little patience and just a few more minutes spent re-rolling the dough, you too can have a flaky gluten free vegan wiener wrap.
Classic fry sauce
A classic fry sauce is generally a 2:1 ratio of mayo to ketchup. I like less mayo and more ketchup, so my fry sauce is equal parts of each. I sometimes add smoked paprika.
If I added finely chopped pickles I may as well make Thousand Island dressing...
Did you make these wiener wraps?
Follow spabettie on Instagram and tag us with #spabettie
We love seeing your recipe photos and remakes - thank you!
Yield: 6 wiener wraps
Gluten Free Vegan Wiener Wraps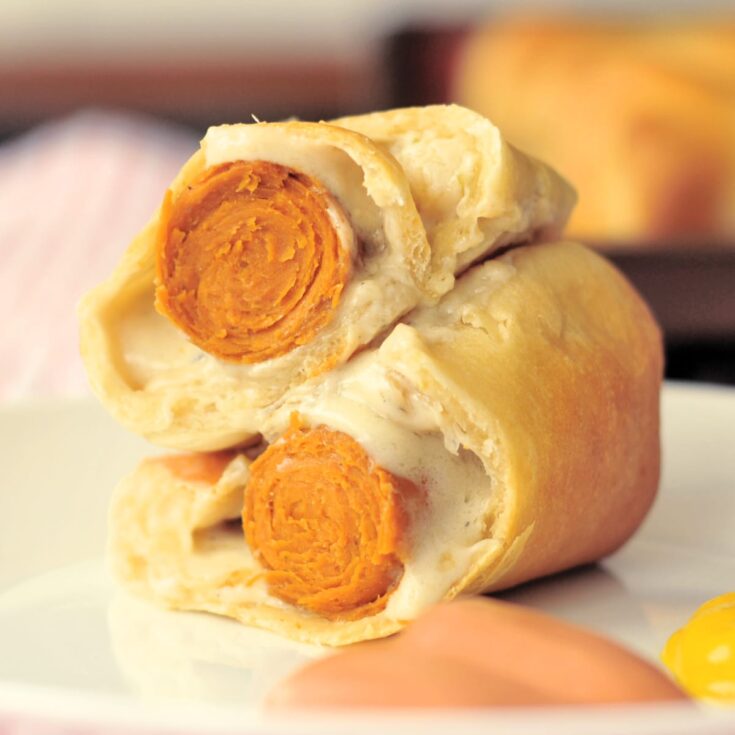 A vegan update on your favorite school lunch!
Ingredients
Wiener Wraps
Fry Sauce
Instructions
Preheat oven to 350 °F. Line a baking sheet with parchment paper.
Gently stretch or roll dough. Cut dough into rectangles large enough to wrap around the hot dog.
Add cheese to the middle of each dough rectangle and add a hot dog to the top of the cheese.
Carefully fold each end up, then fold each long side over the dog and crimp closed.
Place on prepared baking sheet, crimped edge down. Repeat with remaining cheese, hot dogs, and dough.
Bake at 350 °F for 15-17 minutes, until dough is golden brown and cooked through.
Meanwhile, make the fry sauce. In a small bowl, combine ketchup and mayo, whisking until smooth. Add smoked paprika or other seasonings as you like.
Remove wiener wraps from oven and allow a few minutes cooling time (that cheese, while awesome, is molten lava!).
Serve with ketchup, mustard, fry sauce.
Notes
dairy free, vegan recipe with gluten free option!
Gluten free notes:
There are a few gluten free puff pastry options. The brands I have tried are Schar and GeeFree.
IMPORTANT NOTE: When working with gluten free puff pastry, I remove it from the freezer and let it thaw overnight in the fridge. THEN I remove the puff pastry from the fridge and allow to come to room temperature before attempting to unroll. This reduces breaks.
If your gluten free puff pastry breaks or rips, it is very easy to pinch back together and / or roll with a rolling pin.
Recommended Products
As an Amazon Associate and member of other affiliate programs, I earn from qualifying purchases.
Nutrition Information:
Yield:
6
Serving Size:
1
Amount Per Serving:
Calories:

286
Total Fat:

24g
Saturated Fat:

10g
Trans Fat:

0g
Unsaturated Fat:

8g
Cholesterol:

0mg
Sodium:

613mg
Carbohydrates:

4g
Fiber:

0g
Sugar:

1g
Protein:

12g
nutrition calculations results vary by calculator, are for informational purposes only, and are not intended to replace medical advice or treatment.
about Kristina: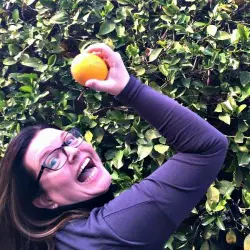 Kristina is spabettie! She found cooking at an early age, and created spabettie in 2010 to share vegan recipes. Kristina turned her culinary training into sharing vibrant vegan food! Read more...
spabettie / Kristina Sloggett is a participant in the Amazon Services LLC Associates Program, an affiliate advertising program designed to provide a means for sites to earn advertising fees by advertising and linking to Amazon.com.