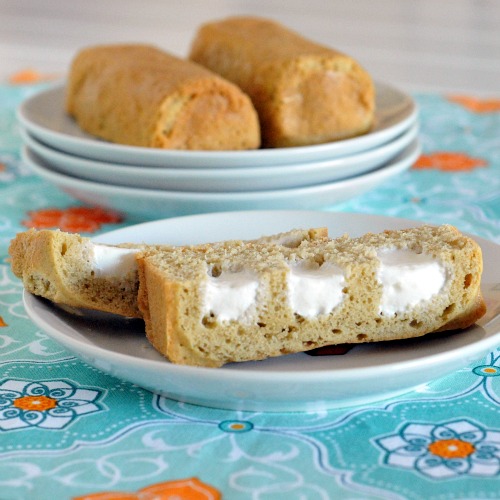 Too much for you? I plead The Twinkie Defense.
My defense is that yes, things like this aren't good for us all the time – but Twinkies make you happy.
Guys, did you hear? This childhood icon is in danger.
Jason always surprises me with a sweet treat at the start of my birthday month. The first couple years we were dating, it was a Twinkie. He even topped it with a lit candle. I rarely had Twinkies as a kid, but those Twinkies from Jason are my nostalgia.
I adapted my cake recipe to make a three pack of Twinkies. Vegan, gluten free, will only last a day Twinkies. Okay, maybe two days. Sorry, these won't last as long as the legendary original.
Or perhaps they will – these are so easy to make. You don't need a special shaped mold, you just need this.
Twinkie cake
makes three Twinkies
gluten, dairy and soy free, vegan
2 tablespoons chia seeds
1/4 cup + 1 tablespoon water
1/4 cup butter (Earth Balance Soy Free)
1 tablespoon coconut spread (or use more butter)
1/3 cup maple syrup (or sweetener of choice)
1 teaspoon vanilla
3/4 cup flour (gluten free AP)
1/4 teaspoon baking soda
Combine chia and water, set aside to gel. Cream butter, coconut spread, maple syrup and vanilla. Add chia, combine completely. Add flour and baking soda, combine.
Divide batter between three Twinkie molds. Bake at 350 for 25-27 minutes, or until inserted toothpick comes clean. Cool completely.
This cake is not as spongy as a typical Twinkie – cut holes in the bottom to fill with your favorite whip.
You know when you pull a Twinkie off the white strip of paper, and some of the cake is left on the paper? That was always my favorite part. These Twinkies do the same thing!
Live on, little Twinkie.