Hearty portobello wellingtons are individual entrees of plant based fancy! Crisp pastry surrounds rich and savory goodness.
recipe originally published November 22, 2013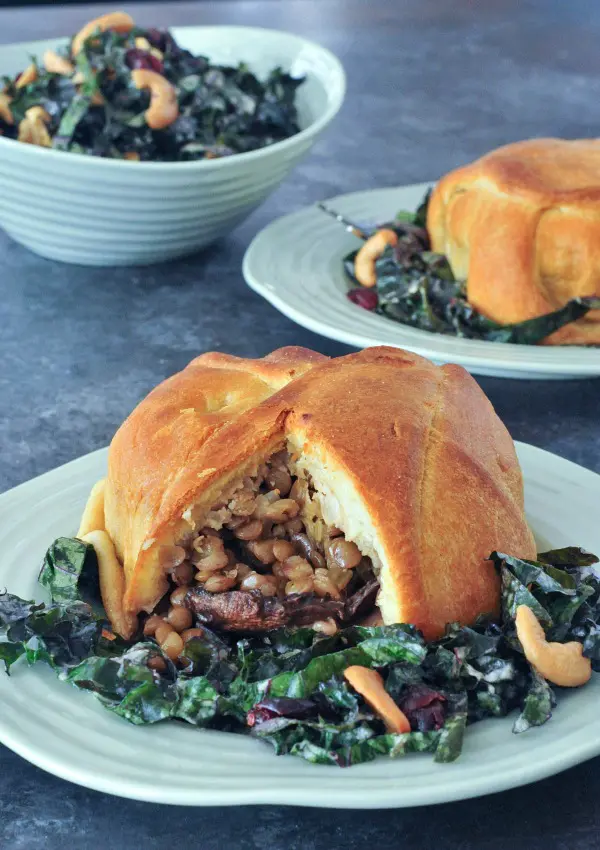 Hearty Portobello Wellingtons
I have been making these for years.
I call them Portobellingtons.
This savory stuffed portobello wrapped in flaky pastry is my favorite holiday entree. Holiday or not, though - these make a great comfort food dinner. In the cold winter months, I love to make these on a weekend.
Some of the flavors here were borrowed from my family holiday dressing / stuffing recipe. This recipe is like nothing I have seen anywhere else, and is unmistakably my favorite. Multiple generations have made it, and it is the only one we ever make.
Having borrowed a couple flavors from that old cherished family recipe, I am instantly transported to Grandpa and Grandma Z's table as a kid. The glorious scents that mean holiday match the that sought after flavor I want to taste at the holidays!
That nostalgia is wrapped up inside these Hearty Protein Rich Portobello Wellingtons.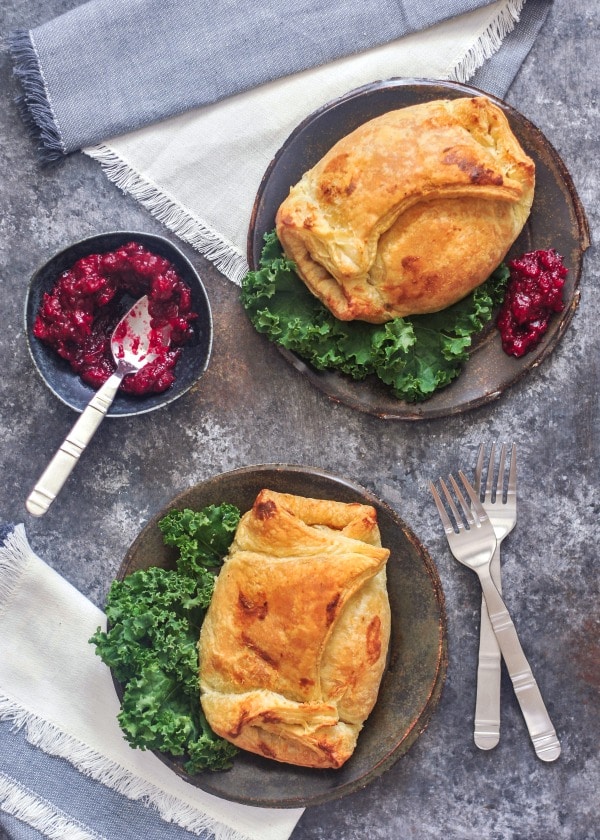 Another great thing about these Wellingtons? Not only are they filled with fiber and nutrient rich lentils, but combining lentils with nuts (the cashew cream!) makes a complete protein! You can also add a grain if you are into that sort of thing.
Fun fact, though - if you are interested in aminos and complete proteins, you don't even have to eat all the combined foods in one meal. Focusing on them throughout the day is fine.
Whatever you do, serve them alongside our super tasty Lemony Brussels and Kale Chiffonade Salad. That salad is great all year long, and is somehow also perfectly holiday.
Right now, my gluten free option is my Easy Vegan Pie Dough. And these Portobellingtons are just as good with pie crust, honest. However, these photos here with puff pastry? Are actually a gluten free version I am trying to perfect. So cross your fingers everyone, I may have that to share with you soon.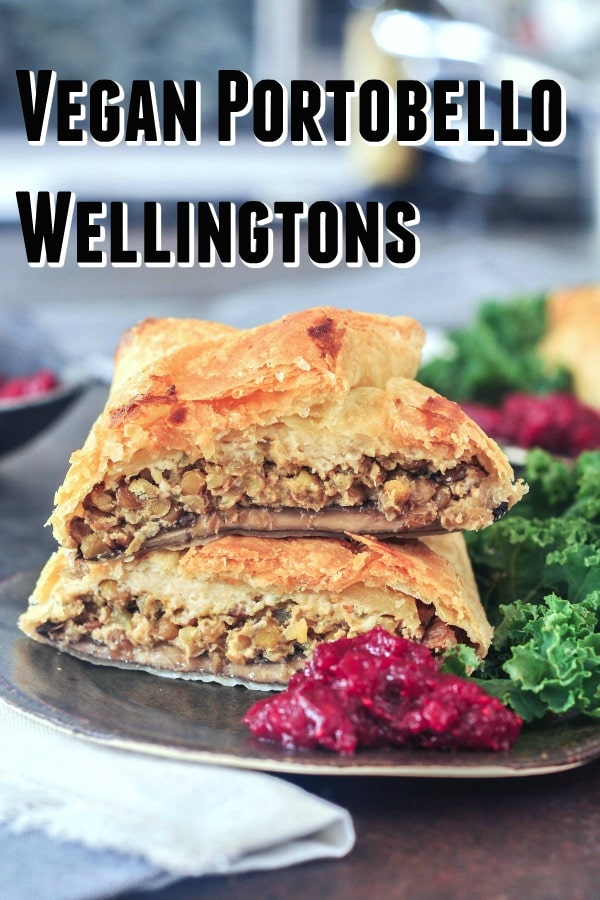 That's a super flavorful bite I wish I had again right now!
Did you make this recipe?
Follow spabettie on Instagram and tag us with #spabettie
We love seeing your recipe photos and remakes - thank you!
Yield: four individual Wellingtons
Hearty Portobello Wellingtons
these individual entrees are plant based fancy! crisp pastry surrounds rich and savory goodness.
Ingredients
2 tablespoons dairy free butter or olive oil, divided
3 stalks celery, scrubbed, trimmed, and diced
½ cup dry lentils
2 ½ cups vegetable broth (or 2 ½ cups water + my favorite bouillon)
½ small yellow onion, peeled and minced
¼ cup dry vermouth
½ cup cashew cream
4 fresh portobello mushrooms
vegan puff pastry, or Easy Vegan Pie Crust for gluten free
Instructions
Preheat oven to 375 °F. Line a baking sheet with parchment.
Remove stem of portobello cap, and scrape out gills. Place on baking sheet, on a rack if you have one, gills side down. Bake for 10-15 minutes to remove excess moisture. Remove from oven, pat dry, and set aside.
As the mushroom caps cook, melt one tablespoon butter in a large high sided sauté pan that has a lid. Add diced celery, sauté over medium heat for several minutes until softened.
Add lentils, stirring to combine with celery. Add vegetable broth and bring to a boil. Boil for 3-4 minutes, stirring often. Reduce to a low simmer, cover, and cook lentils for 25-30 minutes, or until lentils have absorbed all liquid and are fully cooked through. Keep an eye on the lentils as they cook.
When lentils are cooked, transfer to a bowl and set aside.
Return sauté pan to medium low heat, and melt remaining tablespoon of butter. Add minced onion, sauté until translucent and soft. Add vermouth to onion and increase heat just a bit, until vermouth is simmering. Simmer for a few minutes, watching and stirring as most of the vermouth cooks away. Remove from heat. Add the cashew cream to this mixture, stir to combine completely.
On a lightly floured surface, roll out puff pastry. Cut into squares large enough to completely wrap around each portobello cap (eye ball this – mushroom size varies).
Place portobello cap in center of puff pastry square, gill side up. Spoon several tablespoons lentils into the mushroom, in an even layer. (This recipe for lentils should fill four average size portobello caps.)
Spoon two tablespoons of vermouth cashew cream onto lentils, spreading into an even layer. Pull up one corner of puff pastry and carefully wrap up around portobello. Working around and tucking in as you go, repeat pulling up each corner and securely pressing pastry together.
Carefully transfer to parchment lined baking sheet. Repeat filling and wrapping remaining portobellos.
Bake at 375 °F for 35-40 minutes, until pastry is golden brown. Remove from oven, brush pastry with melted butter, olive oil, or cashew milk. Return to oven for another couple minutes.
Serve warm.
about Kristina: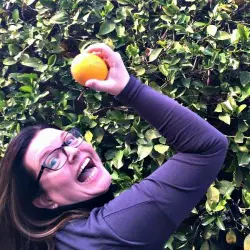 Kristina is spabettie! She found cooking at an early age, and created spabettie in 2010 to share vegan recipes. Kristina turned her culinary training into sharing vibrant vegan food! Read more...
spabettie / Kristina Sloggett is a participant in the Amazon Services LLC Associates Program, an affiliate advertising program designed to provide a means for sites to earn advertising fees by advertising and linking to Amazon.com.