this Easy One Pot Vegan Artichoke Soup recipe is a bright and flavorful bowl of comfort! this quick and easy recipe is brunch ready, lunch ready, all year round!

Artichoke Soup
This Easy One Pot Artichoke Soup had its debut at a recent brunch - just a small Saturday morning thing where I had some girlfriends over, and we dipped bagel chips into toasty warm soup.
This brunch was an impromptu thing, so I used a shortcut to make this recipe even quicker. Same great flavor, no real change of ingredients at all.
I simply used canned artichoke hearts in place of fresh.
*GASP*
Quick Cooking Hacks
Yep.
I love canned artichoke hearts and use them all the time.
I love a real artichoke also - and definitely choose them when making a presentation style dish. But canned artichoke recipes are so easy and approachable - most of the time that's where I'm at. I usually have a can or jar of artichokes in the pantry... at least one.
...or when we want to roast them and pull the leaves off to dip in melted lemon butter, like we did when I was a kid.
But yes! For recipes where we are using them for flavor? I'll skip the steps and take all the shortcuts I can. From the can. As you will see when enjoying a warm bowl of this Vegan Artichoke Soup, the lovely tangy flavor is still there.
This recipe does have instructions for using a fresh artichoke, if you prefer.
Vegan Artichoke Soup Recipe
This recipe is just one of many delectable creations from Awesome Vegan Soups from Vanessa Croessmann. Guys, you should see my copy of this book. Dog eared, totally used looking already from all the soups I have made and all the ones I still want to make.
It was difficult to choose this one, with so many tasty choices accompanied by stunning photos. The first recipe I tried was Creamy Caramelized Onion Soup, and it was delectable.
Jalapeño Basil Soup is another quick and easy wonder that packs quite a kick! The basil comes in the form of Basil Breadcrumbs, and if I am honest? I have made those since - I use them for salads. If you like spice, you will like this soup. Pair it with an ice cold margarita.
Another favorite was the Loaded Taco Soup - layers of flavor topped with all kinds of texture. A colorful, super flavorful bowl we will enjoy often.
The Green Minestrone with Spring Vegetables is the gorgeously green recipe that made me exclaim out loud when I first saw it! You all know I love me some green. This is such a unique idea and I love it so much!
The Daikon Ginger Miso Soup will be a great flu fighter this season, and I am saving the Lemon Asparagus Soup for a sunny spring day - maybe another girls brunch!?
All in, this book boasts 80 Easy, Affordable Whole Foods Stews, Chilis, and Chowders for Good Health. In addition, there are Tips for Better Soup, best storing methods, and thoughts on immersion blenders versus blenders. (I have both, love both. For soups? Immersion all the way!)
Vanessa talks about enjoying soup all year long, benefits of whole foods and a plant based diet, and making the most of seasonal produce.
Easy One Pot Artichoke Soup
Like I said, it was difficult to land on this recipe with all I had to choose from, but I am glad I did. My brunch party loved it! I have made this twice, we love a bright tangy bowl with a salad or sandwich.
Thank you for and congratulations on such a stunning and approachable book, Vanessa! I definitely recommend this to anyone who likes soup, eats seasonally, and wants to incorporate more fresh, whole foods into their every day.
vegan soup recipes
Hearty Roasted Mushroom Bisque
Gentle Lentils with Basil Sauce
Good manners: The noise you don't make when you're eating soup. - Bennett Cerf
Easy One Pot Artichoke Soup recipe from Awesome Vegan Soups reprinted with permission of Vanessa Croessmann.
Did You Make This Artichoke Soup Recipe?
Follow spabettie on Instagram and tag us with #spabettie
We love seeing your recipe photos and remakes - thank you!
Yield: 1 quart (950 ml) / 4 servings
Easy One Pot Artichoke Soup
Easy One Pot Artichoke Soup - a bright and flavorful bowl of comfort! this quick and easy recipe is brunch ready, lunch ready, all year round!
Ingredients
2 artichokes (or 6 hearts if using canned)
1 rib celery, diced
1 leek, white and light green parts only, sliced
2 cloves garlic, chopped
1 yellow onion, diced
1 tablespoon (15 ml) olive oil
5 cups (1.2 L) vegetable broth
1 bay leaf
1 cup (40 g) fresh parsley
homemade croutons
salt
Instructions
Using a serrated knife, cut the top third of the artichoke off and throw it away. Cut off the stem, remove ½ inch (1.3 cm) off the bottom and use a peeler to peel away the thick outer layer. Dice the stem and add to pot.
Using a paring knife, cut off the thick leaves of the artichoke. Cut the artichoke in half and remove the choke with a spoon. The choke is the fuzzy part in the middle that you want to throw away. What you are left with now is the artichoke heart. Add this to the pot as well. Repeat the steps above with the second artichoke.
Add the diced celery, leek, garlic, onion,and olive oil to the pot as well. Cook the vegetables for 5 minutes on medium high heat. Artichoke oxidizes very quickly and will turn brown. This is completely normal.
After letting the vegetables cook, add the vegetable broth, bay leaf, and parsley. Bring the broth to a boil, reduce the heat, cover and simmer for 30 minutes. While the soup is simmering, prepare the croutons.
Remove the bay leaf from the pot before puréeing the soup with an immersion blender (or in batches in a blender). Season the soup with salt to taste before serving with homemade croutons.
Notes
dairy, egg, soy and gluten free, vegan
Recommended Products
As an Amazon Associate and member of other affiliate programs, I earn from qualifying purchases.
Nutrition Information:
Yield:
4
Serving Size:
1 cup
Amount Per Serving:
Calories:

155
Total Fat:

5g
Saturated Fat:

0g
Trans Fat:

0g
Unsaturated Fat:

1g
Cholesterol:

0mg
Sodium:

309mg
Carbohydrates:

15g
Fiber:

13g
Sugar:

5g
Protein:

10g
nutrition calculations results vary by calculator, are for informational purposes only, and are not intended to replace medical advice or treatment.
about Kristina: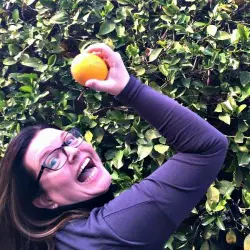 Kristina is spabettie! She found cooking at an early age, and created spabettie in 2010 to share vegan recipes. Kristina turned her culinary training into sharing vibrant vegan food! She loves dachshunds, karaoke, and travel.
Read more...
spabettie / Kristina Sloggett is a participant in the Amazon Services LLC Associates Program, an affiliate advertising program designed to provide a means for sites to earn advertising fees by advertising and linking to Amazon.com.