This time, the bundt cake worked.
Back in college when I was cooking and baking a lot, I was also working out 2 hours a day and teaching step class. I had a few recipes that were labeled "low fat" that I made often, and this is one of them. I modified my old recipe as it called for 8 egg whites.
Yep, I used to be a cake eating weight lifter.
Don't let the "low fat" designation fool you, though - this is the finest ruse in all of baking. It is decadent and rich, moist and fluffy. It is delicious.
decadent chocolate bundt cake
dairy, egg and gluten free, vegan
makes one bundt
2 tablespoons chia seeds
¾ cup water
½ box silken tofu, whipped
1 ¼ cup almond milk
1 teaspoon apple cider vinegar
2 teaspoons instant coffee
1 cup sour cream (Tofutti)
2 (2 ½ ounce) jars baby food prunes
1 box chocolate cake mix (gluten free devils food)
1 (4 ounce) box instant chocolate pudding mix
1 cup chocolate chips (trader joes dairy free)
powdered sugar, to decorate
Combine chia seeds and water, set aside to gel. Whip tofu until fluffy, add chia gel and continue to whip. In another bowl, combine almond milk, apple cider vinegar and instant coffee. Combine milk and chia/tofu mixtures, sour cream, and prunes. Add cake and pudding mixes, stir until combined. Fold in chocolate chips. Pour into prepared (buttered or sprayed, floured) bundt pan, bake at 350 degrees for 55-60 minutes or until inserted toothpick comes clean.
Cool completely, top with sifted powdered sugar. Optionally, drizzle with melted dark chocolate.
So now you know the ruse includes baby food prunes. Seriously, they are essential to the cake, in the best way. Trust me on this one, this cake is amazing.
I have been meaning to share this cake with you for a while - and when Deb of Kahakai Kitchen chose My Big Fat Greek Wedding as the Food n Flix this month, I knew what I was going to make before I even re-watched the movie.
In the movie, when the two sets of parents are meeting for the first time, the groom's mother brings a bundt to dinner. Mama Portokalos didn't know what it was.
"What is it?"
"Buuunnnn... dt?"
"There's a hole in this cake."
Later when serving it, she presented it with a pot of flowers in the middle.
Come on, you cannot be surprised I did that.
I am having fun participating in food 'n flix for my second month, and this is a fun movie so I was happy to watch it again!
Growing up next door to a huge Italian family, and being best friends with one of the five kids in that family, I can relate to the movie in this way. In fact, my family, while not as large, is most certainly as loud! We are always talking, laughing, eating... some of the main events in the Portokalos family as well.
I love the sweet father, who really just wants what is best for his daughter. I love the brothers and cousins, not only for being protective of Toula, but for the hilarious "teaching" of Greek phrases to the groom to be.
Sticking to traditions that are important and make sense, while bending the rules on some others seems like a good summation of this fun film, and a good way to approach life in general.
Meanwhile, I'm enjoying new flowers in my kitchen window. and some chocolate cake.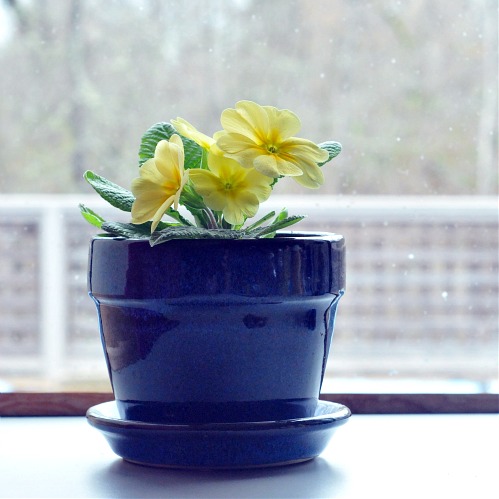 To see a roundup of all Greek Wedding inspirations, visit Kahakai Kitchen in the next couple days.
To participate or host a month with your own movie choice, visit Food 'n Flix for more information and to see the upcoming movies.