Hearty Nourishing Greens Salad – crisp and crunchy, rich and buttery – this flavor packed salad is a cool dose of green for a warm summer day.
Here we are in the depth of summer – uh, Portland is expected to reach temps of 108 or higher this week – and I am still having a salad every day.
I always love a big salad as a meal, and this salad will definitely be great all year long, but lets get real – summertime is when my salad game shines.
Some of my favorite salads are the result of rummaging through the fridge at lunchtime, finding some flavors and textures that make sense. While this is often from a bigger plan – I mean, our kitchen is stocked with foods we love – sometimes it is wild and weird and wonderful.
and it works.
Also, I think I can call it – the two Sauces of Summer '17 are my Quick and Easy Romesco and the bright and tasty Green Goodness Dressing…
The Green Goodness just has so much flavor, and is so darn easy to whip up, using basil and green onions fresh picked from the garden, or fresh bought from the farmers market.
Adding to the crunch of the romaine and butter lettuces in this Hearty Nourishing Greens Salad, we have Smoky Sweet Crunchy Chickpeas standing in as protein and flavor rich croutons.
Hearty Nourishing Greens Salad
YIELD: two entree salads or four sides
dairy, egg, soy, oil, and gluten free, vegan
INGREDIENTS:
1 small head romaine, washed
1/2 head butter lettuce, washed
1/2 bunch asparagus, peeled
1/2 head broccoli, cleaned, stemmed
Green Goodness Dressing
1 avocado, peeled and pitted
Smoky Sweet Crunchy Chickpeas
sea salt and fresh black pepper, optional
INSTRUCTIONS:
Rip / chop lettuces into bite size pieces. Arrange on serving plates.
Break rough stems / bottoms from asparagus. Break / cut into bite size pieces, add to lettuce.
Remove stems from broccoli. Chop trees into bite size pieces and add to salads.
Dress salads with Green Goodness Dressing.
Slice avocado into small cubes. Add to salads.
Top salads with Smoky Sweet Crunchy Chickpeas. Salt and pepper to taste.
For additional protein and crunch, add cashews.
For another layer of flavor and texture, add dried cranberries.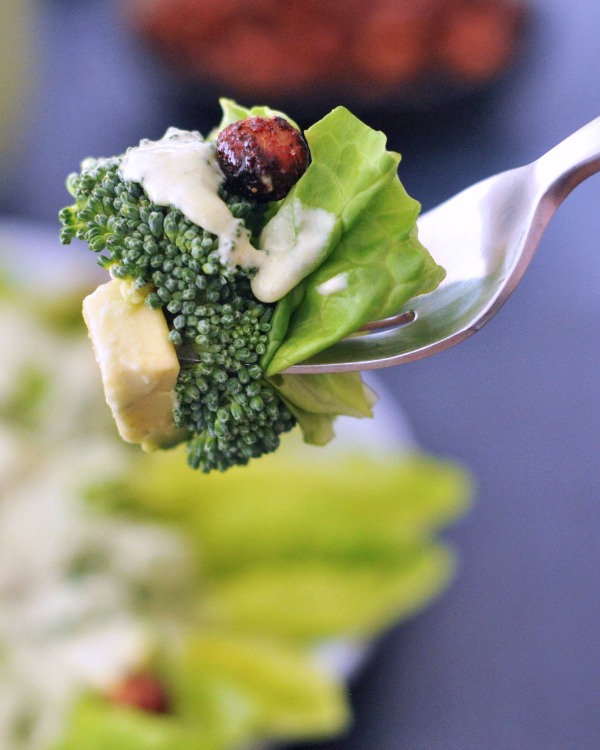 Summer and salads – can't stop, won't stop.
(how warm is it where YOU are?)
printable Hearty Nourishing Greens Salad recipe: