Sugared Chai Latte Banana Muffins – light and fluffy and flavored with all your breakfast favorites, these doughnut – like muffins are a perfect brunch finale!
_____________________________
I have been told many times that I am a connector, and that I create community. My open mind allows me to know all kinds of people with a variety of personalities – that certainly keeps life interesting. I introduce people, and a friendship blooms independent of me.
When I was in the spa business, it was very competitive – spas and salons rarely shared or communicated. I cultivated what I called "the breakfast club" – inviting other owners and directors to meet once a month and talk shop. Many gave me the side eye and said I was crazy – others loved the idea, and our breakfast club grew. We shared and learned from each other, and were inspired.
Just like I have friends with all kinds of varied interests and personalities, I am involved in different communities online. One constant throughout, I gravitate toward those who really are here because they love it, have fun with it, and truly want to support each other. I am inspired each and every day, and I like to share that with others (I tweet and G+ a lot…). I am incredibly lucky to have supportive and knowledgeable friends on my side as well. Community.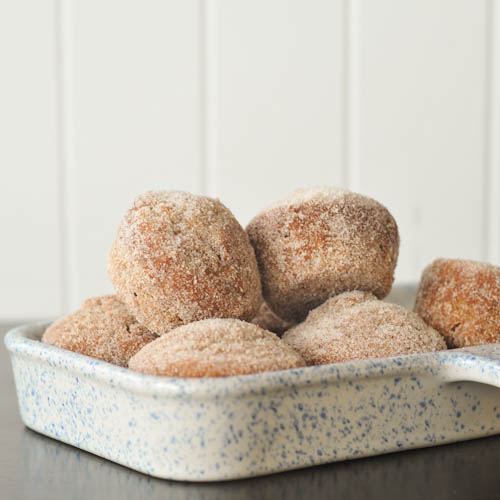 A very wise friend recently said "Community means… support without strings attached, just lifting up your fellow friends, clients, family, etc., because you want to. Period."
Because you want to. Because you are inspired. Because accomplishments are to be celebrated, as is friendship! That one sentence up there is but one of many wise things my friend Jess said – read more about her community.
sugared chai latte banana muffins
adapted from tropical banana bread with sugared macadamia crumble
dairy, egg, soy and gluten free, vegan
makes 12-15 muffins
2 tablespoons flax seed, ground
1/3 cup water
1/2 cup coconut milk (So Delicious carton)
1 1/2 teaspoons apple cider vinegar
1/2 cup butter (dairy and soy free)
1/2 cup maple syrup
3 ripe bananas, mashed
1 cup brown rice flour
3/4 cup gluten free all purpose flour
1/3 cup chai powder (Natures Flavors)
1 teaspoon baking soda
1/4 teaspoon xanthan gum
pinch sea salt

Combine flax and water, set in refrigerator to thicken.
Combine coconut milk and apple cider vinegar, set aside. This makes a dairy free buttermilk alternative.
Cream together butter and maple syrup. Add bananas, milk and flax mixtures, combine. Add flours, do not stir – add chai powder, baking soda, xanthan gum and salt, mixing into flour then mixing together with wet ingredients, until just combined. Pour batter into prepared (sprayed, floured) muffin pan.
Bake at 350 for 22 – 25 minutes, or until inserted toothpick comes clean. Enjoy warm, or cool completely and coat in sugar.
How do you define community?
I'll bring the muffins!