This tomato orange soup is a long time flavorful favorite in our family, and in Portland. Pair it with a crusty sourdough loaf or your favorite grilled cheese sandwich.
recipe originally published May 30, 2012
Tomato Orange Soup
Right in the middle of my spa career, I took a break to pursue another love – food. I was the store director with a popular European deli here in Portland - one of my favorite jobs to date. I started at one location in the heart of downtown (I love working downtown!), and while running that store I planned the build and opening of a new location in Lake Oswego.
While I thrive on the fun that goes into the execution of a new business and the grand opening events, my favorite aspect of this job was the food. At the new location, we built a bakery where we made fresh pastries, breads and bagels each morning.
I took a series of classes in Baking and Pastry in preparation, and while I could not have early morning hours all the time, I loved arriving at 4am to make muffins, bagels, bake off croissants proofing over night… it was bliss.
Having been a customer for many years, I was thrilled to be a part of the executive staff (although looking back now, I would have been just as happy running the bakery). This deli boasts an excellent reputation for having great food. Their menu has both permanent items and seasonal choices on rotation.
Legendary Portland Soup
The soups at this deli are legendary.
As soon as cold weather chill hits Portland, lines snake out their doors at lunch time – everyone wanting a warm up of the famous soup. One of their classic soups on the permanent menu is the Tomato Orange Soup.
At the time of the original publish date of this post, I have not found that the original deli recipe has been published. Even working there with access to recipes, I never saw the Tomato Orange.
My memory serves as inspiration, and this is my version of that deli classic.
Tomato Orange Soup is a longtime favorite. I hope you love it too.
We like to dip Cheesy Tomato Stuffed Waffles in this soup...
Did you make this tomato orange soup?
Follow spabettie on Instagram and tag us with #spabettie
We love seeing your recipe photos and remakes - thank you!
Yield: 6 servings
Tomato Orange Soup
dairy, egg, soy, oil, and gluten free, vegan
Ingredients
1 small yellow onion, peeled and chopped
2 cloves garlic, peeled and minced
12 fresh tomatoes, cored and chopped
⅓ cup raw cashews
2 tablespoons tomato paste
½ cup orange juice concentrate
1 cup vegetable broth
1 cup almond milk
sea salt, to taste
Instructions
In a skillet over medium heat, sauté onion and garlic until translucent and softened.
Transfer onion and garlic to high speed blender with tomatoes, cashews, tomato paste, orange juice concentrate and vegetable broth. Purée until smooth.
In saucepan over medium heat, combine almond milk with blended tomato mixture. Stir occasionally while simmering over medium heat for several minutes to heat through.
Garnish with sliced or cubed tomato, dried basil and oregano. Serve over rice or quinoa, with grilled cheese, crackers or stuffed waffles.
about Kristina: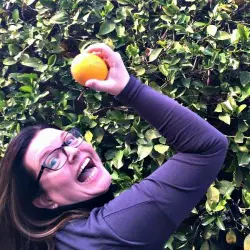 Kristina is spabettie! She found cooking at an early age, and created spabettie in 2010 to share vegan recipes. Kristina turned her culinary training into sharing vibrant vegan food! Read more...
spabettie / Kristina Sloggett is a participant in the Amazon Services LLC Associates Program, an affiliate advertising program designed to provide a means for sites to earn advertising fees by advertising and linking to Amazon.com.