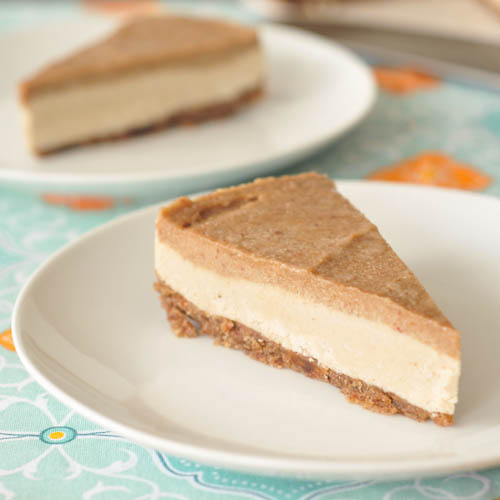 Last Saturday, I assisted in my very first cooking class! My friend was teaching her first class, and wanted me there for moral support and to help field questions, do prep, talk to the rather large crowd and plate our food in a pretty presentation.
The class subject was tofu and seitan, and we demoed four recipes. It was very fun, it was very exciting, it was very delicious and I was asked to teach some of my own (eek!). Also? I think I said yes.
The thought both scares and thrills me.
I have taught many a skincare class and technique, never a food or cooking class. Now that I've been behind the counter (they have the overhead tilty mirror and everything!), I do believe I am hooked.
I have spent much time this week thinking of recipes I could demo. The focus of the series is vegan and raw, so I suppose I could come up with a few ideas.
My salted caramel cheesecake would be a good recipe to teach - at first mention of the name, it sounds fantastically amazing, yes? and I promise you it is. It is also sugar free, dairy, egg and gluten free, and raw. One of those stealth desserts that impress.
I would make one ahead of time to have on hand, you know, like television. Then I could prep each of the steps and assemble the layers. We must make enough food for all class students to sample (30-40 people on average!), so there's the reason for the make ahead cake - and I could just take the class cake home.
I'm kinda totally excited about the possibility of teaching my own classes...
salted caramel cheesecake
dairy, egg, oil, soy, gluten and sugar free, vegan, raw
makes one 9 inch cheesecake
raw pecan crust
1 cup pecans
1 ½ cups Medjool dates
Line a 9 inch spring-form pan with parchment. In food processor, pulse hazelnuts to a fine crumb. Add dates, process until combined completely. Press into spring-form pan.
salted caramel cream sauce
½ cup raw cashews
¾ cup water*
1 ½ cups Medjool dates, soaked
raw sea salt, to taste (Moroccan Atlantic raw coarse sea salt)
*add more water for a more liquid sauce; for this recipe I wanted a thick salted caramel layer
In food processor, combine cashews and water to make a cashew cream. Add dates and raw salt, process to a creamy smooth sauce. Set aside (this will be used as the cheesecake sweetener and the top layer).
cheesecake layer 
2 cups cashews, soaked several hours
juice of two lemons
½ cup salted caramel cream sauce (see recipe above)
½ cup Irish moss paste (see instructions here)
Process cashews in food processor, add lemon juice and blend until creamy. Add caramel sauce and Irish moss, blending until incorporated and mixture is smooth. Spread in an even layer over crust. Pour / spoon salted caramel cream over cheesecake layer, smooth in an even layer. Place in refrigerator to set.
My salted caramel cheesecake recipe was featured on Tasty Yummies Thanksgiving Series.