Pulled Porcini Sliders – a clever combination of jackfruit and porcini in a sweetly savory sauce – a perfect plant based spin on classic tangy pulled pork.
Pulled Porcini Sliders
*tee hee* I love word puns.
I also love jack fruit, it makes the perfect Plant Based Pulled 'Pork'. Adding a hearty sliced mushroom to the mix really amped up the oomph factor here. Sweet, savory, tangy, spicy – in a mini size slider.
Important Note: the peperoncini is an essential pairing here, please do it. It brings a tangy heat to the spicy sweet, and layering them first on the bottom bun? Not an accident – the peperoncini juice is soaked into the bottom bun (just a bit, no soggy here) and is simply glorious.
Another good pairing? Pickles. Delicious dills – fat slices of delicious dill pickle. Oh, which also pairs well with this:
Yep, yep, I sure did.
I may have a plant based diet, but I do know what goes on in a really good barbecue joint. Pretty sure there is mac and cheese involved.
and pickles.
Now I cannot choose which I want you to make first! One has that sweet, savory, tangy, spicy thing I was telling you about, and the other has an uber rich comfort food thing going on.
Here's the plan – make a double batch of the pulled porcini, have it with the tangy peperoncini and colorful purple cabbage.
The next day? Make your favorite mac and cheese and do this thing all over again.
Pulled Porcini Sliders
YIELD: 4-6 sliders
dairy, egg, soy and gluten free, vegan
INGREDIENTS:
1 tablespoon coconut oil
1 shallot, diced
1 cup organic ketchup
1/2 cup organic molasses
2 tablespoons apple cider vinegar
1 tablespoon Dijon mustard
1 teaspoon liquid smoke
1 teaspoon mesquite powder
1/3 pineapple, skinned / cored, chopped
1 (20 ounce) can jack fruit, drained
1 1/2 pounds porcini mushrooms, wiped clean and sliced thin
INSTRUCTIONS:
In saucepan, sauté shallot in coconut oil. Set aside to cool.
Drain jack fruit, place in large bowl. Using two forks, shred jack fruit into smaller pieces (or chop with knife). Add sliced mushrooms, combine with jack fruit. 
In blender, combine ketchup, molasses, vinegar, mustard, smoke, mesquite, and pineapple. Blend until combined completely. Add this mixture to jack fruit, stirring to combine and coat completely.
Add the porcini jackfruit mixture to saucepan, over medium heat, stirring continually for several minutes until heated through.
Serve as sliders, over mac and cheese, stuffed into a burrito (with mac and cheese or breakfast scramble), eat with a fork out of the pan while standing at the stove. The delicious possibilities are endless…
Mmm. It's what's for breakfast. lunch. quite possibly dinner.
SPABETTIE IS A FINANCIALLY COMPENSATED BLOGGER AMBASSADOR FOR THE MUSHROOM COUNCIL, AND IS PARTICIPATING IN THE #MUSHROOMMAKEOVER 30 DAY WEIGHT LOSS CHALLENGE. THE OPINIONS EXPRESSED HEREIN ARE THOSE OF SPABETTIE AND ARE NOT INDICATIVE OF THE OPINIONS OR POSITIONS OF THE MUSHROOM COUNCIL OR MAMAVATION.
Try AmazonFresh Free Trial
for Unlimited Grocery Delivery – add these recipe ingredients to your list. use code FRESH25 for a $25 off discount on your first AmazonFresh order!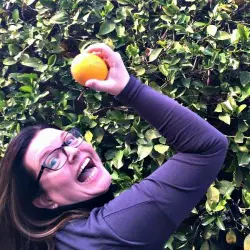 ABOUT KRISTINA SLOGGETT: Kristina is spabettie! She founded spabettie in 2010 to share her vegetarian recipes. Vegetarian quickly became vegan.
As the sole recipe developer and photographer at spabettie, Kristina turned her love of cooking and creativity into an extremely fun and challenging way to spend her days – sharing just how flavorful and vibrant vegan food is!
She loves dachshunds, Portland, Hawaii, drummers – well, one drummer – and travel.
printable Pulled Porcini Sliders recipe:

Pulled Porcini Sliders[/b]" thumbnail="https://www.spabettie.com/wp-content/uploads/2014/04/[email protected]" type="recipe"]

spabettie / Kristina Sloggett is a participant in the Amazon Services LLC Associates Program, an affiliate advertising program designed to provide a means for sites to earn advertising fees by advertising and linking to Amazon.com.