This gluten free vegan kitchari is a warmly spiced and incredibly flavorful bowl of wholesome goodness! Versatile, customizable recipe.
quinoa kitchari recipe originally published May 28, 2018
Gluten Free Vegan Kitchari
I am sharing an old comfort food recipe from my early spa career. I was first introduced to this gluten free vegan kitchari method in an Ayurvedic medicine / Ayurveda class.
Two years later, while managing an Aveda spa, I became joyfully immersed in the science and wisdom of Ayurveda. Quinoa kitchari was my first version when I learned how to prepare this flavorful dish.
Quinoa Kitchari Recipe
Kitchari is an immunity boosting comfort food. Gluten free vegan kitchari can be healing, and it can be a cleanse. A traditional Ayurvedic dish, the thought behind kitchari being cleansing is that the short and simple ingredient list translates to an easily digestible dish, purportedly giving your digestive system a break.
The ingredient list also includes a blend of anti inflammatory spices. I already have most of these in my spice drawer, and for the sake of sharing this quinoa kitchari recipe, I was able to find all of these spices at my regularly visited grocery stores.
Gluten Free Vegan Kitchari Cleanse
Let's go back to the kitchari cleanse. The idea of a cleanse can be controversial, I know. Cleansing and fasting are nothing new, and there are plenty of reasons and origins. The controversy comes with those who approach a cleanse haphazardly or without proper nutrition. Also, our bodies are naturally equipped to cleanse.
I see a cleanse in a whole different way. Calling a fast a feast, we are still enjoying an abundance of fresh and flavorful, nourishing foods. A cleanse with this quinoa kitchari is simply a mono diet.
For a few days, kitchari is enjoyed for breakfast, lunch, and dinner. The way I keep it interesting is adding different fruit or vegetable toppings. Breakfast can be a break from the kitchari - have a simple and filling bowl of oatmeal as an alternative.
I have used this gluten free vegan kitchari for cleanse approach recently, in an attempt to "reset" and "relax" my system in order to then rule out foods that might bring allergies and intolerances.
I have also made large batches when I know I have a busy week ahead. Having the ability to reheat the kitchari and add vegetables or fruit was something I looked forward to throughout the day and week - a warm nutrient and flavor packed comfort bowl ready in minutes.
I also incorporated kitchari into the diet of a client recently, one who was experiencing several medical issues. We found whole food plant based diet helpful to navigate the changes necessary for this person to heal. Simple foods like kitchari helped reduce inflammation and offered a flavorful option while taking nearly all focus away from food prep.
Versatile Nourishing Recipe
This gluten free vegan kitchari recipe is my formula for a basic kitchari recipe that is easily customizable. Using this recipe as a guide, you can substitute Basmati rice for the quinoa or amaranth. Substitute or add more of your favorite vegetables while cooking. Get creative with the toppings.
This basic recipe is terrific as is - we often eat it this way. Variations we enjoy include adding fresh baby spinach after serving - simply stir the spinach in for a fresh boost of protein greens. For breakfast, I might add a banana and cinnamon. Lunchtime I have added a tofu or VeganEgg scramble.
With about ten minutes of prep work and another twenty minutes cook time, gluten free vegan kitchari is quick, easy, spicy, soothing and satisfying. It also lends itself to savory or sweet, as it has so many incredible layers of flavor.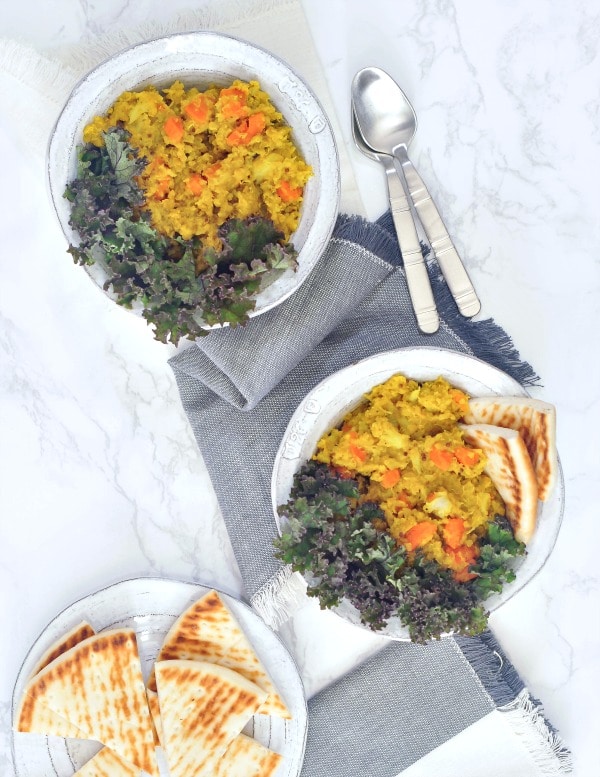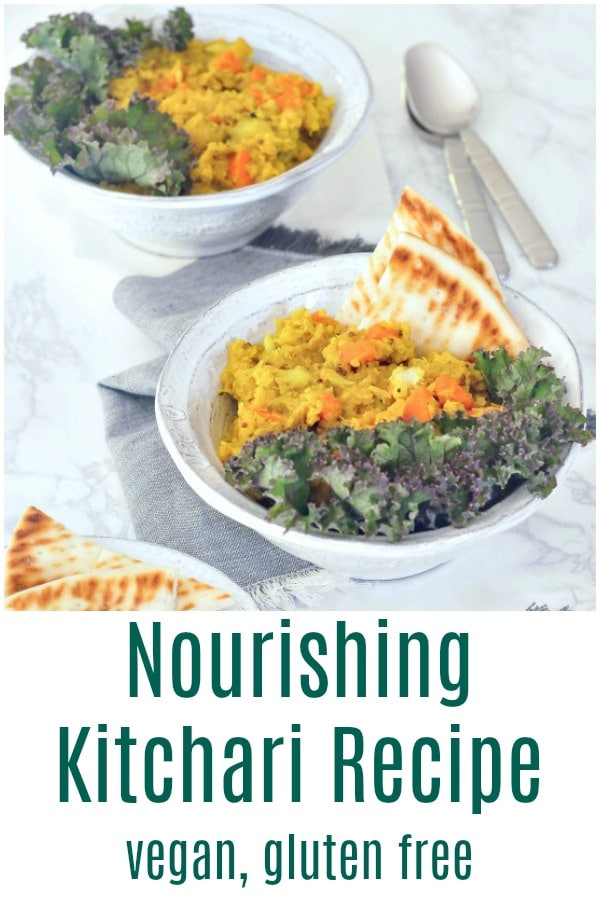 Did you make this gluten free vegan kitchari?
Follow spabettie on Instagram and tag us with #spabettie
We love seeing your recipe photos and remakes - thank you!
Yield: 8 servings
Gluten Free Vegan Kitchari
A warmly spiced and incredibly flavorful comfort food bowl of wholesome goodness! Follow this versatile basic recipe and customize the ingredients to your liking.

Prep Time 10 minutes

Cook Time 25 minutes

Total Time 35 minutes
Ingredients
1 cup split yellow mung beans
½ cup quinoa or amaranth
2 large carrots, peeled and diced
½ head cauliflower, diced
1 tablespoon coconut oil
½ inch fresh ginger, peeled and minced
2 ½ teaspoons fennel seed
1 ½ teaspoons black mustard seed
3-4 green cardamom pods
(or ½ teaspoon small pod, or 1 teaspoon powder)
3 cloves
2 teaspoons turmeric powder
1 teaspoon cinnamon
2 teaspoons fresh cracked black pepper
4 cups water
pinch Himalayan Salt
Instructions
Thoroughly rinse the mung beans in a strainer under continuous water, until water runs clear. Set aside.
Thoroughly rinse quinoa in fine mesh strainer under continuous water. This removes the glycoside residue (quinoa is a seed), eliminating the bitter taste. Set aside.
Peel and dice the carrots. Clean and dice the cauliflower. Set aside.
Prep seeds and spices ahead: in a small container, measure the quantities of the seeds to be toasted first. In a second small container, measure the quantities of the spices to add later.
Use a Dutch oven / pot with lid. Over low heat, warm oil in pot.
Once oil is warm, add fresh ginger, fennel seed, black mustard seed, and cardamom pods. Stir occasionally and cook these seeds until they begin to pop.
To the warmed seeds and oil, add cloves, turmeric, cinnamon, black pepper, rinsed beans, and rinsed quinoa or amaranth. Stir to coat.
Add water, diced carrots and cauliflower. Stir to combine. Bring to a rolling boil, then cover and reduce to a simmer. Simmer over medium low heat for 20-25 minutes, or until all liquid is absorbed, achieving a porridge consistency. (I always check after 20 minutes, it is often finished at 20 minutes.)
Serve warm. Finish with a pinch of salt.
Reheat in a saucepan over low heat or in a microwave with a microwave safe bowl. Add a small amount (2-3 tablespoons per serving) plant based milk or water, stir to a original porridge consistency. Warm and enjoy!
Nutrition Information:
Yield:
8
Serving Size:
1 ¼ cup
Amount Per Serving: Calories: 110Total Fat: 3gSaturated Fat: 2gTrans Fat: 0gUnsaturated Fat: 1gCholesterol: 0mgSodium: 35mgCarbohydrates: 18gFiber: 5gSugar: 2gProtein: 5g

nutrition calculations results vary by calculator, are for informational purposes only, and are not intended to replace medical advice or treatment.



about Kristina: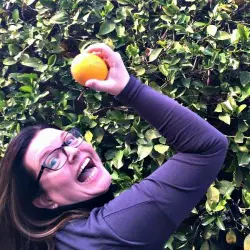 Kristina is spabettie! She found cooking at an early age, and created spabettie in 2010 to share vegan recipes. Kristina turned her culinary training into sharing vibrant vegan food! Read more...
spabettie / Kristina Sloggett is a participant in the Amazon Services LLC Associates Program, an affiliate advertising program designed to provide a means for sites to earn advertising fees by advertising and linking to Amazon.com.