Moo Goo Gai Pan brings the classic flavors to kitchen! Ginger and soy sauce mingle with fresh crunchy vegetables for a taste you remember!
recipe originally published September 2, 2015
My dad grew up in Hawaii.
Hawaii Grandpa and family loved not only traditional Hawaiian dishes, but Cantonese and Chinese foods as well. They had Chinese chefs, and a big collection of the coolest rice cookers I have ever seen. I still have one of those rice cookers, the one that made the rice that I grew up enjoying.
One of my favorite dishes as a kid - aside from a big bowl of plain, buttered rice - was my mom's Moo Goo Gai Pan.
I loved it. I asked for it constantly, I craved those flavors. I love the crunch of the water chestnuts, the mild but perfect flavor of the sauce, and even the crunchy vegetables.
Day Two of Vegan MoFo asks us to recreate a meal from your childhood. Even though it has literally been years since I had any Moo Goo Gai Pan, it was the first thing I thought of. I asked mom to come spend the day last week, and went shopping the night before to buy double the ingredients so mom could take half home to share with my stepdad.
We nailed it, mom and I. She brought with her the recipe in her head, and I helped remember exactly how it tasted. We had a really fun day, and the Moo Goo Gai Pan? Perfect. Exactly as I remember.
and honestly, I am not even kidding - I made it again last night.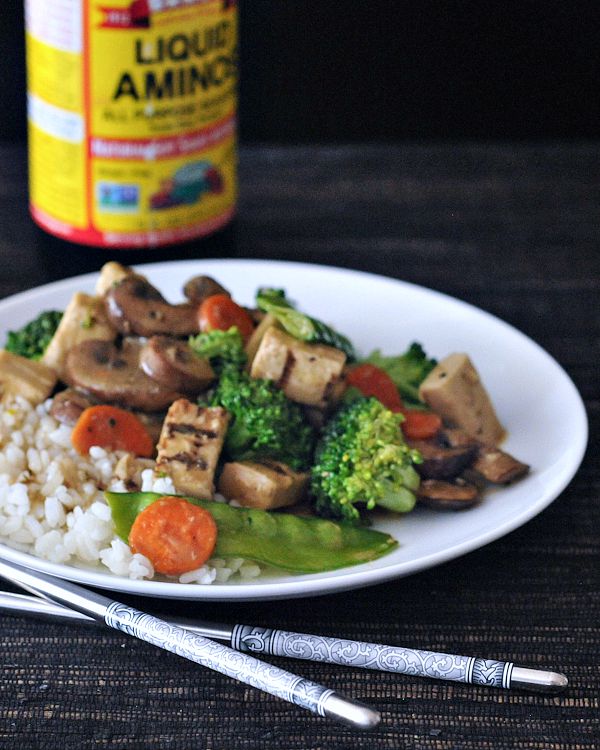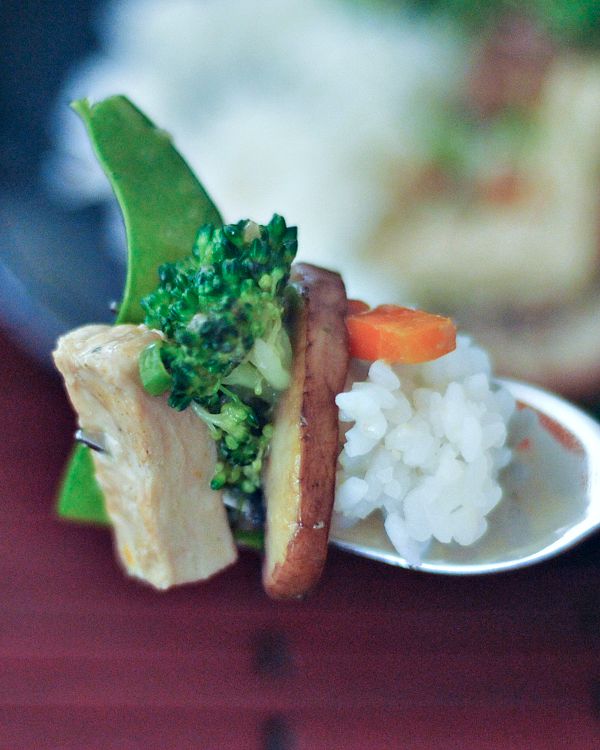 tastes like childhood.
Did you make this recipe?
Follow spabettie on Instagram and tag us with #spabettie
We love seeing your recipe photos and remakes - thank you!
Yield: 2 servings
Moo Goo Gai Pan
Flavors of ginger and soy sauce mingle with fresh crunchy vegetables for a dish just like you remember!
Ingredients
3-6 tablespoons sesame oil, divided
1 head broccoli
1 large carrot
½ pint snap peas
1 pint crimini mushrooms
½ package soy curls
1 (8 ounce) can sliced water chestnuts, drained
3 green onions, peeled
1 tablespoon cornstarch
1 teaspoon minced fresh ginger, peeled and minced fine (grated)
½ cup water
3+ tablespoons soy sauce, plus extra to serve
Instructions
If using soy curls: Before rehydrating the soy curls, break them into smaller pieces (see video). Soak them in warm water to rehydrate, 10 minutes. Once rehydrated, drain soy curls. Squeeze soy curls to remove excess water.
If using jackfruit: Drain jackfruit, place in large bowl. Using two forks, shred jack fruit into smaller pieces (or chop with knife).
Chop broccoli into bite size pieces, and carrot into thin rounds. Cut the ends off the snap peas, slice mushrooms into thin slices, slice green onions into ½ centimeter pieces.
In a small bowl, whisk together cornstarch, finely minced ginger, water, and soy sauce. Set aside.
In a large skillet or wok over medium heat, add 3 tablespoons sesame oil. Add carrots and broccoli, sauté several minutes until bright in color and just starting to soften (longer if you prefer softer). Transfer cooked broccoli and carrot to plate.
Return skillet to heat, add the remaining sesame oil. Add snap peas and mushrooms, sauté until just softened. Add to plate with broccoli and carrot.
Return skillet to heat, add soy curls / jackfruit and sauté for several minutes, until warmed through. Transfer to plate with veggies.
Return skillet to burner, turn off heat. Re-whisk cornstarch ginger liquid, and add to skillet. Whisk to 'deglaze' and remove the flavorful bits from the pan, whisking until mixture thickens (if it becomes too thick, add water a couple tablespoons at a time to thin). The result you are looking for is a flavorful glaze.
Return veggies and soy curls / jackfruit to skillet, and add sliced water chestnuts. Toss to coat everything completely. Top with green onions, serve with soy sauce, over rice.
Notes
dairy, egg, and gluten free, vegan recipe with soy free options
Nutrition Information:
Yield:
2
Serving Size:
1
Amount Per Serving:
Calories:

482
Total Fat:

17g
Saturated Fat:

6g
Trans Fat:

0g
Unsaturated Fat:

10g
Cholesterol:

0mg
Sodium:

346mg
Carbohydrates:

38g
Fiber:

11g
Sugar:

7g
Protein:

11g
nutrition calculations results vary by calculator, are for informational purposes only, and are not intended to replace medical advice or treatment.
about Kristina: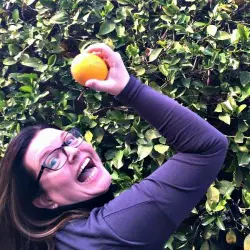 Kristina is spabettie! She found cooking at an early age, and created spabettie in 2010 to share vegan recipes. Kristina turned her culinary training into sharing vibrant vegan food! Read more...
spabettie / Kristina Sloggett is a participant in the Amazon Services LLC Associates Program, an affiliate advertising program designed to provide a means for sites to earn advertising fees by advertising and linking to Amazon.com.