Maple Roasted Beet Salad with Vegan Goat Cheese - a bright and fresh salad with layers of flavor - rich roasted beets, crunchy salty marconas, creamy tangy goat cheese - will become a favorite!
______________________________________________
When I was in college, there was a singer in Portland who had this fantastic "lounge act" - Tony Starlight. He and his band would play various clubs around town, where he would give props to the classics like Frank Sinatra, Dean Martin, Tom Jones and Neil Diamond. He has a perfect Neil Diamond voice.
To say I was a fan would be an understatement - I frequented his shows, I have the CD, I even had the calendar. His shows are good fun - he tells jokes, has a great singing voice (and sings great songs!), and his genuine admiration for classic musical talent comes through.
Then he moved to Hollywood. My friends and I missed those entertaining shows.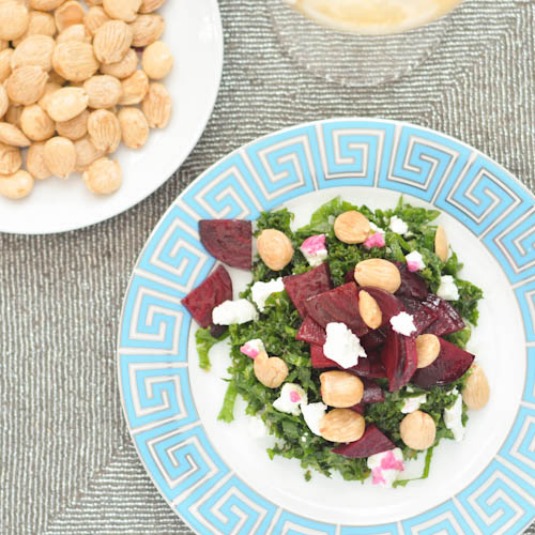 A few years ago, I was working at the desk of the spa I was managing at the time. The door opens and in walks a new client - ohmystars it was Tony Starlight! He had used his real name to make the appointment, so I had no idea. I was so dang excited - he and his wife had returned to Portland, and converted an old favorite nightclub, the Blackbird, into Tony Starlight's Supper Club and Lounge. Same great act, in his own space, with the full supper club experience.
Saturday night we meet friends for the signature Tony Show (see link for videos!). We arrived early and were able to catch the last part of Tony and his band rehearsing for a Neil Diamond anniversary series coming soon. Did I tell you he has a perfect Neil Diamond voice? 
The show was fantastic as always, my face hurt from smiling and laughing so much. When looking at the dinner menu, I saw a beet salad. I did not order it or see it, but in honor of fleet week beet week, I made an adapted version of Tony's.
This is week two of Meatless Mondays A to Z, and b stands for beets!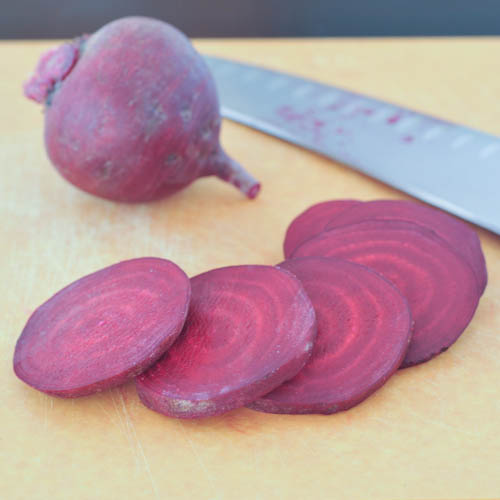 maple roasted beet salad
dairy, soy and gluten free, vegan
serves two
2 medium size beets
2 tablespoons maple syrup
1 tablespoon olive oil
juice of 1 lemon
2 servings kale chiffonade salad (recipes here and here)
marcona almonds
vegan goat cheese, crumbled
Scrub beets and slice thin, then chop each slice into quarters. Place a piece of foil on a baking sheet, pile beets in center of foil. Whisk together maple syrup, olive oil and lemon juice, pour over beets. Gather all sides/corners of foil, crimping closed. Roast in 350 degree oven for 20 minutes for crunchy beets, 30-35 minutes for softer beets.
Take care in opening the foil packet, as steam will escape when opened. Using tongs or fork, serve atop a kale chiffonade salad, with vegan goat cheese (or vegan cheese of choice) and marcona almonds.
...with a crisp white chardonnay, this was perfect.
Are you a fan of the classics, Frank, Dean or Sammy? Tom Jones? Neil Diamond?
Last week's Meatless Monday recipe - artichoke shiitake ceviche.
More beet recipes:
pink thumbprints with whiskey ganache
spicy hot shots in chocolate glasses