Enjoy sticky warm espresso sugared figs over cold ice cream for an easy and elegant dessert! Save a few to top your oatmeal the next morning...
recipe originally published November 12, 2018

Espresso Sugared Figs
Just in time for the holidays and the extremely short fresh fig season, I bring you a favorite Wow dessert!
This Espresso Sugared Figs recipe is one of my favorite ice cream toppings - pretty figs that get sticky caramelized in just a couple quick and easy steps.
This idea was concocted during the 2015 holidays, when Jason and I were obsessed with all things affogato. I was churning ice cream all season, and the espresso machine had a permanent place on the counter that year.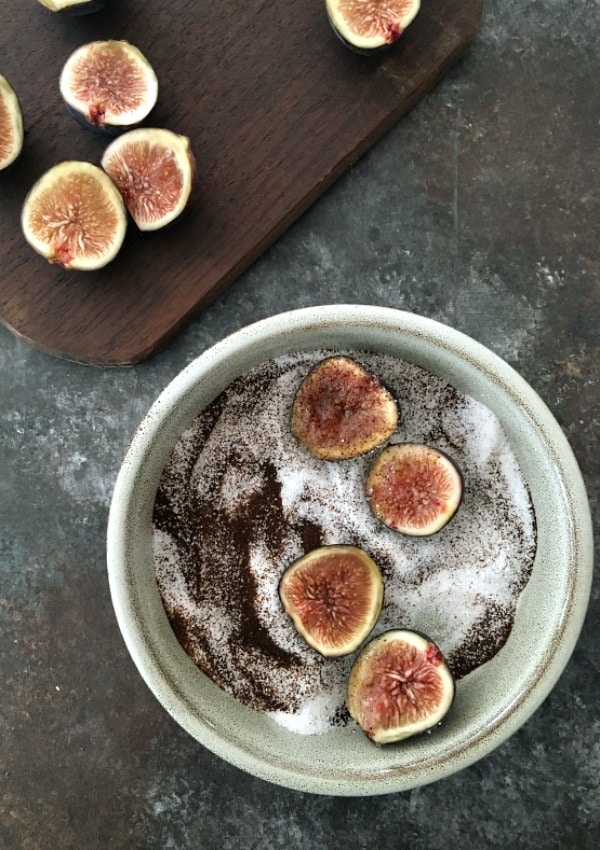 Our (lucky!) neighbor has a fig tree, and we were gifted a bunch one afternoon, just before we were hosting a dinner party. I brought them in the kitchen and eyed that espresso machine.
We had plans for affogato desserts that night, obviously. As the espresso was being made, I quickly tossed the fresh figs in some fine granulated coconut sugar and quickly caramelized them in a skillet.
Oh.
Ooooooh.
The sticky sweet figgy goodness combined with the rich espresso and cool vanilla bean ice cream was simply marvelous. We marveled.
Ice Cream Topping
Espresso Sugared Figs are not only a delicious ice cream topper. I have poked them inside Rich Fudgy Brownies before - yum.
These caramelized figs also make a sweet contrast to a tangy Brownie Bottomed Cheesecake. Really, any dessert that craves a topping.
That espresso component, though? Lends a perfect addition to your morning oatmeal or chia pudding! Zing!
So sticky sweet.
Did You Make This Recipe?
Follow spabettie on Instagram and tag us with #spabettie
We love seeing your recipe photos and remakes - thank you!
Yield: 24 fig halves / 6 servings
Espresso Sugared Figs
enjoy sticky warm Espresso Sugared Figs over cold ice cream for an easy and elegant dessert! save a few to top your oatmeal the next morning…
Ingredients
¼ cup sugar - coconut / vegan granulated
1 teaspoon Instant Espresso
½ teaspoon sea salt
1 pint fresh figs
1 tablespoon water, if needed
Instructions
In a bowl, stir together sugar, espresso, and salt.
Slice each fresh fig in half and remove stem.
Add sliced figs to espresso sugar, stirring to coat completely.
Transfer Espresso Sugared Figs to a skillet over medium low heat, sliced side down.
Watch carefully and stir often. The juice from the figs combined with the sugar creates a sticky sauce which will bubble.
Add one tablespoon water if needed.
After several minutes, when the sticky sauce has thickened, flip each fig over to the other side. Stir around and spoon the sticky sauce over each fig as they continue to warm.
Remove from heat. Serve warm.
Store any leftovers in covered container in refrigerator, up to three days.
Nutrition Information:
Yield:
6
Serving Size:
4 fig halves
Amount Per Serving:
Calories:

89
about Kristina: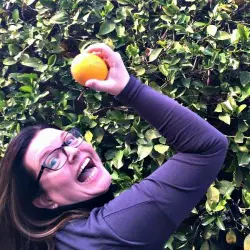 Kristina is spabettie! She found cooking at an early age, and created spabettie in 2010 to share vegan recipes. Kristina turned her culinary training into sharing vibrant vegan food! Read more...
spabettie / Kristina Sloggett is a participant in the Amazon Services LLC Associates Program, an affiliate advertising program designed to provide a means for sites to earn advertising fees by advertising and linking to Amazon.com.