Cashew Cream Quinoa Black Bean Enchiladas – creamy quinoa and black beans combine to make a flavorful and protein packed classic – whole foods comfort food!
Enchiladas are one of my favorites – I seem to crave them often. In under an hour, I can preheat the oven (my power-beast of an oven takes a bit), prep, roll, and bake, and we're digging into a tasty classic comfort food.
While I love some of the dairy free cheese choices available, it's more of a treat than a regular thing. So when I thought of a way to have a comforting pan of enchiladas without the cheese, and Jason said it was one of my best? I knew I had a winner.
I am pretty excited about this one, and could not wait to share it with you.
My Savory Cashew Cream Quinoa is a recipe I make often – I'll make a double batch on the weekend and we enjoy it alone or in recipes all week long. It is flavorful on its own, and makes a great afternoon snack.
Cashew Cream Quinoa is a perfect savory ingredient for dishes like these Cashew Cream Quinoa Black Bean Enchiladas. The creamy quinoa brings the comfort food aspect without cheese – comfort foods from nothing but whole foods!
It is that time of year again – the 21 Day Dairy Free Challenge with So Delicious begins January 21st and goes through February 10th. If you have ever considered going dairy free, or are interested in learning more about the benefits of and reasons why people are dairy free, this challenge is the perfect time.
There is a Facebook page – So Delicious 21 Day Dairy Free Challenge Group – where you will find community, support, recipes, and prizes! Yep, prizes: gift cards, food kits, even a trip for two to Boulder to meet health and fitness expert John Pierre. Let me know if you win, I may have to join you.
You can also follow along on Instagram with the hashtag #DairyFree4Good. Each time you use that hashtag on a dairy free meal or snack photo, So Delicious will donate $1 to Farm Sanctuary (up to $10,000; limit 3 entries per person per day, during the official challenge dates).
If you are interested, here are more great resources:
Cashew Cream Quinoa Black Bean Enchiladas
YIELD: four enchiladas
dairy, egg, soy and gluten free, vegan
INGREDIENTS:
1 recipe Savory Cashew Cream Quinoa (recipe below)
1 (15 ounce) can black beans, drained and rinsed
1 cup corn kernels (canned, frozen, or 2 fresh cobs)
2 fresh Hatch chiles, roasted and diced (or canned)
1 recipe Easy Green Enchilada Sauce
4 gluten free soft tortillas

INSTRUCTIONS:
Preheat oven to 350 °F.
Pour about 1/2 cup enchilada sauce into bottom of square (8 or 9 inch) baking dish, enough to cover surface completely.
Assemble enchiladas: spoon about 1/3 cup black beans down middle of tortilla. Add 1/4 cup corn, diced Hatch chiles, about 1/3 cup Savory Cashew Cream Quinoa. Roll and place in baking dish. Repeat with remaining three tortillas.
Pour remaining enchilada sauce over top. Using a fork or spatula, move enchiladas around so sauce coats each enchilada, and in between.
Bake at 350 °F for 35 minutes, until enchiladas are hot throughout.
Savory Cashew Cream Quinoa
YIELD: ~ 2 cups
dairy, egg, soy and gluten free, vegan
INGREDIENTS:
1 tablespoon olive oil
1 yellow onion, peeled and diced
3 cloves garlic, peeled and minced
1/2 cup dry quinoa
1 1/2 cups So Delicious Unsweetened Cashew Milk
sea salt, to taste (1-2 teaspoons)
INSTRUCTIONS:
In a fine mesh colander, rinse quinoa under running water for several minutes.
Meanwhile, in a medium saucepan, sauté onion and garlic in olive oil until soft and translucent. Add cashew milk and salt and bring to a boil, watching closely so it does not boil over.
Stir in rinsed quinoa, return to a boil. Once it boils, reduce to lowest heat, stir, and cover. Cook for 25 minutes. After 25 minutes, remove cover, stir, and continue to cook uncovered for a few minutes, stirring often.
Store refrigerated in covered container for up to three days.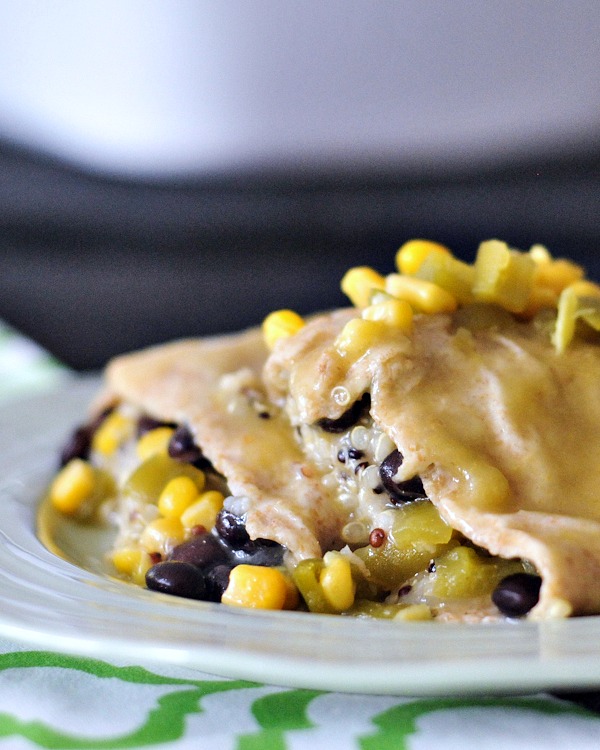 Cashew Cream Quinoa Black Bean Enchiladas recipe created in participation with the 21 Day Dairy Free Challenge, sponsored by So Delicious
printable Cashew Cream Quinoa Black Bean Enchiladas recipes: