Savory BBQ Crunch Protein Balls - a complete 180 in the snack world - this five ingredient crunchy bite asks, who says snacks have to be sweet?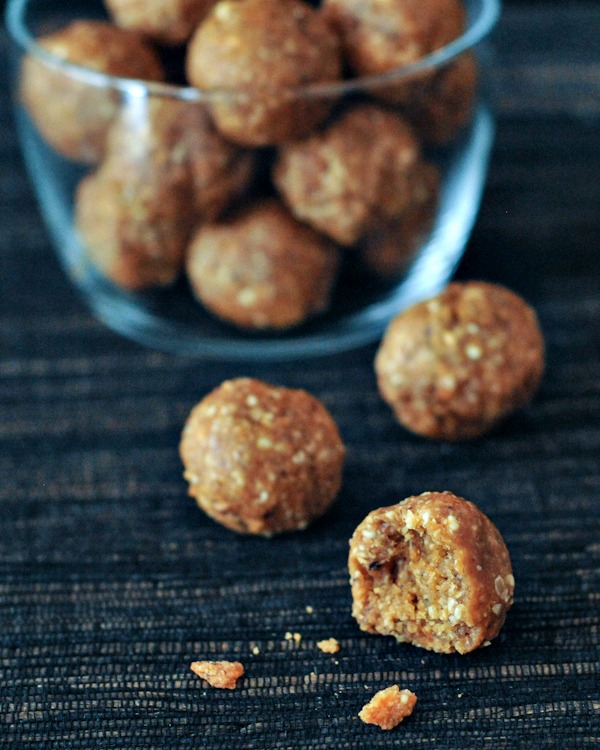 You know we always have at least a couple bars or bites in the fridge for snacking. Jason grabs a few for the drive to work, I take them to the racquet club and the gym. I have no shortage of flavors - our current favorites are Blueberry Sunflower and Vanilla Apricot - still... I sometimes crave something... not sweet.
A few weeks ago, as I was poking around through the cabinet of nuts, dried fruits, oats, chia, flax - basically a snack making cupboard - I spied the bag of BBQ Chips I picked up the day before. It sounded good immediately.
Yep, we love these! The crunch from the chip is awesome - and does remain crunchy even days later. The flavor is kinda sweet anyway, being BBQ, but also savory. The batch I made to take these photos is our third batch. Good thing I can always easily find these chips...
Savory BBQ Crunch Protein Balls
YIELD: 17 - 20 bites ¾ inch in size
dairy, egg, soy and gluten free, vegan
INGREDIENTS:
⅓ cup sunflower seed butter
2 tablespoons Easy Gluten Free Vegan BBQ Sauce
½ cup quick cooking oats
½ cup raw cashews, pulsed fine*
½ cup crushed Beanfields BBQ Bean Chips
INSTRUCTIONS:
In large bowl, combine sunflower seed butter and BBQ sauce, stir until smooth.
Add oats and cashews to blender, blend into a crumbly powder. Add this mixture to sunflower mixture, do not stir.
Add crushed BBQ chips, stir to combine completely. 
Roll into bite size balls, ¾ to one inch in size. Add 1-2 tablespoons crushed BBQ chips to a plate, roll each ball through powder to coat.
*for a nut free snack, sub another ½ cup oats for the cashews
summertime bbq in a snack!
printable Savory BBQ Crunch Protein Balls recipe:



Yield: 17 - 20 bites ¾ inch in size
[b]Savory BBQ Crunch Protein Balls[/b]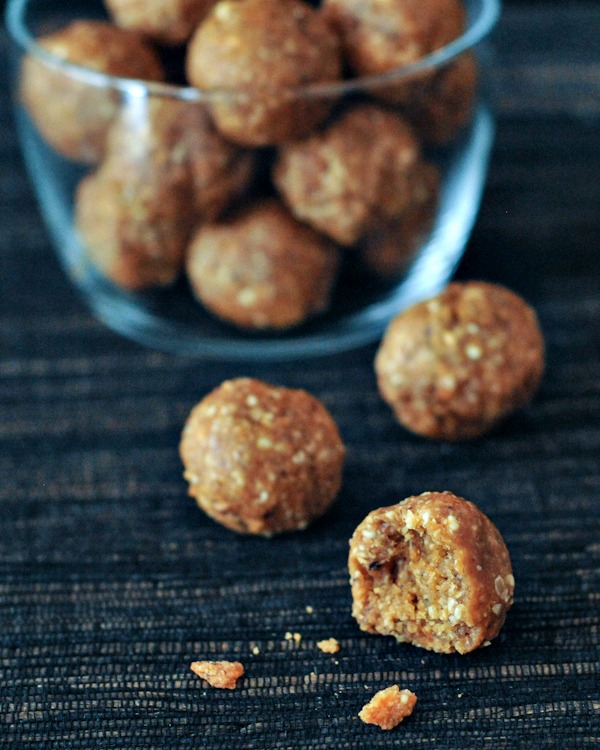 dairy, egg, soy and gluten free, vegan
Ingredients
⅓ cup sunflower seed butter
2 tablespoons gluten free vegan BBQ sauce
½ cup quick cooking oats
½ cup raw cashews, pulsed fine*
½ cup crushed Beanfields BBQ Bean Chips
Instructions
In large bowl, combine sunflower seed butter and BBQ sauce, stir until smooth.
Add oats and cashews to blender, blend into a crumbly powder. Add this mixture to sunflower mixture, do not stir.
Add crushed BBQ chips, stir to combine completely.
Roll into bite size balls, ¾ to one inch in size. Add 1-2 tablespoons crushed BBQ chips to a plate, roll each ball through powder to coat.
*for a nut free snack, sub another ½ cup oats for the cashews
Savory BBQ Crunch Protein Balls[/b]" thumbnail="https://www.spabettie.com/wp-content/uploads/2016/06/Savory-BBQ-Crunch-Protein-Balls-spabettie.jpg" type="recipe"]