Pepperoni Chili – everyone's favorite traditional chili gets a bit of a kick with pepperoni! a big warm bowl of comfort with the flavors of pizza!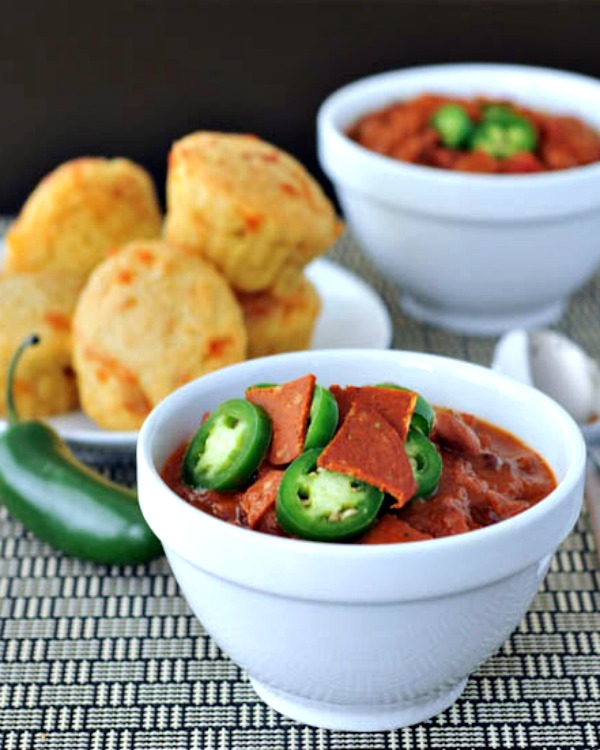 This chili tastes exactly as I imagined it would – a warm bowl of spicy pepperoni. I have had this on my mind for a few weeks, and could not wait to try it. First thing you think of when I say pepperoni? Pizza, right? Most likely not chili. Trust me, this works. It works well.
I added some other classic pizza toppings – green bell pepper, tomato, mushroom. Okay, no mushroom. I thought about it, even had them out to chop up – then changed my mind. No, not in chili.
After standing in the faux meat aisle for too long, holding two brands of pepperoni, I decided to conduct a taste test – I bought both!
In categories of flavor, texture and structure (whether they held up or ripped when peeling individual slices), Tofurky won our vote in a landslide. The flavor was spicy and very pepperoni like, the texture was decent, and the individual slices stayed in one piece. For this recipe, I sliced the pepperoni into quarters, so the structure didn't matter as much, but it will if I ever want to use it on pizza…
We enjoyed this chili with a cold beer and broccoli cheese muffins, and piled it high with fresh jalapeno and more pepperoni:
Pepperoni Chili
dairy and egg free, vegan
INGREDIENTS:
1-2 tablespoons olive oil
1 large yellow onion, diced
2 garlic cloves, minced
1 green bell pepper, diced
1 jalapeno pepper, minced
1 can fire roasted tomatoes
1 + cup vegetable broth (or water)
2 cups cooked pinto beans
2 cups (1 can) kidney beans
2-3 tablespoons chili powder
2 teaspoons cumin
2 teaspoons paprika
sea salt and pepper
1 (4 ounce) package pepperoni
INSTRUCTIONS:
In large soup pot, sauté onion with olive oil. Add garlic, bell and jalapeno peppers, tomatoes and broth. 
Add beans, chili powder, cumin, paprika, pepperoni, salt and pepper –  stir to combine.
Simmer on medium / medium low heat for 60-90 minutes (or transfer to slow cooker after sautéing veggies).
Pepperoni – it's not just for pizza anymore.
printable Pepperoni Chili recipe:

Pepperoni Chili[/b]" thumbnail="https://www.spabettie.com/wp-content/uploads/2013/01/[email protected]" type="recipe"]