Portland is having glorious 80 degree temperatures this week.
Perfection.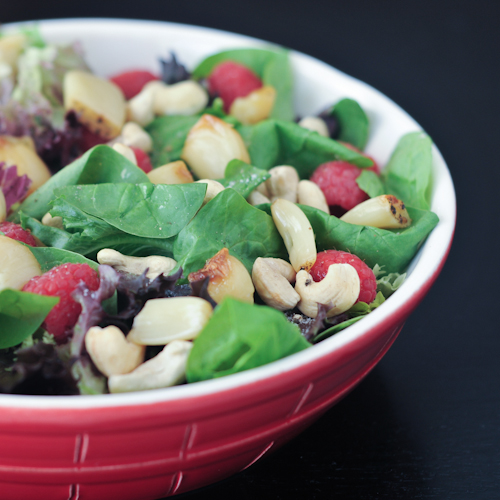 Roasted Garlic and Raspberry Salad
It is light, it is bright, everyone is happy, everyone is smiling.
I am wearing sandals, I am wearing sundresses, I am wearing shorts.
We are drinking fresh juice and ice cold beer, we are eating all kinds of fruit and vegetables. and we are eating salads.
Big beautiful entree size powerhouse salads. Vibrant flavors and bright colors, a mixed palate of textures and proteins and carbs. Filling and fresh, but light at the same time. With many opportunities to use my favorite celery ranch dressing.
Salad of Living Watercress with Radish and Pear
Our salad tonight has spicy flavors – the greens were collards, Swiss chard, kale and spinach. Additional protein from black beans and some crunch from corn, with a fresh made salsa over the top. Spicy heat keeps you cool on hot days, did you know?
We are gearing up for a hot summer here, and I already have several salad ideas to share with you in the next month or so. In the meantime, I have collected some of my favorites and some good looking ideas from around the web – salads for spring!
Chipotle Tomato Mini Wedge Salads
To see the entire collection at once, visit my Garden Fresh Spring Salads collection.
SLIDESHOW SPONSORED BY FOODIE VIA GLAM MEDIA. ALL OPINIONS EXPRESSED HEREIN ARE THOSE OF SPABETTIE.