Fire Roasted Poblano Chilaquiles with Spicy Cumin Cream – one of our favorite breakfast dishes gets a seasonal flavor addition with generously sauced pumpkin tortilla chips – yum!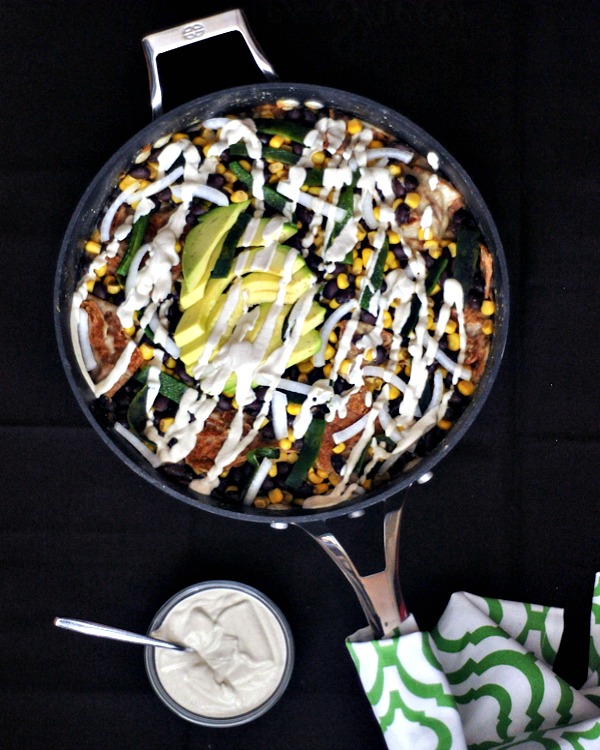 Chilaquiles remind me of late breakfasts during SXSW. Actually, just any late breakfast in Austin.
Jason and I both love chilaquiles, we tend to order them on brunch menus. I have only made them a couple times in the past – once in place of New Years Tamales, and once after our 2012 December in Mexico.
I recently made a double batch of my Green Enchilada Sauce, and had a chilaquiles craving. I have some great flavors going on in this recipe. Mild poblano, warm ginger, and pumpkin.
Yes, pumpkin. I have been scarfing these Harvest Pumpkin Tortilla Chips like they were a Seasonal Limited Edition. Ah wait – they are – go find some before they are out! While I am all about year round pumpkin, there are a few seasonal pumpkin items I can get into – these chips are tasty, and really could go either sweet or savory. I dipped a few into some Pumpkin Cheesecake Spread and that worked. Then I thought of chilaquiles…
Chilaquiles are all about the chips and sauce, right? Whenever I make them, I have to …