Am I the only one who associates moussaka with the Christopher Walken SNL sketch?
I have always loved moussaka – I love all things eggplant – and I have not made it in years. Like pageant dinner parties in college years!
I figured eggplant week for Meatless Monday would be a great time to make some – we went to a movie yesterday afternoon (Now You See Me is fantastic!), and this delectable moussaka was satisfying lunch beforehand.
Moussaka assembly:
…and baked to a golden brown:
I used my cashew bechamel sauce as the topping in this recipe, (cutting it in half and adding a garlic clove when processing the cashews) and slow cooker basil marinara in the quinoa mixture, and instead of a casserole dish I made individual servings in large ramekins.
Other than that I followed my friend Faith's recipe method, which you can find here:  Vegetarian Quinoa Moussaka.
An easy recipe that comes together quickly, I will be making this again soon. As Jason is not an eggplant fan, making this recipe as individual ramekin servings is an easy way to customize his portion, leaving the eggplant out. Still a lovely bowl of comfort.
More eggplant recipes: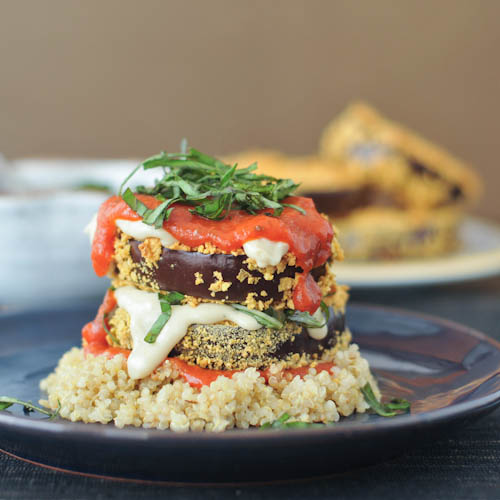 Asian grilled eggplant with soy sesame sauce
penne with shiitake, eggplant and sambal
curry roasted pepper and eggplant soup
Frank Sinatra's eggplant parmigiana 
Visit Heather (and a guest post by Sarah) for more eggplant recipes: