this vegan and gluten free Lemon Elderflower Layer Cake is royally delicious! bright and light flavors, tasty lemon cake surrounded by smooth and sweet elderflower frosting. perfect for a 4am Royal Wedding breakfast celebration, a Mothers Day brunch, or a Tuesday.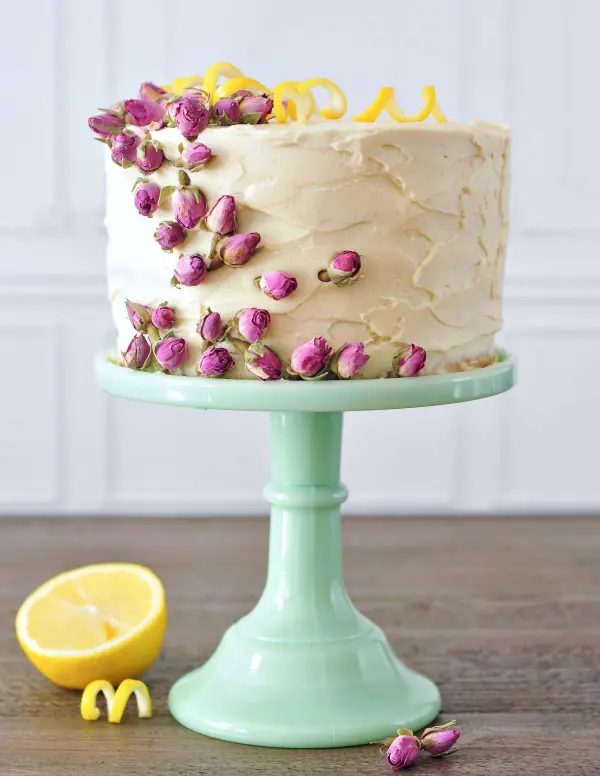 Vegan Lemon Elderflower Layer Cake
I'm just going to come right out and ask – will you be watching the Royal Wedding?
Airing at four in the morning my time, I will be watching.
and I will be eating cake.
for breakfast, even.
Vegan Layer Cake
The Royal Wedding Cake is to be a Lemon Elderflower Cake.
The strange fact about the cake? It likely won't be enjoyed as part of the wedding menu. Following tradition of cake gifting, it seems. William and Kate's cake was served as breakfast, though – so I can enjoy my Vegan Lemon Elderflower Cake for breakfast while watching the wedding!
Speaking of William and Kate's Royal Wedding, remember when I made the Chocolate Biscuit Cake for William and Kate's wedding viewing?
We enjoyed it for an early morning breakfast back then, too.
Vegan Lemon Cake
This cake? I love it.
As soon as I first heard that Harry and Meghan were also veering a bit from tradition – forgoing the fruit cake for this light and springlike flavor?
I had to make one myself.
I am so SO happy I did – this is brunch perfect.
This will work for Mother's Day, girls night in, summer birthday celebrations, and every warm weather brunch I host from now until infinity.
so, cake for breakfast? a super early breakfast?
Lemon Elderflower Layer Cake
Author:
Kristina Sloggett
dairy, egg, and gluten free, vegan
Ingredients
(make ahead) 1 batch Elderflower Mousse (as Frosting, recipe below)
½ cup dairy free milk
½ cup coconut oil, melted and cooled slightly
⅔ cup applesauce
3 tablespoons fresh squeezed lemon juice
zest from 1 large fresh lemon (about 1 tablespoon)
1 teaspoon lemon oil / lemon extract
1 cup vegan granulated sugar (coconut)
¾ cup super fine almond flour
¾ cup gluten free all purpose flour
¼ cup cornstarch
1½ teaspoons baking powder
½ teaspoon baking soda
Instructions
Preheat oven to 350 °F. Grease cake tins and line with parchment (two 8 inch, five 5 inch, etcetera).
Combine milk, coconut oil, applesauce, lemon juice and zest, lemon oil, and sugar
Beat with hand mixer, or (vigorously beat by hand) until completely combined and smooth.
In a small bowl, sift together flours, cornstarch, baking powder and soda. Fold these dry ingredients into the wet ingredients. Do not use mixer for this part, do not over mix - stir until just combined and smooth.
Transfer batter evenly among cake tins, smoothing into even layer.
Bake cakes at 350 °F.
Bake for approximately these times, or until an inserted toothpick comes out clean: 20 minutes for 5 inch cake tins, 25 minutes for 8 inch cake tins, 30+ minutes for 9 inch or larger.
Remove cakes from oven, set on wire rack to cool slightly before removing from cake tins.
Cool cakes on wire rack completely before frosting.
Carefully cover and move cakes to refrigerator to 'set' frosting, at least one hour. Remove at least one half hour before serving to soften cooled cake.
Store covered in refrigerator.
Lemon Elderflower Layer Cake
Author:
Kristina Sloggett
dairy, egg, and gluten free, vegan
Ingredients
1 (14 ounce) block extra-firm tofu, drained
3 tablespoons vegan powdered sugar
¼ cup elderflower cordial
½ cup (full fat) canned coconut cream (solid from top of can)
6 ounces (1 cup) vegan white chocolate, chips or chopped
Instructions
Add tofu, powdered sugar, and elderflower cordial to blender. Pulse a few times to roughly combine.
Heat milk to a simmer in small saucepan over low heat. Add chopped white chocolate or chips, stirring until melted into warm milk. Remove from heat.
Immediately and carefully transfer melted chocolate milk to blender. Cover and blend just until contents are completely smooth.
Transfer mixture to container with a cover. Refrigerate several hours to set into a mousse consistency.
Try AmazonFresh Free Trial
for Unlimited Grocery Delivery – add these recipe ingredients to your list. use code FRESH25 for a $25 off discount on your first AmazonFresh order!
about Kristina: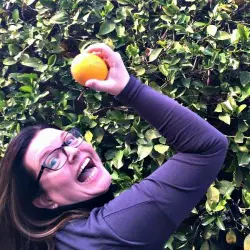 Kristina is spabettie! She discovered a love of cooking at an early age, and founded spabettie in 2010 to share vegan recipes. As the sole recipe developer and photographer, Kristina turned her culinary training into sharing flavorful and vibrant vegan food! She loves dachshunds, karaoke, drums, and travel.
spabettie / Kristina Sloggett is a participant in the Amazon Services LLC Associates Program, an affiliate advertising program designed to provide a means for sites to earn advertising fees by advertising and linking to Amazon.com.