Fresh and Flavorful Raw Tacos – incredible flavors with sweet and spicy layers, this taco filling is very versatile and will be a Taco Tuesday favorite!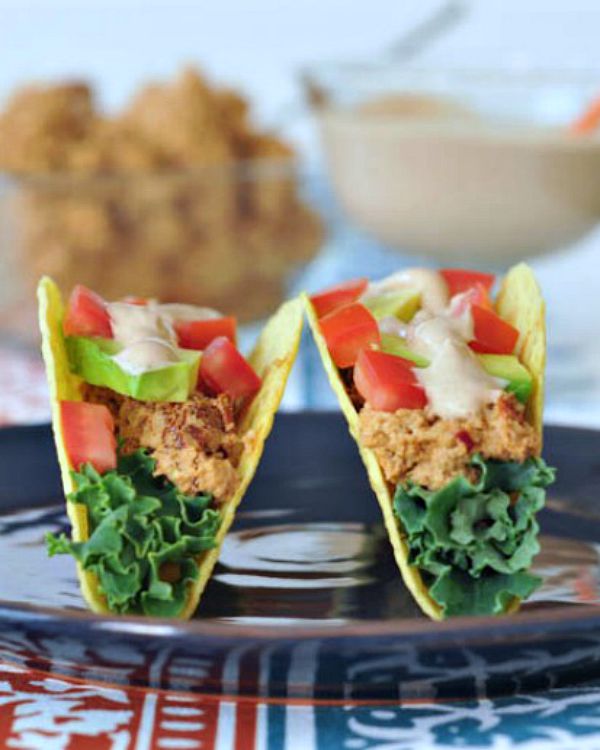 I haven't been this excited about a recipe in a while.
Some of you might recall the Vida Vegan Conference I attended last summer – an awesome weekend with 200 vegan bloggers, running around this beautiful city I live in! (Tickets are now on sale for the next one – May 2013 and once again in Portland).
As it should be, one amazing aspect of that weekend was the food (recap here). A favorite of mine was our lunch on the last day – a taco bar that included a raw walnut chorizo. I have had plans to recreate that for a while, and I had some fun ideas for unique flavors to add.
In my plans to recreate my own taco filling, I wanted a mix of subtle sweet and spicy. Sweet comes from pecans and currants (stay with me here), shiitake mushrooms add a savory heartiness, chipotle and arbol definitely bring some heat. After having this on my mind for a year, I can absolutely say I nailed it.
Inspired by the taco filling at Vida Vegan Con (recipe from Chic Vegan), spices mirror those in Noocho Cheese.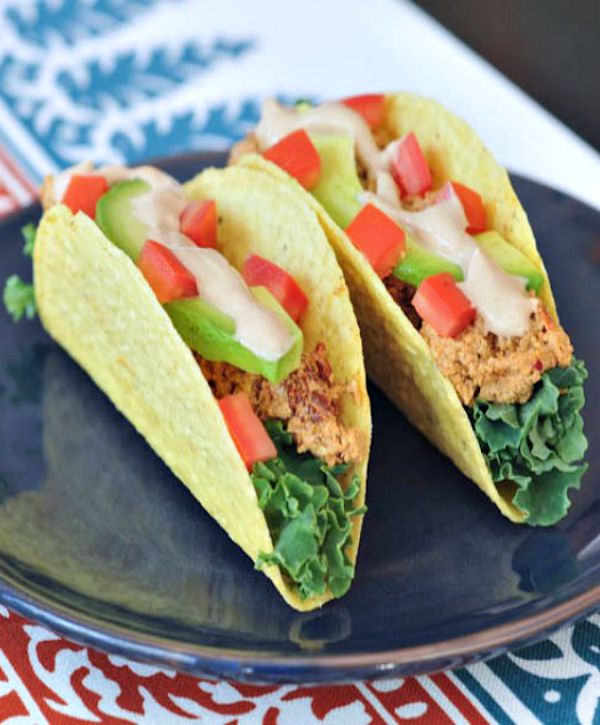 Fresh and Flavorful Raw Taco Filling
dairy, egg, and gluten free, vegan
INGREDIENTS:
1 cup raw pecans
1 cup raw walnuts (or one additional cup pecans)
1 small head cauliflower, stemmed and chopped
2 arbol chiles, re-hydrated, chopped
1/2 cup dried shiitake, re-hydrated, chopped
1/4 cup sun dried tomatoes (packed in oil), chopped
2 tablespoons oil from sun dried tomatoes
2 tablespoons tamari
1/8 cup currants
1/2 small sweet onion, diced
10-12 leaves fresh basil, chiffonaded
1 tablespoon onion powder
2 teaspoons paprika
1/4 teaspoon chili powder
Combine all ingredients into the bowl and stir to incorporate thoroughly. Transfer to a food processor and pulse* into a crumbly texture.
*Several pulses should work, simply turning to 'on' position may over process into a paste.
We enjoyed tacos with both soft and hard corn shells. Lots of crunchy lettuce (iceberg and kale), tomatoes and avocados were perfect toppings, along with a chipotle cream.
Chipotle Cream
dairy, egg, and gluten free, vegan
1 container dairy free plain yogurt (So Delicious)
1/2 can (7 ounce) chipotle in adobo (peppers and sauce), puréed
pinch sea salt  
Combine yogurt and pureed chipotle/adobo, add salt to taste.
Olé – Happy Tuesday!
printable recipes: 

Fresh and Flavorful Raw Tacos[/b]" thumbnail="https://www.spabettie.com/wp-content/uploads/2012/07/[email protected]" type="recipe"]

Chipotle Cream[/b]" thumbnail="https://www.spabettie.com/wp-content/uploads/2012/07/[email protected]" type="recipe"]