Happy National Hot and Spicy Food Day!
Yep, among the national food days, I found one that is quite obscure. This is not to be confused with International Hot and Spicy Food Day, which is celebrated in January.
I will have to remember that one too…
Many know I love my food with a flavorful heat (too hot to taste or so hot it makes me cry? nothankyou), and while I could have come up with a collection of my favorite spicy recipes here, many also know conventional is one thing I am not.
Just as obscure as the holiday itself, I dreamed up a hot and spicy dessert to satisfy the spicy sweet tooth. You begin with a warm brownie fresh from the oven, top that with some ice cream (we enjoyed So Delicious Toasted Almond Chip) and then top that with a spicy sweet glaze.
Hot (and cool) and spicy good.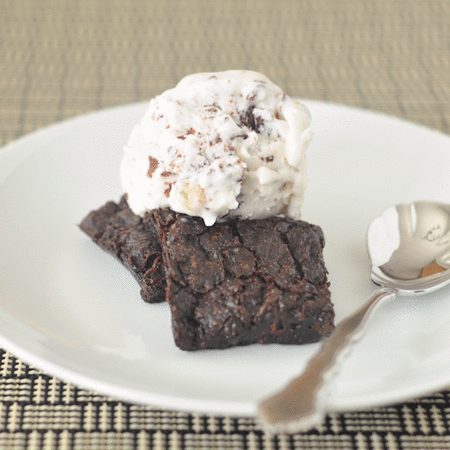 double chocolate brownies with spicy sugar glaze
YIELD: 16 brownies
dairy, egg, soy and gluten free, vegan
BROWNIE INGREDIENTS:
2 tablespoons flax seed, freshly ground
1/3 cup coconut milk (So Delicious carton)
6 ounces dark chocolate (72%), chopped
1/2 cup coconut oil or vegan butter
1 tablespoon vanilla paste
1 1/4 cup gluten free all-purpose flour
1/3 cup dark chocolate chips
1/2 teaspoon baking soda
pinch sea salt
SPICY SUGAR GLAZE INGREDIENTS:
2 tablespoons coconut milk (So Delicious carton)
2 + cups powdered sugar
2 tablespoons hot sauce
BROWNIE INSTRUCTIONS:
Grind flax seed in blender, coffee grinder. Place 2 tablespoons flax in a bowl, add coconut milk and stir. Place in refrigerator to set into gel (this equals / replaces two eggs).
In large saucepan over low heat, melt chopped chocolate. Remove from heat, stir in coconut oil/butter and vanilla. Add flour, do not stir in. Add chocolate chips, baking soda and sea salt to the flour, mix into the flour before mixing into the chocolate mixture – combine until smooth.
Pour into prepared (sprayed, parchmented) 8×8 baking dish, bake at 350 for 30-33 minutes or until inserted toothpick comes out clean.
SPICY SUGAR GLAZE INSTRUCTIONS:
In blender, combine all ingredients and blend to smooth sauce, adjusting powdered sugar until desired thickness is achieved. 
…aaannnd enjoy.
this recipe was shared with Healthy Vegan Fridays.