I love caperberries – salty, briny, salty goodness. Larger than the caper and a completely different thing, the caperberry is the fruit of the caper plant and is about the size of an olive, while a caper is the smaller flower bud. They taste similar, and I find the caperberry is milder in flavor.
Awesome salty flavor.
When Heather picked caperberries for C Week of Meatless Monday A to Z, I was thrilled. I actually already had two jars of caperberries in my pantry, along with at least three jars of capers. I always have capers.
We had some friends over for a Happy Hour at Home, Caperberry Style. They were greeted with a caperberry martini, made dirty with the brine juice. So very good.
For a fun one bite appetizer with some tang, I stuffed caperberries with my vegan goat cheese.
They were easy to pick up by their stem handles. An easy last minute prep that looks elegant and tastes crazy good. Especially when you drench them in agave…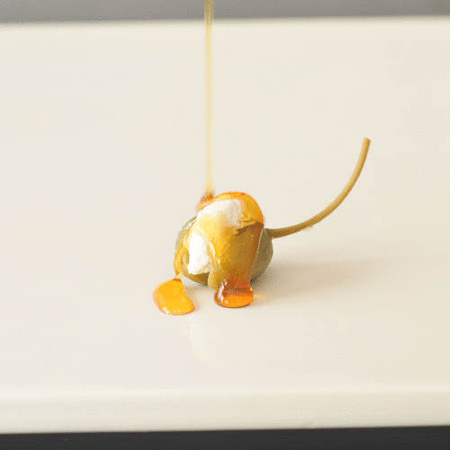 The third item for this caperberry cocktail party was a hummus – a lemony, garlicy, salty hummus. We served this with crunchy crisps and vegetables.
caperberry hummus
dairy, soy and gluten free, vegan
1 can chickpeas, rinsed and peeled
3 tablespoons tahini
juice of 2 lemons
1 clove garlic, peeled
handful (8-10) caperberries, stemmed
sea salt, to taste
olive oil, for garnish
2-3 whole caperberries, for garnish 
In food processor, purée chickpeas until crumbly-smooth, add tahini, lemon juice, garlic and caperberries. Salt as needed. Blend until smooth. Transfer to serving bowl, pour 1-2 tablespoons olive oil over top, garnish with whole caperberries.
This has been my favorite week with #mmaz yet! Are you a caperberry or caper fan?
Here's one of my favorite recipes using the smaller, stronger, saltier caper:
Cheers – happy Monday!