Today is National Cheesecake Day – I have to celebrate that one.
I am celebrating apricot and rosemary too – one of my favorite flavor pairings.
…and can I just talk about this almond fig crust again? It is also a new favorite, and after making this crust several times, I now know to make extra so I can roll it into snack bites. Delicious almond fig snack bites.
The almond fig crust is a perfect base for this sweet and savory cheesecake.
apricot rosemary cheesecake
YIELD: one 8-9 inch cheesecake
dairy, egg, soy and gluten free, vegan
INGREDIENTS:
apricot paste:
1 cup dried apricots
1/2 teaspoon lemon zest
juice of 1 lemon
1 tablespoon ground chia
cheesecake:
3 cups raw cashews, soaked several hours / overnight
1/3 cup cashew milk (So Delicious carton)
3 tablespoons ground chia
3 sprigs rosemary, stemmed and chopped
juice of one lemon
3 tablespoons agave

crust:
this recipe for almond fig crust
INSTRUCTIONS:
apricot paste:
Soak apricots in bowl of water several hours. Drain and place in food processor with lemon zest, lemon juice, and ground chia. Process several minutes into smooth paste. Return to soaking bowl, cover and refrigerate while you prepare cheesecake filling.
cheesecake:
Process cashews in food processor until semi smooth. Add cashew milk, ground chia, rosemary, lemon juice, and agave, blend until creamy. Spread in an even layer over crust. Place in freezer at least 30 minutes to partially set. Using a spoon, create a swirl or design through cheesecake surface, about halfway down. Pipe apricot paste into cheesecake swirl (you can also spoon apricot paste around the surface and run a knife through). Return to freezer to set completely.
Transfer to refrigerator several hours before cutting/serving.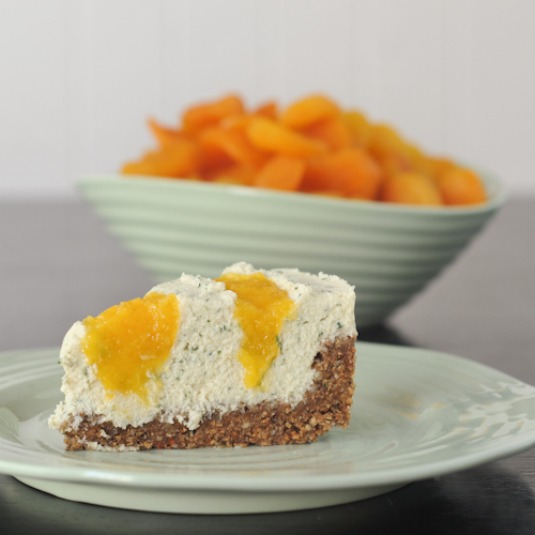 Sweet and savory fan?
Cheesecake fan? I have put together a delicious cheesecake recipe collection just for you!
this recipe was shared with Healthy Vegan Fridays.