Raw Chocolate Chip Cookie Dough Truffles – these quick and easy snack bites pair that classic flavor and texture of cookie dough with an extra punch of protein – your new favorite snack!
My friend Ricki has another book releasing in a few days, a book that is important and life changing! Living Candida Free has 100 recipes, but it is so much more than a cookbook. Ricki shares her vast knowledge of the anti-candida diet, including sample menus, detailed information and a plan about acceptable foods and foods to avoid, detoxification and restoring digestion, stages to reintroduce foods, pantry lists and so much more.
Then come the recipes. Ricki's flavor packed techniques are also good for those wanting to reduce sugars in their diet, and is the first all vegan anti candida guide. Vegan, sugar free, gluten free – there are recipes for everyone!
From a Classic Green Smoothie and Whole Grain Waffles in the morning, to a Creamy Broccoli Soup or Tangy Cashew Cheese, the recipes are varied and satisfying. I have made the Whole Grain Waffles twice, and the Fennel, Brussels Sprout and Edamame Salad was part of my lunch this week!
Some of my other favorites from this book are the Garlicy Avocado Sauce and the Emergency Fudge. Because yeah, we all know about those chocolate emergencies.
Ricki's Raw Chocolate Chip Cookie Dough Truffles – another recipe I have already made twice – everyone I have shared them with loves them!
and today I am sharing them with you!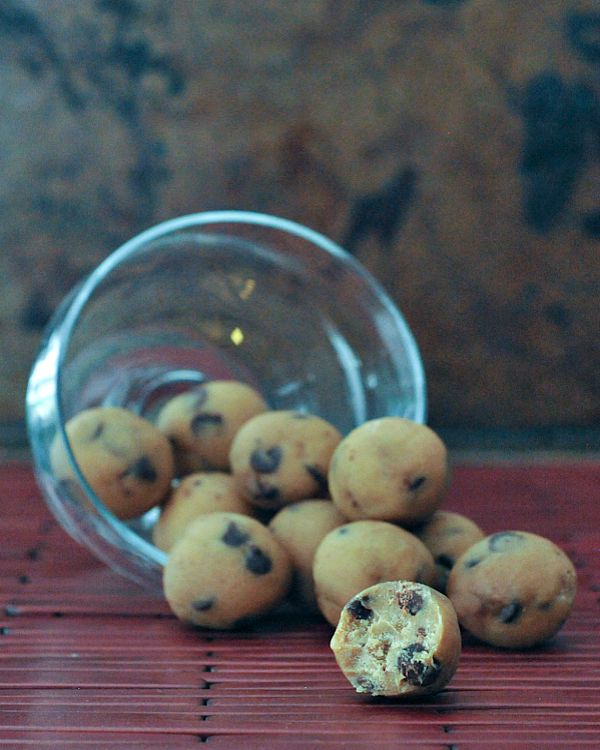 If you like raw cookie dough, you'll love these truffles. The texture and flavor of cookie dough, combined with a high-protein "secret ingredient," means this sweet snack provides a hefty nutritional punch, too! The recipe offers two variations: plain cookie dough balls or, for a richer treat, truffles dipped in chocolate. Either way, you will love them!…