Vegan Goat Cheese Bacon Wrapped Dates – tangy rich and smoky sweet, these bite size gems are always welcome at the party table! plan on making a double batch, at least.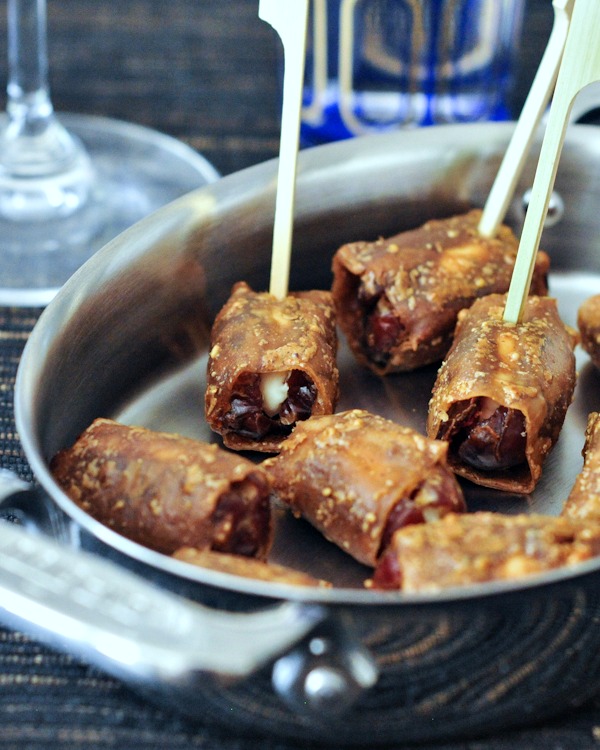 I really dislike that phrase life changing when it is used to describe something that is most decidedly not.
I am not going to, but if I were to utter the phrase, this would be the time.
I have been mostly vegetarian from a young age. Like, way before the Hot Dog Incident even. Before making that conscious decision to not eat meat, one thing I enjoyed the flavor of was bacon. I loved the flavor, I loved the smell – that's about it. I rarely ate it.
In the past couple of months, I have eaten more of this bacon than any real bacon ever. and I have been making all kinds of things with it – like wrapping it around stuffed dates. Mmm.
Let me tell you – when you cook this bacon? Your kitchen smells. like. bacon. Actual bacon. This also tastes pretty darn close. Texture? Well. I will be honest – not really. But my version has the rich, fatty component that helps with texture and flavor.
There are two ways I have been making this – thin single layer bacon, or thicker double layer bacon. I can come up with reasons to make each, and in the five times I have made this, four of them have been double layer thick.
Just look at that crispy puffy piece of bacon:
We had a small cocktail party before the Melvins concert last week, and these Vegan Goat Cheese Bacon Wrapped Dates were the star. Well, my dachshund cocktail napkins were the real star. Food wise, bacon. dates. sweet salty tangy savory goodness. A perfect party bite that I cannot wait to make again.
So, this bacon …