Spicy Peanut Veggie Noodle Bowl – easy lunch or dinner bowls are customizable with your favorite veggies and noodles – fast, fresh, and flavorful!
I am going to sound so cliché for a minute.
I cannot believe it is already February.
I know, I know…  but honestly, where did January go?
I realize I sound like… well, an adult, I guess. *sigh*
We traveled in January, for a super fun wedding of dear friends. We were able to spend several days in the sunshine in Palm Springs, relaxing and running around.
Right before our trip, I began a new project. I'm not ready to talk about it yet, so I'll just be vague with that teaser. So I returned home and jumped right back into that… and I am getting organized for a large house project, so that's taking up another big chunk of time.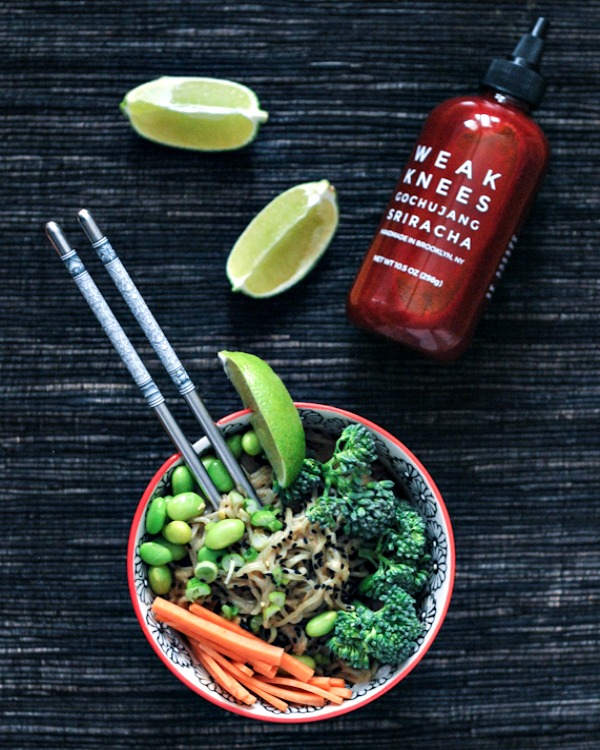 So.
With a bit of prep work on one afternoon, I am able to enjoy super quick and easy lunches all week long.
This is what lunch has looked like this week. Spicy, peanutty noodle bowls. Veggie packed, comfort food pasta that I can sit on the couch and relax for however long it takes to eat, while catching up on Days of Our Lives. You might recall, my dad got me hooked. I still watch from time to time.
Sometimes, I add an egg.
A VeganEgg:
I love to use Rice Ramen in these bowls – so SO good.
Other times, I'll …