Cauliflower Cashew Confetti Salad – vibrant cauliflower brings great color and texture to this salad. Layers of flavor and crunch with a bright lemony shallot dressing.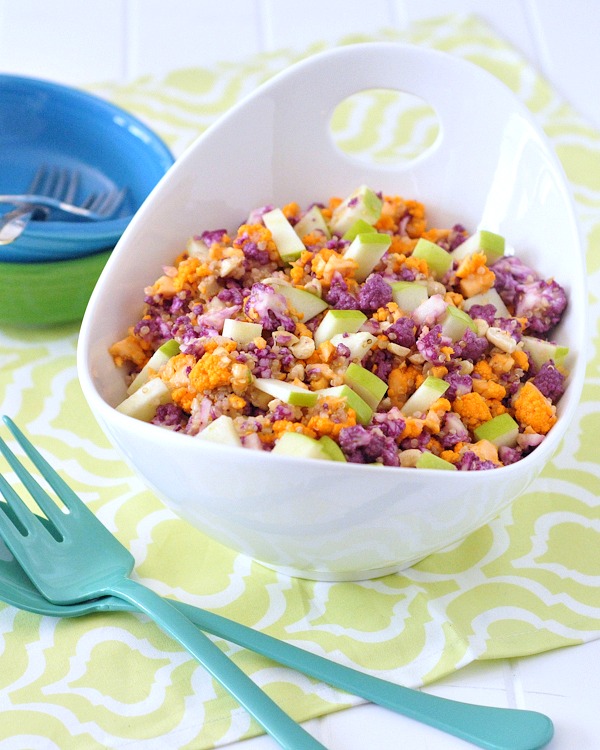 While we are just about right on the edge of warmer days of summer, including all my favorite veggies showing up at the farmers market, I am already craving light and bright.
I am eating salads nearly every day. When I want salad as an entree, it needs to have some oomph or I'll be back in the kitchen making a sandwich in an hour.
Or less.
This salad brings you quinoa for satisfying protein, as it serves all the senses: crunchy texture, bright colors, vibrant flavors. My dressing is a new one too, with two new spices – a lovely shallot salt and sumac. The first word I always use to describe sumac is lemony – it is bright and tart in a mild way.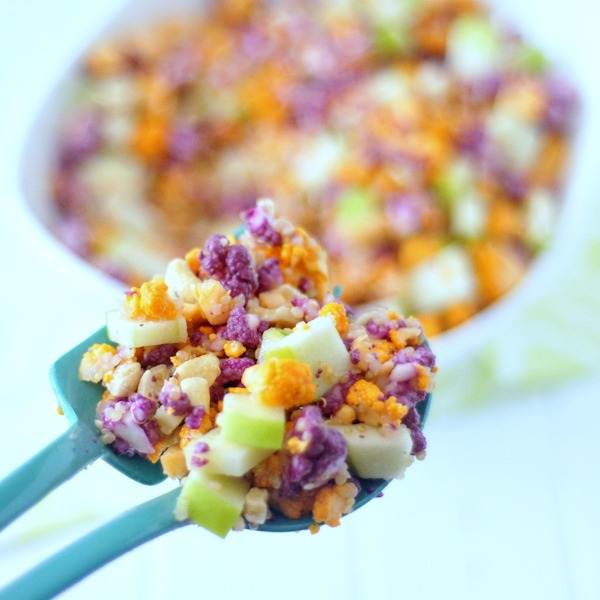 I am doing an Ironic Eye Roll that I am sharing this super crunchy textured salad with you today, while I have been eating mashed potatoes, smoothies, and all kinds of soft foods this last week. I had some pretty epic dental surgery last week, and only wish I could eat this salad right now. This was from the week before surgery.
Back in college, I played tennis every day. I'd be on the court early before class, then when I got my microbiology lab job in the early mornings, I'd play all afternoon and evening.
During a doubles tournament – one that I can laugh about now – my face collided with my partner's racquet. Ouch. So, last summer …