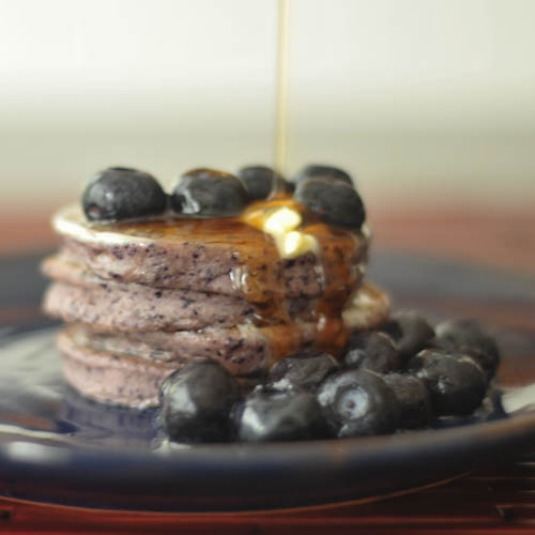 Remember earlier this summer when I discovered our new house has a cherry tree in the yard? Of course you do, I proceeded to make one hundred and eighty threeve things with cherry all summer long.
So… now it's fall, and the cherries are long gone. (Actually I still find some pits around, and even in the back yard! Those birds carry them far!)
In the fall we get apples, right? Yep, guess what we discovered in our side yard? An apple tree! I don't know what kind they are yet, but… applesauce is in my near future.
No apples in these pancakes. No cherries either.
Blueberries. The one plant I wish I would find in my yard! We had six of them on the old property, and wow do I miss them now! I bought my blueberries all season, and now I am using frozen. I did manage to find an awesome brand, a store brand, that has the fattest plumpest sweetest berries.
Look at these beauties:
blueberry lemon pancakes
adapted from spinach pancakes
dairy, egg, soy, and gluten free, vegan
makes 10 -12 medium pancakes
1 cup fresh (or thawed) blueberries*
1 cup gluten free all purpose flour
1 tablespoon baking powder
1/4 teaspoon xanthan gum
juice of 1 lemon
2 – 3 tablespoons water
2 tablespoons agave (or sweetener of choice)
*less than 1 cup when puréed.
In blender, purée blueberries until smooth, add lemon juice, water and agave and blend. In mixing bowl, combine flour, baking powder and xanthan gum, stirring out lumps. Whisk in the blueberry puree, combine completely. Using a 1/4 cup measure, scoop batter onto an oiled skillet over medium low heat. Pancakes will not bubble, flip after 45 seconds or so and cook other side (less than another minute).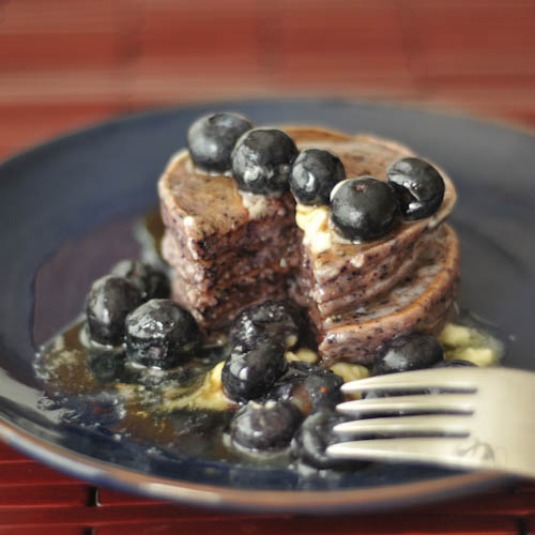 What kind of fruit tree / plant would you want in your yard?